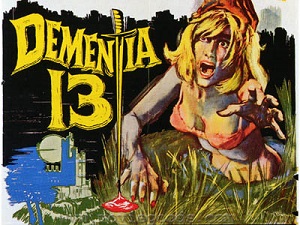 Nope. I'm not talking Bram Stoker's Dracula. Way back in the 1960s, Francis Ford Coppola teamed up with Roger Corman to make a couple of horror films. First there was The Terror with Boris Karloff and Jack Nicholson. Then came Dementia 13. What an awesome title.
This 1963 flick is sort of a psychological slasher. Much like many of the William Castle films of the time, there's a plotline involving a character messing with another character's mind using horror trickery. That's the fun part. Then there's the axe murderer….
I love actress Luana Anders in this movie. She reminds me strongly of Terri Nunn from the 80s new wave band Berlin, which immediately makes me biased towards her.
Plus, her character is devilishly cunning. In a totally random opening scene, she and her husband are out on a rowboat at night—and he dies of a heart attack! It happens to be right after he points out to her that if he dies, she doesn't inherit any of his family's fortune since his mother doesn't like her. So she dumps his body in the water and tells everyone he's away on a business trip!
Her husband's family is a weird bunch. Every year, his mother has a ceremony commemorating the death of her youngest daughter in the lake. To get close to her mother-in-law, Luana pretends that the young daughter's ghost is communicating with her! So she begins to set up all creepy clues (involving fricking dolls and underwater shit) to show that the daughter's ghost is present.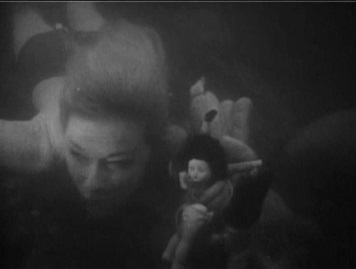 And that's when the movie pretty much falls apart. After the first axe murder, the plot changes course completely and a whole bunch of background characters become the focus. In a way, it's a rather cool trick to keep us guessing what the hell is going on, but it is also jarring and leaves more questions unanswered—like, what exactly was Luana's evil plan?
The second half has its moments. There are only a couple of axe kills (literally, two, plus one close call) and the fricking body of the drowned daughter begins to show up periodically! Just when you think you know who the killer is, there's a gruesome body reveal—pretty impressive for the time, especially since it's in black and white and still looks bloody disturbing. And we get the final twist. But even that doesn't distract from the desire to know how the Luana storyline would have played out.