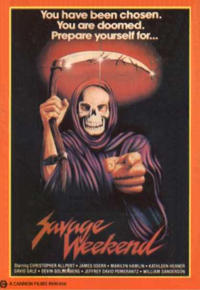 1979 slasher Savage Weekend got totally lost in between the release of Halloween in 78 and Friday the 13th in 80, due in large part to the fact that it fails pretty miserably as a slasher, even though all the right ingredients are there. However, there is something raunchy and perverse about this little piece of trash.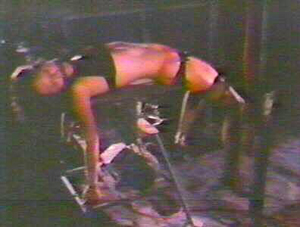 The major problem with the film is that it decided to focus on a group of middle-aged people instead of teens or twenty-somethings. This leads to a whole lot of soap opera dramatics, including failed marriages, child custody, affairs, and other indiscretions. This absurdity takes up a majority of the movie as the group of friends heads to a house in the woods for a weekend getaway. However, along with these more mature themes come some serious sexual situations! There's tons of nudity, loads of sex, and even a perverse scene in which a cow's utter is treated as a phallic object when a man and woman yank it together until it shoots a milky white substance. Also known as milk.
As for the horror elements of the film, things begin with the group arriving at the house and finding a bat nailed to a wall. Scary. Meanwhile, there's a local hillbilly named Otis working on the group's boat. He sits in the cemetery mumbling to a grave, and in a flashback, one of the friends tells a story of how it's believed Otis killed a bunch of people up there years before.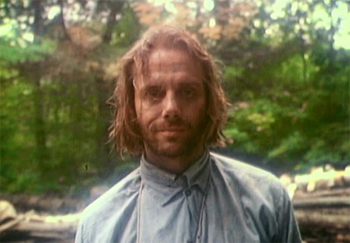 Eventually we get some killer POV as someone walks around the house at night. There's a grotesque mask hanging on a wall sconce, so the killer puts it on. There are very few kill scenes, and they are usually accompanied by hokey music instead of a tension-building score. There's also little in the way of gore. Finally, it's machete vs. chainsaw as the killer has a battle with one of the final guys.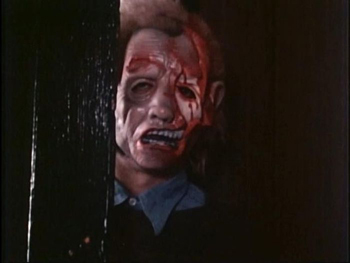 So yeah, it's a bad horror movie. But the cast is ripe with horror faces of the 80s. David Gale is best known as the bodiless evil doctor in Re-animator.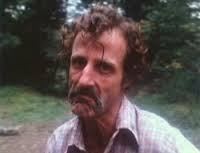 Jay Alson was also in The Last Horror Film. Jeff Pomerantz was in Retribution. Caitlin O'Heaney got her final girl crown in He Knows You're Alone.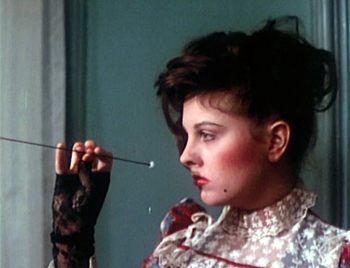 William Sanderson, best known as brother Larry on Newhart (a role he pretty much perfected here as Otis) was in Nightmares and went on to be in Mirror Mirror 2, Sometimes They Come Back, and Man's Best Friend before finally becoming the sheriff on True Blood.
And then there's Christopher Allport. Christopher Allport will forever be known as the hero in the Jack Frost killer snowman films (my blog here). Who would have imagined that he was a pioneer for gays in horror? That's right, Allport plays the snarky queen in the group of straights. He also manages to be both stereotypical, yet break the mold. Let's take a look.
Commenting on all the hetero drama, one of his first lines in the film is "I can't even escape from my lovers in the mens' room." Okay, clearly not a monogamous or classy gay.
The group stops at a bar and Allport gives all the men lecherous stares while flirting with them. Okay, predatory gay.
When one of the men begins harassing him, Allport says, "Sweet talk won't do it. I'm into rough trade." Ooh! The gay burns the straight boy by attacking his masculinity!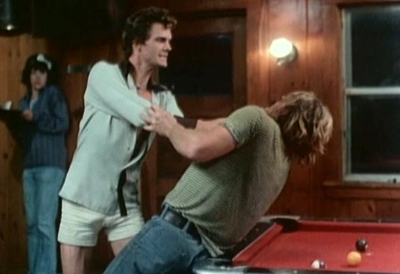 Before any of the men in the bar can even lay a finger on Allport, he beats the fuck out of all of them! He finishes his takedown with "I wasn't brought up in the South Bronx for nothing." What a man!
He spends most of his remaining time in the movie hiding in the shadows, spying on the straight couples having sex so he can get a glimpse of the naked men. Oversexed gay pervert. Got it.
He doesn't die first! Eureka! He dies second….
Every gay needs his fag hag, so Allport plays dress-up with He Knows You're Alone girl before they dance around to Flamenco music. Therefore, he looks as flamboyant as can be when it's time for his kill. Despite taking down a bar full of men, he's killed without even a moment of self-defense.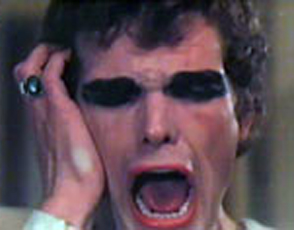 By the way, that horrible flamenco music is used throughout the entire scene of He Knows You're Alone Girl being chased by the masked killer, ruining what should have been the best damn scene in the whole movie. The rest of the movie pretty much features a banjo score. Ugh.
So there you have it. Savage Weekend does more (or not) for gays in horror than it does for the slasher genre.