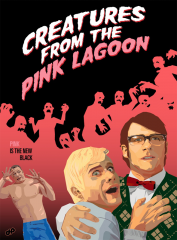 Looking to convert your horror-hating gay buddies into gay horror whores? Creatures from the Pink Lagoon might be just what you need to stop them from squealing girlishly and hiding their eyes at your Halloween parties and getting them to laugh along with the rest of us at a good horror comedy.
Creatures from the Pink Lagoon has it all: camp, cuties, gay humor, horror humor, zombies, man eating, gut-munching, and a throwback to cheesy 1960s horror films. The scares begin in a cemetery, complete with perfect eerie sci-fi/horror movie music from back in the day. We get plenty of gay zombie POV—the black and white film even goes pink when the creatures attack!
Then there's our crew of party boys. They're way more fun than your typical teen slasher gang. There's a delicious piece of beefcake. I'd go zombie on his ass any day.
His boyfriend has a nice big black booty that could feed an army of zombies. There's a snarky bitch who nails classic Paul Lynde shtick, a cutie who looks like Tommy Jarvis in Friday the 13th: A New Beginning, a Matthew Broderick geek, and an amazing scream queen who reminds me of Carson Kressley.
Just as their party is getting underway, the creatures attack! These gay boys clearly watch their horror, because they know immediately they're dealing with zombies! The humor is amped up even more, but now Creatures from the Pink Lagoon satisfies true horror whores with injections of grisly black and white gore, including raunchy gay horror humor. Turns out gay zombies are a whole different breed and there are very unique ways to deal with them….
This is my kind of gay horror comedy. These guys better make more homo horror films.