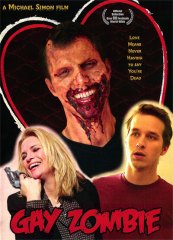 There's really only one thing wrong with Gay Zombie…it leaves you hungry for more. Running only 20 minutes, this gay horror short is funny, light-hearted, gross, campy, romantic, tragic, sexy, and even throws in a fashion show montage! It's rare that I like horror films that follow the story of a zombie instead of making the undead the monsters, but there are a few horror comedy exceptions, and this is one of them.
The simple story of a zombie who is struggling with the fact that he's gay, Gay Zombie is perfectly cast with cuties who can act and manage to portray likeable characters in such a short time. And the actor playing the zombie makes even the undead look good in a yellow speedo! The reactions when Gay Zombie hits the bar scene are fricking perfect. The makeup is awesome and the film even takes a dark—and gory—turn.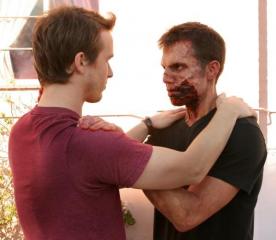 On top of all that, the punk rock theme song "Gay Zombie" totally rules!!! I wish I could get it on CD.
If you want more of Gay Zombie, it was adapted into a 100 page erotic ebook called Gay Zombie Erotix by Richard Wax. Expanding on the back story of how he became a gay zombie, it also takes you on Gay Zombie's sexual journey. EEK! Now why didn't they make THAT into a full-length sexy-sick gay horror film?