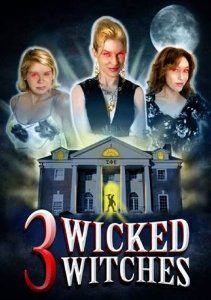 Okay. We all know David DeCoteau's deal. "Horror" movies that focus primarily on homoerotic scenes of young men in their underwear. Worth watching only if you like looking at guys in their underwear.
But recently, I blogged about David's release My Stepbrother is a Vampire. It was a cute teen movie featuring cameos by some awesome familiar horror faces. The most horror cred here comes from one chick who was in the original My Bloody Valentine and The Dead Zone and another who was in the classic T.A.G: The Assassination Game. And while the DVD cover looks like another "cute" movie, this sure ain't no Hocus Pocus! It's essentially an hour and fifteen minutes of softcore male solo porn!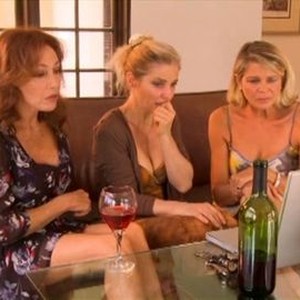 Seriously, this is the most blatant I've ever seen DeCoteau get in exploiting underwear-clad young guys with big bubble butts. I actually expected this to be a movie about three witches bringing a clown doll to life to kill young men. Okay. That is the basic premise. But then the women sit by the poolside while the clown doll goes out and ogles young men for uncomfortably long stretches before jabbing them in the neck with his little knife. No euphemism. He actually has a knife.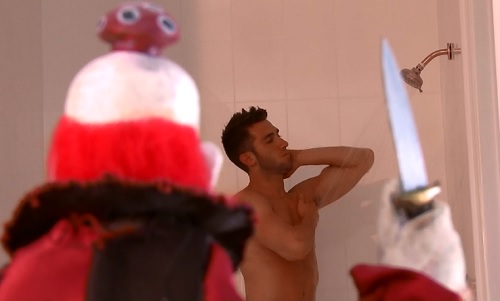 See, the three ladies have gotten together after 25 years apart. They talk about how they used to be like the girls from The Craft. One admits she still practices witchcraft and proves it by making a gorgeous pizza boy strip down to his underwear then making him cream in them with the flick of a hand. Hands-off handjob! Then one of the other ladies admits some frat boys killed her daughter and got away with it. So three witches decide to put a demon into the clown to get revenge.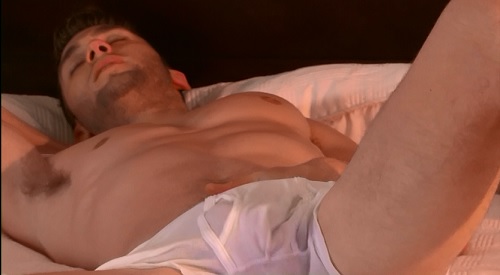 This is one gay clown! The older I get, the creepier DeCoteau films seem, and not in the good horror way. I couldn't help but see this clown as just representing David himself. It watches these boys showering, swimming, eating, exercising, sleeping, and feeling themselves up—always in nothing but square cut, very sheer tighty-whities. They all wear the same kind of underwear and aren't happy unless it's all they are wearing!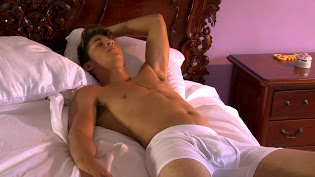 The clown couldn't be happier. It murmurs to itself and breathes like a pervert as it takes in every inch of them. The camera basically licks these guys up and down. At one point, it drops SO LOW while a guy is in the shower that I was sure we were going to see that magnificent spot where shaft meets pubes. Oh…and the guy doesn't even have any soap. He is just rubbing his wet body in the shower.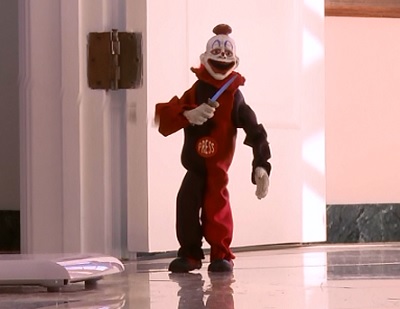 Really. This movie just made me feel dirty. There's no attempt at moving any kind of a plot forward. It's just one boy after another being objectified. These guys don't even have any dialogue! They never speak. And yet they still can't act! I just picture DeCoteau holding private auditions promising to put these young hopefuls in the movies…then telling them the only way they're going to be famous is if they strip down to their underwear. Icky.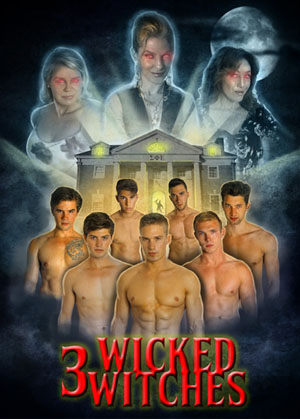 The last five minutes finally conclude the story of the three witches, with a little twist. The ladies manage to camp it up with their bad acting, and then we get a "shocker" last shot that is really just poking fun at classic horror movie finale jump scare clichés.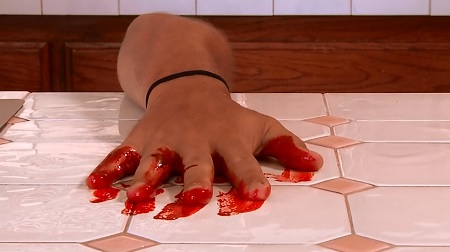 So that's what it has come to. DeCoteau isn't even going to try to write a script anymore or hire actual actors. I like some beefcake in my horror movies, but this isn't even a horror movie. And if I'm going to watch guys strip down on camera, they need to be doing something, like sticking it to each other! But hey. If you've always loved DeCoteau's films just because they feature so many guys in undies, then get out the tissues for 3 Wicked Witches, because you're guaranteed to choke up.