If you grew up in the 80s, you saw Betsy Russell ride naked on a horse in Private School. You saw her as a vengeful prostitute in Avenging Angel. And you saw her fix cars in Tomboy.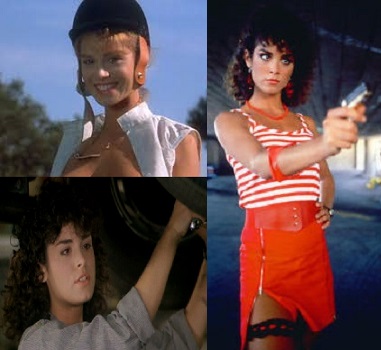 If you grew up in the 2000s you saw her in a lot of Saw films.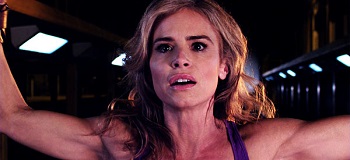 But her transition to horror actually began at the end of the 80s when she went camping…twice.
CHEERLEADER CAMP (aka: Bloody Pom Poms) (1988)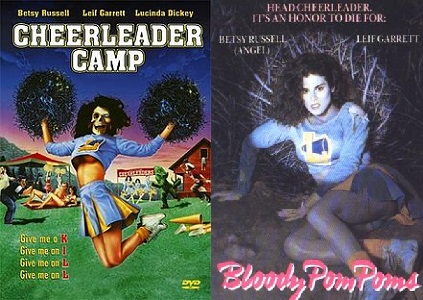 Finally, Betsy as a cheerleader! And she's a psychotic, pill-popping cheerleader who didn't get enough love from daddy or mommy and now suffers from delusional nightmares and daydreams. But is she the one killing all the other pretty girls at cheerleader camp?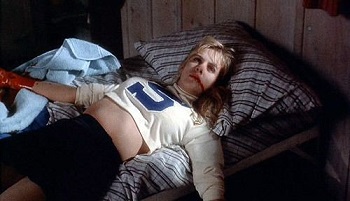 It doesn't get more eighties than Cheerleader Camp, which feels more like a teen summer camp exploitation comedy most of the time, with the majority of the slashing and gore coming in at the very end. We get:
A fat dude who's big ass gets stuck in a van window when he's mooning everyone.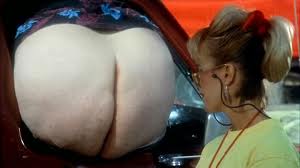 Same fat dude spying on topless sunbathing chicks…while he's dressed in drag.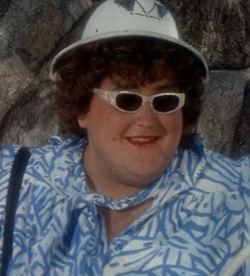 An uptight camp leader who's actually role playing as a cheerleader in the bedroom… with the sheriff as a football player.
The fat guy and Leif Garrett rapping.
Did I mention Leif Garrett is Betsy's boyfriend in the film?
Leif stuffing his tighty whities.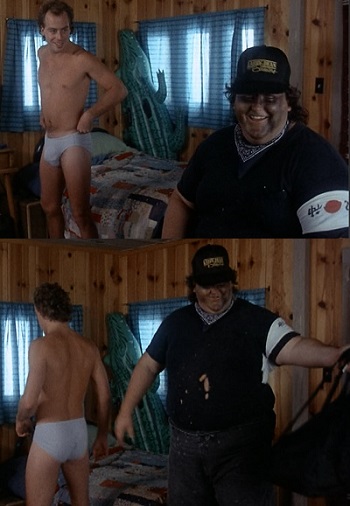 A breakdancing alligator mascot…played by Lucinda Dickey, better known as fricking Kelly from the Breakin'. If only they'd made it a trilogy and saved Lucinda this fate….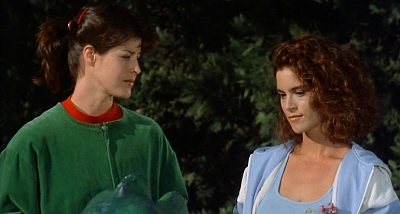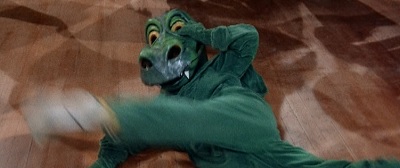 A dance party at which we're supposed to believe these clean cut white kids are digging the music of the evil goth band on stage.
But all the absurdity aside, in the last half hour of Cheerleader Camp, things get satisfyingly Friday the 13th. And the kills are impressively gory. Plus, there's a twist ending (that you'll totally see coming).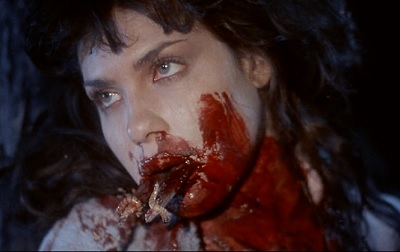 CAMP FEAR (1991)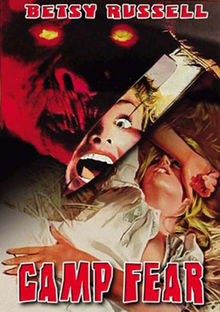 If you make one mess of a camping horror movie, why not make another? This time, Betsy plays a college student who is dating her handsome teacher…played by Vincent Van Patten, to whom she was actually married for a while in real life.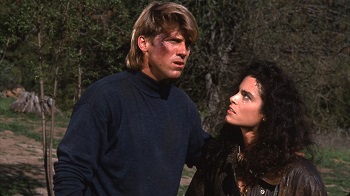 Some may know him as the son of Dick Van Patten of Eight is Enough. Some may know him as the bionic boy from an episode of The Six Million Dollar Man. Some may know him from the 80s horror flick Hell Night. Some may know him as Eileen Davidson's husband on The Real Housewives of Beverly Hills. Or, if you're me, you know him for all of those reasons.
Anyway, the couple heads off to a mountain with a bunch of Betsy's sorority sisters to study ancient civilizations or something like that. We get:
A totally extraneous opening scene at the sorority house featuring babes with huge tits running around naked and showering…a couple of them together. And one of them is b-movie scream queen Michelle Bauer, but she's so B she doesn't even get to go on the camping trip.
A Tiffany looking chick grooving obliviously to her Walkman in class.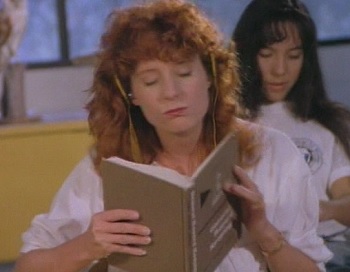 Vincent Van Patten freaking out every time there's a mini earthquake (and there are a lot).
A club scene in which one sorority chick gets up and sings while a couple dirty dances (it was all the rage back then).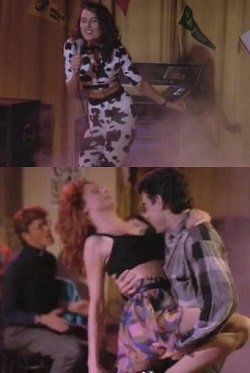 Rednecks who try to warn them not to go up into the mountain.
Indians in the mountains who try to warn them not to go any farther.
A big butch 80s raping and pillaging hair band-looking biker gang.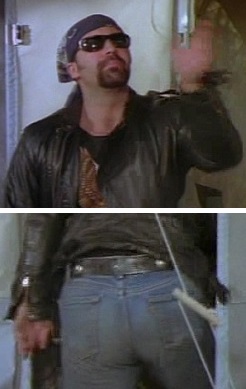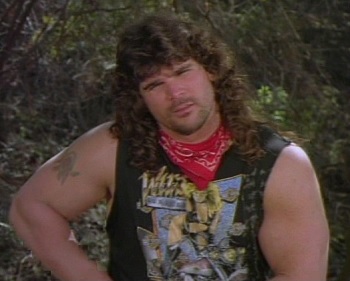 You can tell they're butch because they have rips in the asses of their jeans.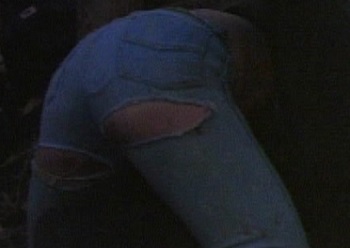 An obsession with the girls on the trip having to pee—one even grabbing her crotch as she runs off into the woods.
A big alligator type creature in a lake, yet everyone keeps calling it a sea monster. It's in a fucking lake.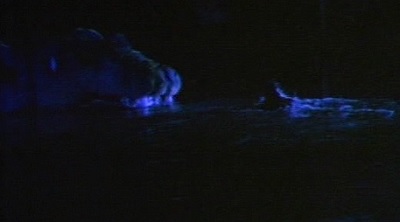 A deformed Druid caveman.
The girls being dragged off to his cave and dressed like cave women in preparation for an ancient ritual.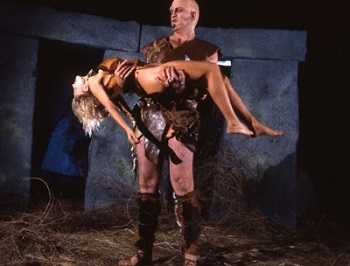 Camp Fear is a total fricking disaster in a totally awesome late 80s/early 90s kind of way. My only disappointment is that we just get that one glimpse of the cheesy alligator god in the water.