This could have just been a double feature blog about two from horror master William Castle, but the DVD for his film The Night Walker included another short film, so I threw it in as a bonus!
THE NIGHT WALKER (1964)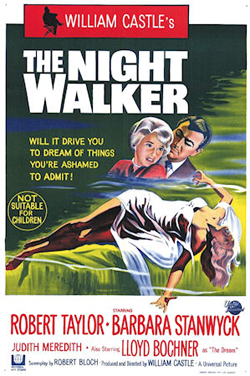 Is someone (or something) trying to scare Barbara Stanwyck of The Big Valley to death, or is she just being haunted in her dreams by her own guilt? That's the question in William Castle's effectively creepy thriller The Night Walker. The intro narration and accompanying visuals alone are pure Castle camp and reminiscent of House on Haunted Hill, but this film focuses on the horrors of nightmares.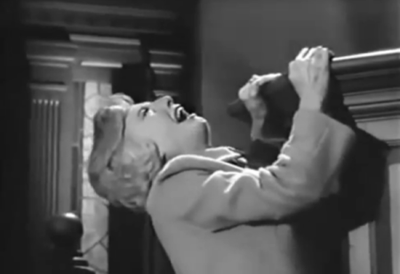 Stanwyck's character is married to an intensely jealous blind man who is convinced she's cheating on him with other men. From the start, he's rather frightening, especially since he's given blank white eyes. After he dies in an explosion in the house, his body isn't found, but he begins to appear in the wife's dreams with his face all burned. EEK! But is it really just dreams or has he returned to terrorize her?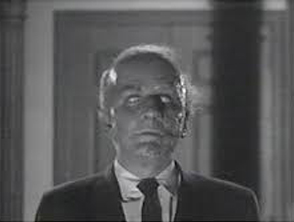 While this is mostly a mystery/thriller, with Stanwyck running around in a daze as she tries to convince herself and others that her nightmares are real, the dream sequences are chilling, particularly a church scene involving a congregation of very alive looking mannequins. I wouldn't be surprised if it was the inspiration for a similar scene in the House of Wax remake.
I SAW WHAT YOU DID (1965)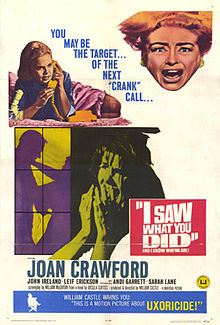 I'm always amazed at how William Castle's movies basically created a template for the modern horror era, and I Saw What You Did is no exception. While it doesn't have the hardcore horror edge of modern films, most everything that happens in this film has become standard in the horror genre. I'm going to go through it briefly, so this will have spoilers.
Unfortunately, since this film was made during the era of beach party movies and revolves around teens, the intro has a horrible surf rock type song while two girls are speaking on the phone, which makes it feel like "The Telephone Hour" number from Bye Bye Birdie! However, each girl is shown in oval cutouts, almost like someone is watching them through a mask. Think the beginning of Halloween.
Speaking of Halloween…the premise of this film? A young woman babysits her little sister when their parents go out for the night, and invites a friend to come over. Bored, the three girls decide to start making prank phone calls. Unfortunately, when they call one man and simply say, "I saw what you did, and I know who you are," they don't realize they've called a killer!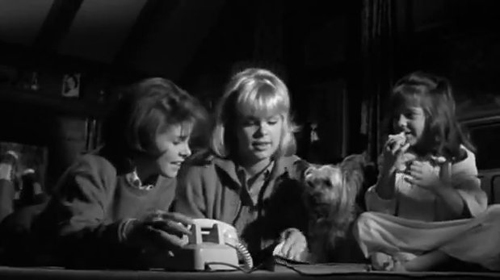 The killer's wife actually answers the phone, and since the girls picked the killer's name out of the phone book, they ask for him. The wife enters the bathroom to fetch him from the shower, and he pulls her in with him and stabs her. There's a major flub here. The killer is supposed to be showering, but a bad camera angle makes it very clear he is wearing shorts. Dark shorts, no less. Hey, when a guy is in the shower, I pay close attention to every detail.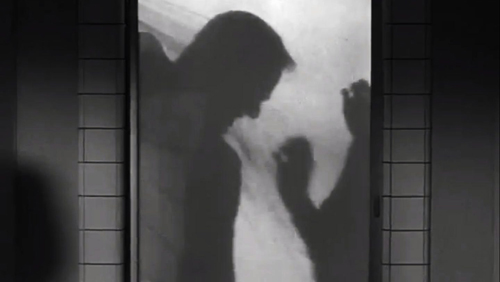 The killer (played by veteran actor John Ireland, who appeared in various horror movies in the 80s, at the end of his career), has a neighbor that really has the hots for him. It's…Joan Crawford! Moments after he stabs his wife, she shows up looking to bang him. But he has other problems to contend with—disposing of the body and dealing with the caller who "saw what he did."
In classic (and contemporary) dumb horror movie kid fashion, the girls think he has a sexy voice, so they agree to go meet him. When they get to his house, the main girl is scared off by jealous Joan, who takes her car registration. The killer gets it from her and goes to the address.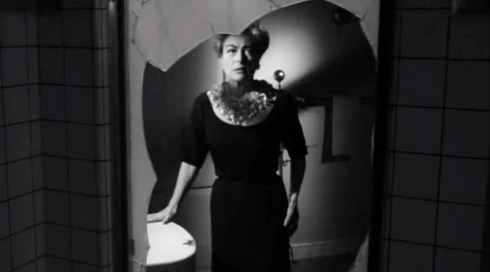 The final act features all the usual home invasion/stalker situations you could want as the killer chases the kids around the house. One of my favorite moments is when he throws a knife at the little girl! Awesome.
But alas, that damn surf rock crap returns as soon as the girls are saved, and the older sister makes a joke about how they will never use the phone again. It is a ridiculously out of place punch line considering what she just went through. This film could be hugely improved if the soundtrack was replaced with some actual horror music and that final one-liner was edited out completely.
DARK INTRUDER (1965)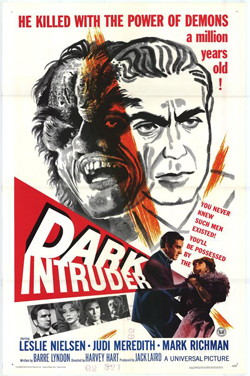 Running less than an hour, this "movie" was actually a pilot episode of a TV series that never materialized. Leslie Nielsen plays an occult expert who steps in to help the police when people begin getting murdered by what is believed to be some sort of creature.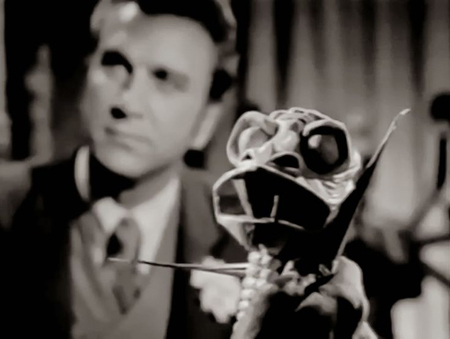 Don't expect a body count here. This focuses mostly on Nielsen's investigation, and although the movie is not an all-out comedy, his character is a charmer and brings a light sense of humor to the roll. He even goes shirtless in a scene. Yowsah!
The monster does make a couple of appearances, including one major scene in which it attacks Nielsen in an occult shop, and it pretty much looks exactly like Hyde.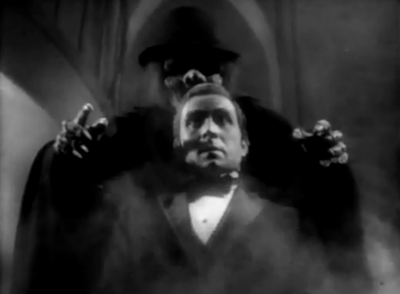 Other than that thrilling scene and some classic monster movie atmosphere, Dark Intruder unfolds mostly as a dialogue-heavy mystery. It reminds me of a cross between Poe's "The Murders in the Rue Morgue" and Robert Louis Stevenson's The Strange Case of Dr. Jekyll and Mr. Hyde.