Nope. Still not sick of zombie films, especially when I watch three in a row that are better than most of the less-than-average junk being pumped out these days.
BAD TO THE JONES (2011)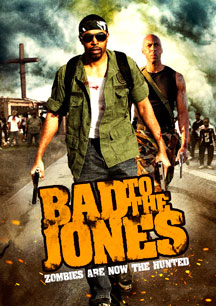 Writer/director Marlon Ladd and actor Chris Paul star as two brothers surviving the zombie apocalypse in this urban zombedy set in…rural America (eek!).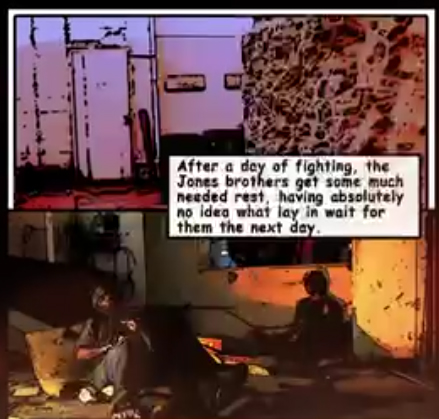 The movie is framed by comic book graphics (there are also occasional comic book stills between scenes), and begins with the brothers showing us exactly the kind of slapstick banter to expect as they get into a goofball fight that inevitably summons a bunch of zombies. Ladd plays the straight character, while Chris Paul is given free rein to run with his comic shtick. As a team they're infectious, delivering fun, playful, original comedy (not to mention, they're quite easy on the eyes).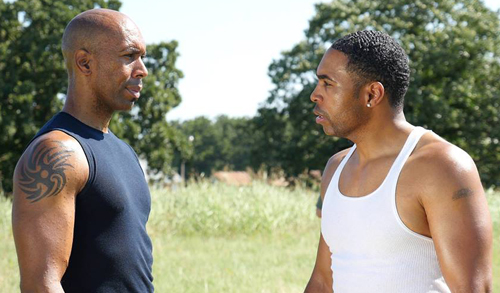 This first zombie encounter shows that there will be zombie goo and gore, plus we are introduced to a pair of sizzling hot muscle bear super zombies.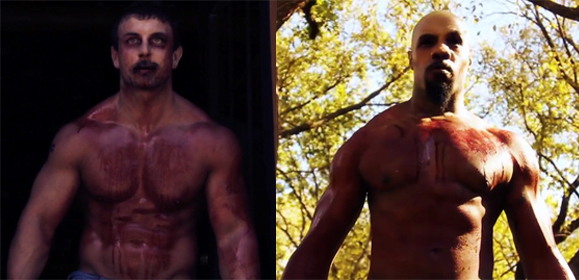 But after an intense scene with these two sexy beasts—these fuckers fricking drag their meals into the woods—all zombies quickly take a backseat for a majority of the film. This might disappoint hardcore zombie fanatics, but if you love horror comedy and buddy movies, you should have no problem just going with the flow.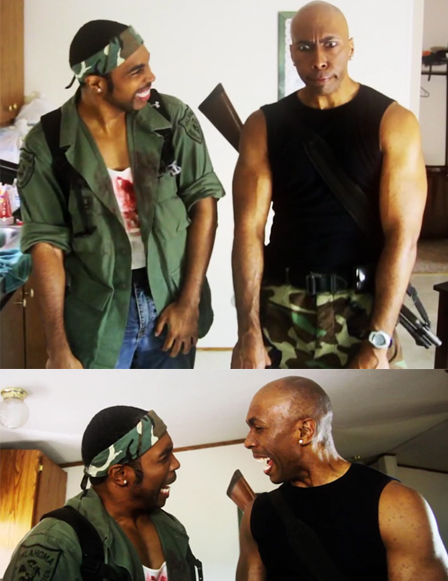 The brothers set off to find their sister, picking up survivors along the way, leading to various comic encounters. The humor never grows old, and Ladd and Paul remind me of a modern Abbott & Costello. The highlight for me should come as no surprise—they have a Michael Jackson dance off. Awesome.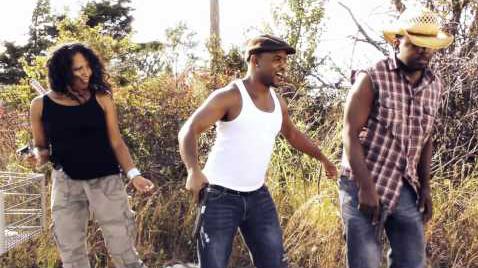 By the time the zombies come back in full force, the zombie action rox.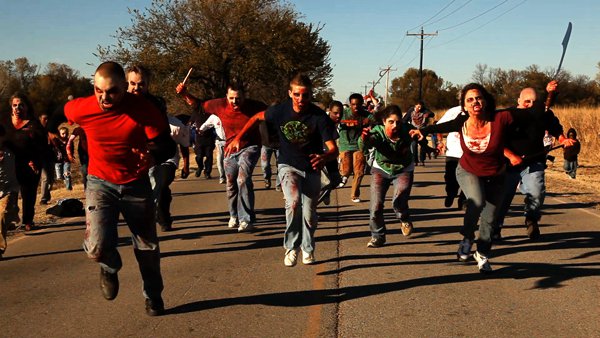 My only disappointment with the film is that the return of the sizzling hot muscle bear super zombies is way too short-lived, or short-living dead, whatever the case may be.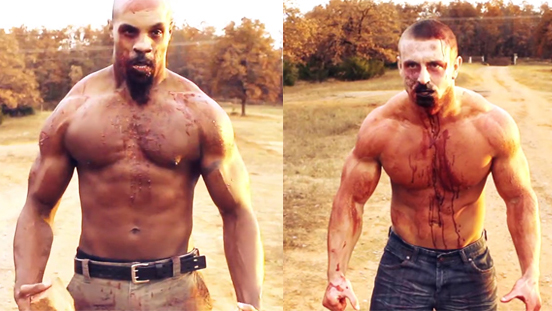 They could have had a much more formidable presence throughout the film considering their initial appearance was so momentous. Guess I'm just going to have to snag a copy of Bad to the Jones on DVD so I can watch them over and over again.
ROCKABILLY ZOMBIE WEEKEND (2013)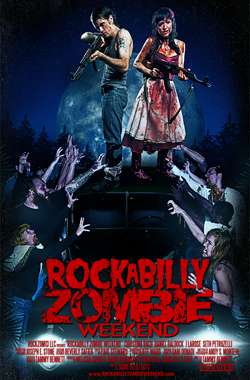 Where are the funny black guys when you need them? All we get here is white trash and nothing in the way of a horror comedy, despite the quirky sounding title. The redneck characters may be visual caricatures, but Rockabilly Zombie Weekend takes itself pretty seriously. It ends up being a technically well put together zombie excursion—cool zombies, great gore, and plenty of action—that somehow lacks that special spark, and the characters kind of just blend into the background.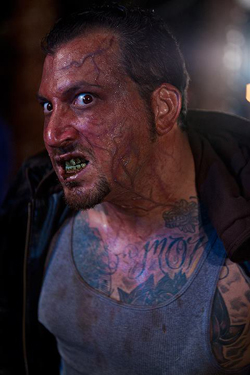 Due to toxic chemicals used for crop dusting in a small town, people begin turning into zombies on the night of a young couple's rockabilly themed wedding. For me, the absolute strongest scene in this film is the first mutation of an older man at a bar. It's a very slow and deliberate process that makes for a chillingly intense sequence.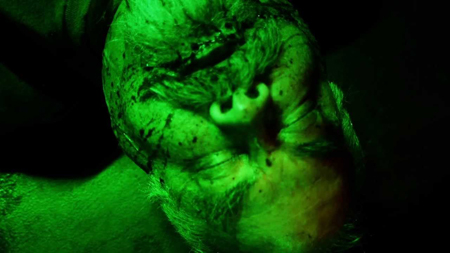 40 minutes into the film, zombies at last crash the wedding. It's gore galore as guests fight back, run in terror, are eaten alive, and try to board themselves up in a barn. From this point, the zombie action comes nonstop, but there's not much here that stands out from the horde—I mean, herd of zombie films out there.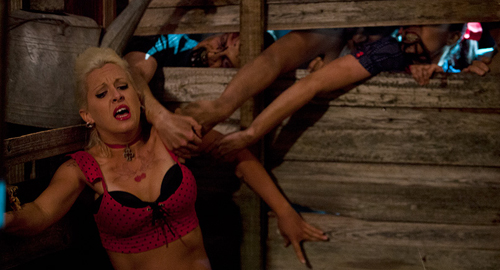 I got my hopes up when a big boy that was initially a minor player suddenly stepped into the limelight and pulled off a quick series of awesome zombie takedowns, but within seconds he bites the dust, dashing my dreams of a studly redneck zombie slayer movie.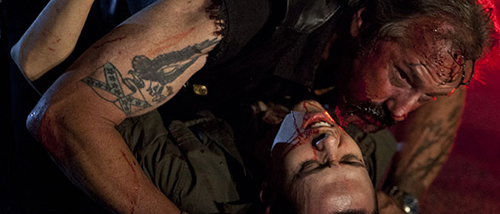 The white trash, the couple, the wedding—none of it offers enough personality to make this one a memorable zombie film. However, it's good for a quick fix when you need it, thanks to all the zombie insanity. And as for the rockabilly angle, there's definitely plenty of it played throughout the film, but that did nothing for me personally, considering listening to Stray Cats was the most I ever got into the genre—and only one of their songs in particular.
I SURVIVED A ZOMBIE HOLOCAUST (2014)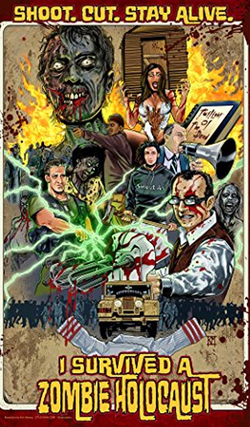 For me, I Survived a Zombie Holocaust is the perfect blend of comedy, horror, gore, zombie action, and sex, and I ordered the DVD as soon as I was done watching this one on cable.
A geeky wannabe screenplay writer gets a menial errand boy job on the set of a zombie film with a quirky cast and crew, including a mega hunk muscle hero star, a bodacious bitch of a leading lady, a browbeating producer, and a sweet caterer the errand boy fancies.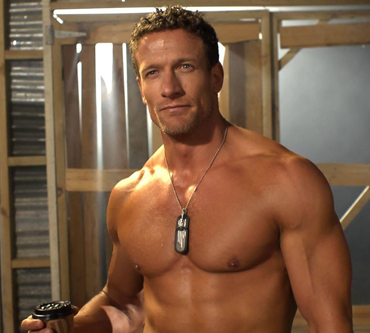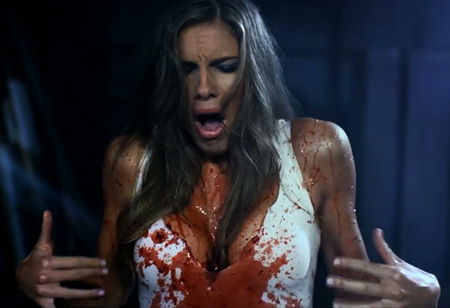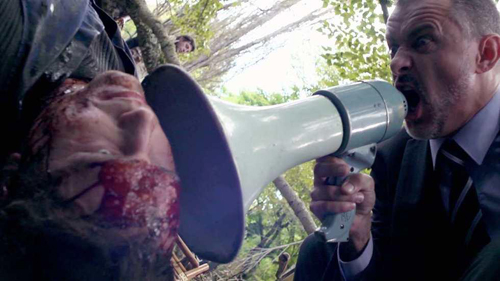 Before long, actors begin turning into actual zombies. Only problem is, no one realizes it! Along with the comedy of errors, we get plenty of one-liners and quick, dry humor from a strong cast. The mega hunk is as funny as he is gorgeous, and he looks fantastic wearing only a cock sock during a sex scene shoot.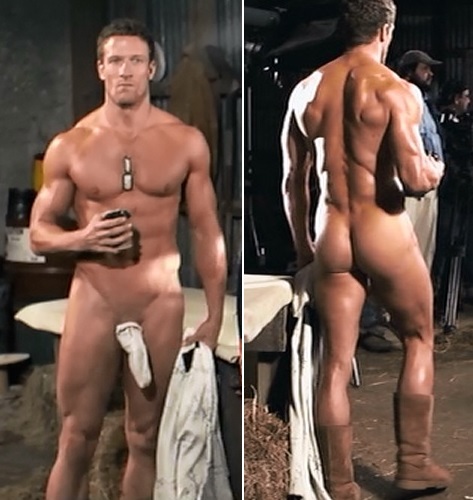 And kudos to our uber hairy hero for doing the same as he takes on the responsibility of stand-in…which leads to some good old sex humor.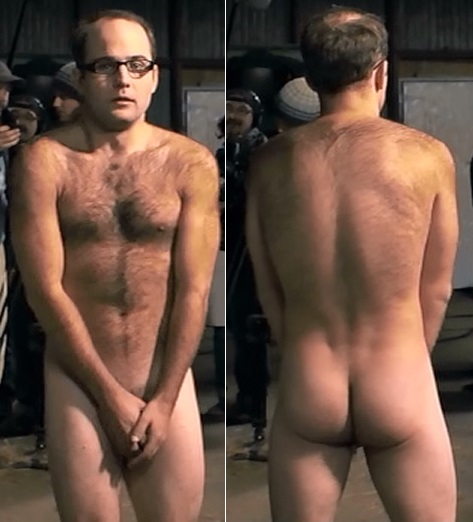 The hunk seems to be stealing the show for a while (or maybe I was just too distracted by his presence), especially after questions about his sexuality come into play.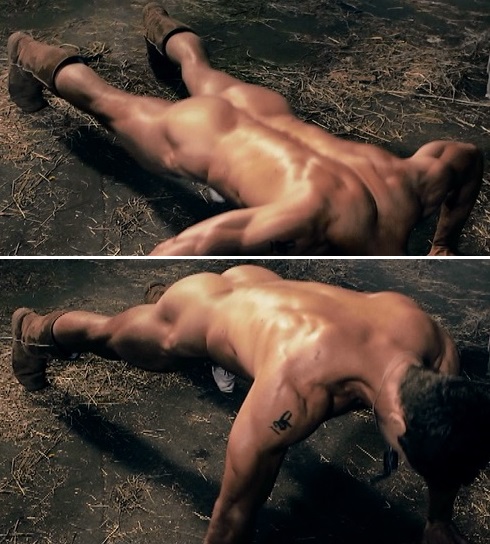 The diva bitch accuses him of being gay, so when he finds her in his trailer with her tits out, he quickly covers up the gay porn magazine on his table and promises to show her "how not gay" he is. Considering he's too dumb to realize she's a zombie, this leads to a disgusting case of undead dick later.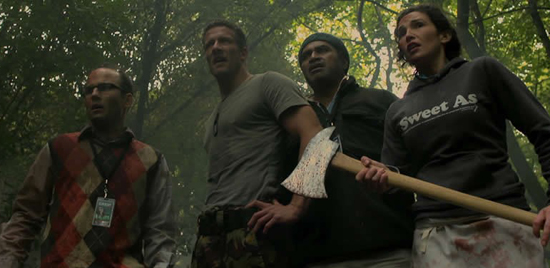 Once the zombie outbreak kicks in, it's fast-paced action, gore, and laughs as our nerd becomes the unlikely hero with a great sidekick in the sweet catering chick. This one is definitely an instant zombedy fave for me.