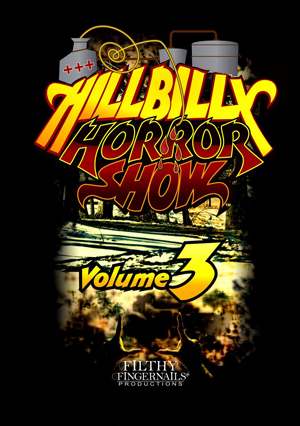 Once again, I suckered myself into picking up a DVD volume of The Hillbilly Horror Show, even though volume 2 was a disappointment (volume 1 blog here, volume 2 blog here).
Good news is, the price was pretty good at like 7 bux. The collection only runs 52 minutes and includes 4 short films. This time, the wraparound featuring the trailer trash ups the focus on the chick (barely) in her Daisy Dukes.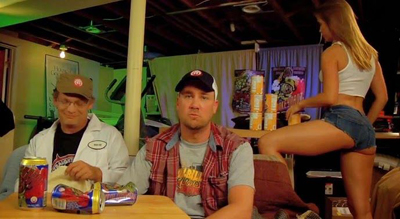 Hey, if they're going to serve up some disappointing shorts, they have to make it worth it for (some of us) to watch, right? They should really consider squeezing middle man into a pair for the rest of us in future releases. Anyway, on with the breakdown.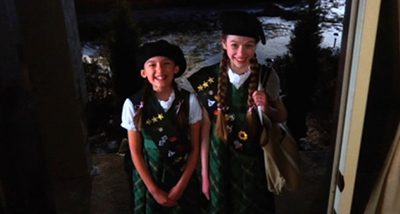 "GET OF MY PORCH" – This is like a whimsical b-movie. It's Christmas time (which is completely irrelevant to the story) and a man gets harassed by eerily aggressive Girl Scouts selling cookies. Even weirder, all his neighbors seem to be obsessed with gobbling down the goodies.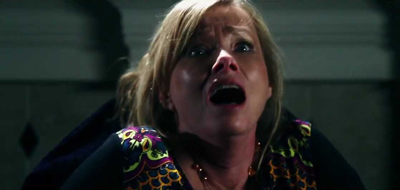 "DIVINATION" – I covered this clever and eerie short in this blog. In short, a bogus medium learns it's payback time for swindling grieving people out of their money. This one has a classic Tales from the Crypt episode vibe and should set the bar for the tone of films to include in future releases.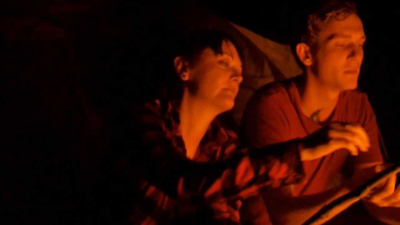 "FOLLOW" – Even short films are being invaded by found footage. A guy and girl head into the woods, with her recording because the dude is not a nature boy. I actually thought his character was supposed to be gay, but they're apparently a hetero couple. Anyway, she tells a creepy story about disappearances in the woods and a legend that only staying in light keeps you safe. Then she disappears, he goes looking for her, and the most formulaic aspects of found footage finales ensue. The execution of this pale imitation is ultimately ineffective.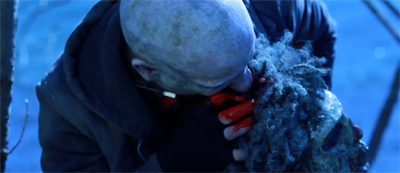 "MODERN GRUMBLE" – This is one of those trippy art films with a sort of modern techno vibe. I really don't know what any of it means, but it's footage of a woman and pensive zombie…that eventually eats another zombie. It looks really stylish, I must say.
Was this installment of The Hillbilly Horror Show the last straw for me? It should be, but sucker that I am, if they keep lowering the prices of each new release, I'd probably pick up the next one. Personally, I think if the quality of films remains so shaky, they should cram like 8 movies into a 2-hour collection…and sell them for 5 dollars. Then it might be worth it for a couple of good shorts in the bunch.