A bunch of kids goes to a cabin in the woods so a big hairy beast can rip each of them apart. I'm talking about Boggy Creek and Abominable (and a whole bunch of other movies, of course).
BOGGY CREEK (2010)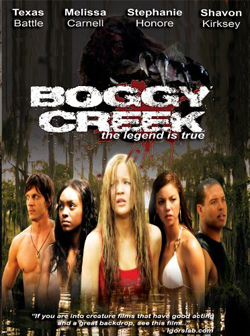 I don't know if Boggy Creek is any kind of remake or sequel to the Boggy Creek flicks that came out between 1972 and 1985, but it doesn't really matter.
A group of friends heads to a house in the woods after the death of one chick's father. Eventually they each end up in the hands of a big hairy monster. I say eventually because, despite the monster (which is never officially considered a Bigfoot in the movie) being shown pretty much from the beginning (he is old school hair-and-makeup awesome) and his attacks being nice and gory, this movie is fricking boring!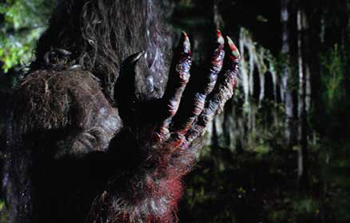 Our main girl thinks a lot about her dad in flashbacks. The friends have relationship drama. They go sunbathing. They go boating. They find a slaughtered animal on their car, but that doesn't stop them from going right back to hanging out and talking endlessly. They go camping.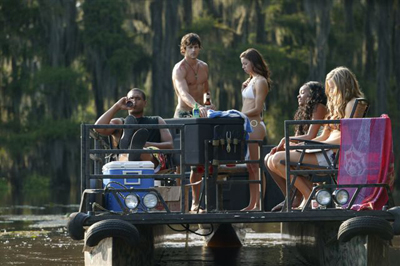 Occasionally, there is a fun gory kill (my fave being of a shirtless muscle stud in a tent), but most of the action is saved for the last few minutes of the film.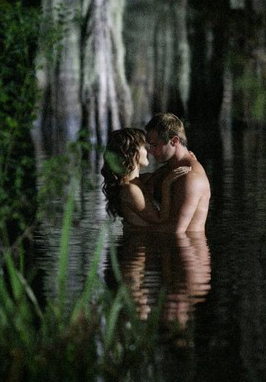 The cast includes several cuties. The guy living next door who believes there's a creature out there is sexy—and shirtless in a flashback.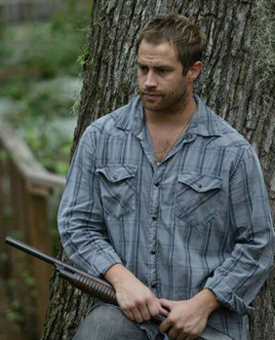 I know I'm getting old because I'm thinking "Come to daddy."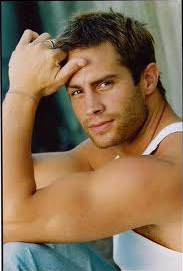 Texas Battle, of movies like Wrong Turn 2, Final Destination 3, and The Task, is horror-dorable as usual.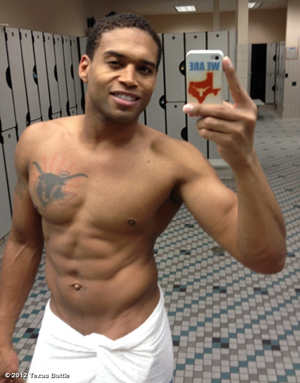 And the guy playing the creature is kinda cute too!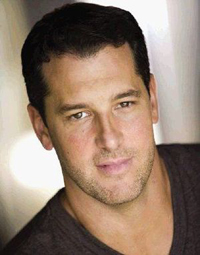 Plus we get a Rob Thomas lookalike and a Julia Stiles lookalike.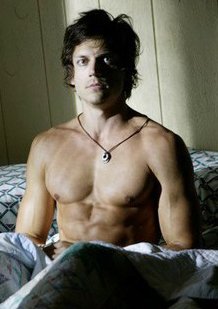 But with so much filler between the fun stuff, be it man, monster, or mutilation, Boggy Creek can't compare to the fun to be had with…
ABOMINABLE (2006)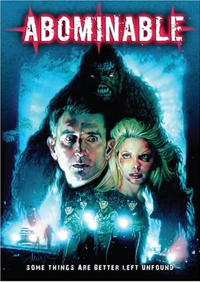 Rear Window meets the abominable snowman, resulting in good n' cheesy creature feature thrills.
Dee Wallace makes a brief appearance to discover slaughtered cattle in the opener. Then we meet our hero, a guy in a wheelchair. Actor Matt McCoy, who appeared in two Bigfoot movies before Abominable, plays a man disabled in an accident. He is brought to a house in the woods as per doctor's orders. The male nurse accompanying him is a total dick…who doesn't believe McCoy when he begins to see the hot chicks in the house next door being dragged into the woods by a Yeti.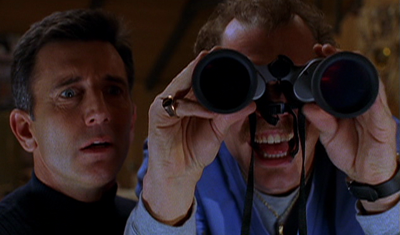 Abominable is straight up old school rubber monster fun and has a great cast, including Jeffrey Combs (in ridiculous redneck cap, glasses, and wig), Lance Henriksen, Paul Gleason (aka: Mr. Vernon from The Breakfast Club), and Tiffany Shepis. Even Yeti can't keep his hands off her when she hops in the shower.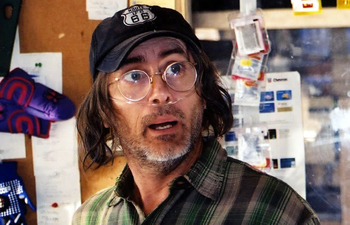 That's what's so cool about this film. This Yeti doesn't let walls, windows, or doors stop him. He will invade a bitch's home and drag her right out of it! A majority of the victims are killed at the house. It's not like they go frolicking in the woods. And McCoy watches it all through his binoculars, which makes for some great horror scenes. Of course, his attempts to warn them are foiled by his asshole nurse.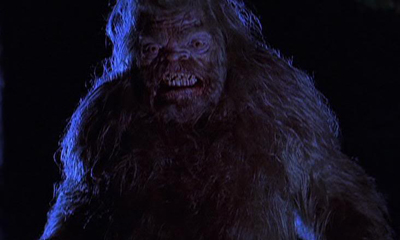 We get plenty of glimpses of the Yeti, and the gore is good and gross, especially more towards the end. And while the movie is a bit of a slow burner, the tension builds when the final girl teams up with McCoy to escape Yeti. Abominable is definitely an ideal winter watch and a great throwback hairy monster movie.