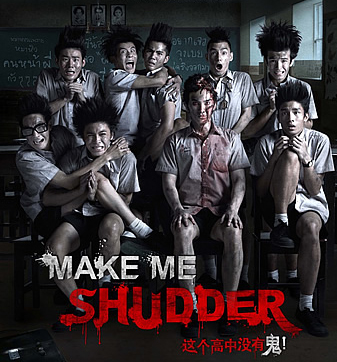 I've never seen a film that delivers as much genuine horror film atmosphere and nonstop, over-the-top comic ridiculousness as the Thai film Make Me Shudder. It takes all the creepy weirdness of the Asian horror genre and reimagines it as a totally farcical comedy!
Schoolboys try to out scare each other by entering the most haunted building on their campus. Pretty soon, they sound like a bunch of screaming schoolgirls as they come face-to-face with the bloodied ghost of a boy who once jumped from the roof of the building! But he's not the only ghost on campus—the demonic spirit of a teacher with a broken heart still roams the halls, looking for revenge.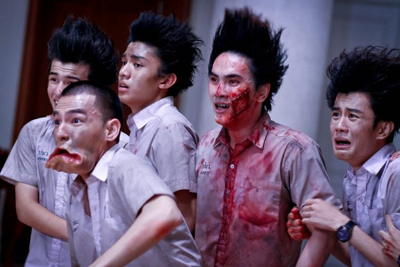 From a gaggle of bats flying at the camera during the opening scene like something out of Scooby Doo, to the boys entering a dark building while clinging to each other and quivering in fear like Scooby and Shaggy, I knew this was going to be my kind of movie.
Not long after they've spooked the hell out of each other, the boys encounter the boy ghost and are chased around the shadowy halls of the abandoned building with slapstick results. The endless squealing by the boys—not one of them seems to have a backbone—might be a little much for some, but there's so much great comedy here it's hard not to laugh and stick with it. Wait until you see the toe-sucking scene….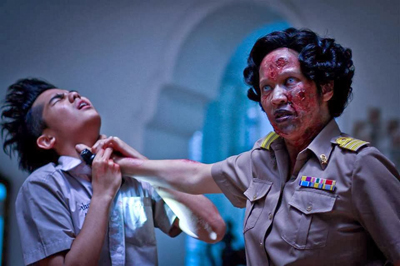 Just when the scary ghost boy plot is getting old, the demon teacher bitch steps in and the boys are catapulted back to re-enactments of the tragedies that occurred in the building, adding a whole new twist to the film. But once again, the boys fall into a pattern of continually running and screaming. The movie runs an hour and forty-five minutes and definitely could have used some trimming to cut down on this aspect, which starts to wear out its welcome.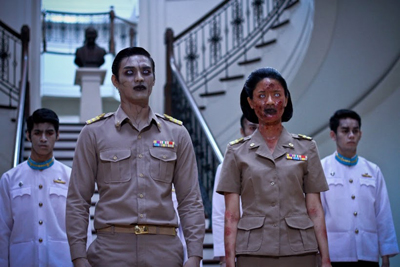 The special effects get pretty wild and border on cartoonish at times because this was actually released in 3D. It's definitely the perfect popcorn movie candidate for that novelty. There have already been two sequels to the movie, but I have a feeling this little comic gem is best left as a standalone film.