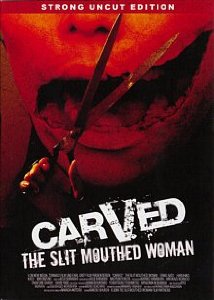 Another scary Asian lady to terrorize us. The legend of the slit-mouthed woman comes to life, and it's really scary…at first.
A city is on lockdown after children begin sighting a creepy woman with long black hair in the park. She wears a trench coat and a mask over her mouth, and soon begins fricking abducting children! She also hisses one question over and over: "Am I…pretty?" EEK!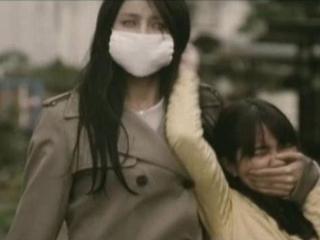 Eek indeed. It's not long before one of the kids knocks the mask off during a kidnapping. The mystery of what the slit-mouthed woman looks like is spoiled way too soon, but she's definitely horrific, especially when she opens her extra-wide mouth. Awesome. Oh. There's also the wickedly long shears she carries with her to snip open the cheeks of the kiddies.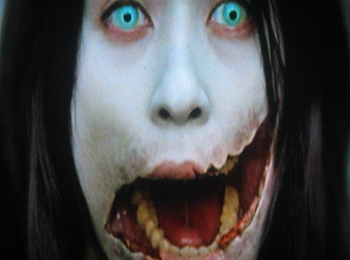 A great premise, but this unfortunately becomes another cliché Asian horror film, eventually feeling like a supernatural slasher. A man and woman join forces to solve the mystery of the evil entity's history, which is deeply focused on themes of abusive mothers. When our heroes finally reach the slit-mouthed woman's lair, there's serious baddie overkill, causing her to lose her potency as a terrifying presence, particularly because she doesn't do anything freaky…like float. She kind of just stands around. If only she floated.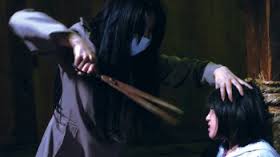 Naturally I had to hunt down the two sequels, The Scissors Massacre and Slit-Mouth Woman Zero.