It's flashback time to the end of the 80s for some witch flix—a comedy spoof and a creepy family movie.
LOVE AT STAKE (1987)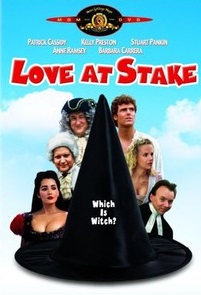 When I worked at the video store in the late 80s, I used to play this one every year during my light Halloween marathons while at work (with movies like Elvira, Ghostbusters, High Spirits, etc.).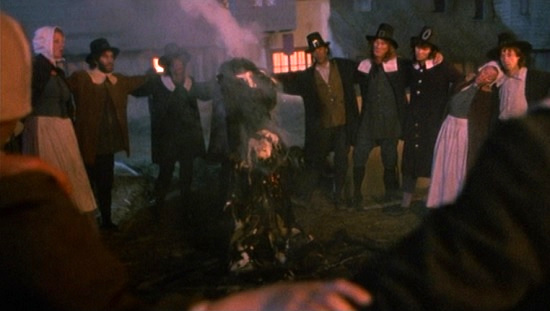 The spoof humor is sort of like that of the Airplane/Naked Gun style of comedy, which makes sense since it's directed by one of the creators of Fridays and written by writers of MADtv and Saturday Night Live. It's just not as quick and constant as in those films.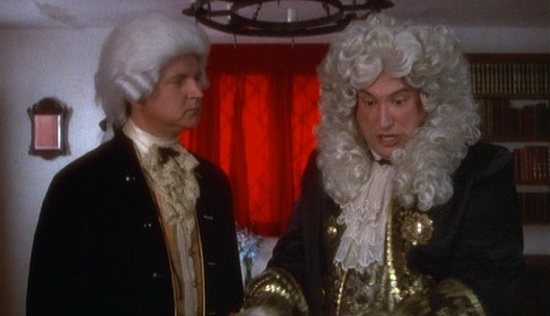 With the cast of veteran comedy actors in it, it really should be funnier than it is. It doesn't quite hold up or keep me laughing these days, with gags like the main couple running past each other numerous times in a field of tall weeds, a guy being cursed with a case of the farts at church, or an old lady who sings a song all about her pussy…as in, her cat.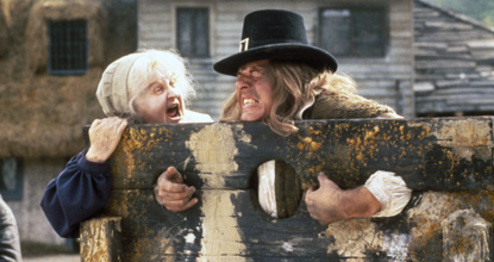 I still appreciate it for the nostalgia and the fun it pokes at the Salem witch trials. Kelly Preston is the leading lady. The leading man is cutie Patrick Cassidy (Mr. Anthony on that awful attempt at a hair salon sitcom spinoff on The Nanny. Oh…and also, you know, a Cassidy).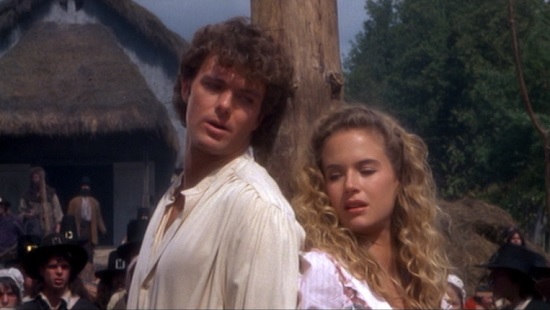 Dave Thomas of Strange Brew is the mayor, and Barbara Carrera (Wicked Stepmother, Embryo, Island of Dr. Moreau) is the actual witch who comes into town to stir up trouble while innocent women are being found guilty of witchcraft.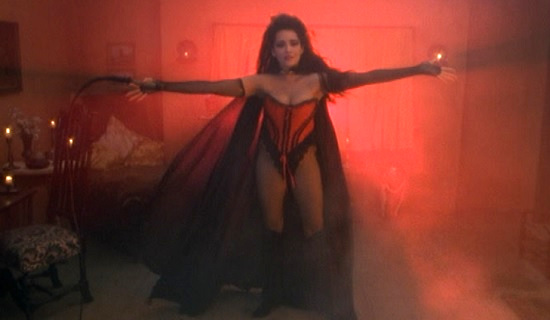 Barbara Carrera's hi-jinx making everyone look guilty and fucking with their heads using her spells is by far the highlight…as is the scene in which she becomes devilishly dominatrix and magically tears off Cassidy's clothes. He's definitely hotter than Shaun or David if you ask me.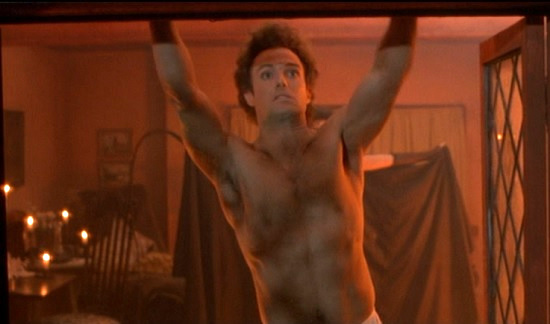 Other silly gags include a dance to a rap song called "Don't Keep Satan Waiting," and Dr. Joyce Brothers playing herself and giving a frighteningly always relevant defense during the trial about oppressive religion causing repressed sexuality that turns people evil and causes them to act out against others.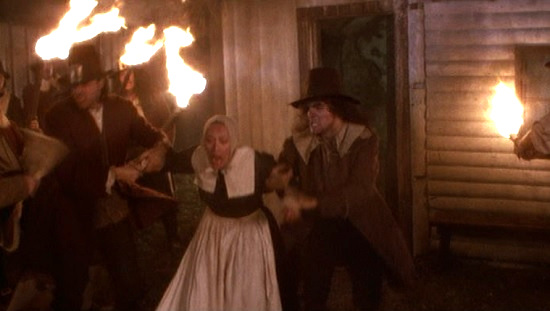 The icing on the cake? The witch finally reveals her true self…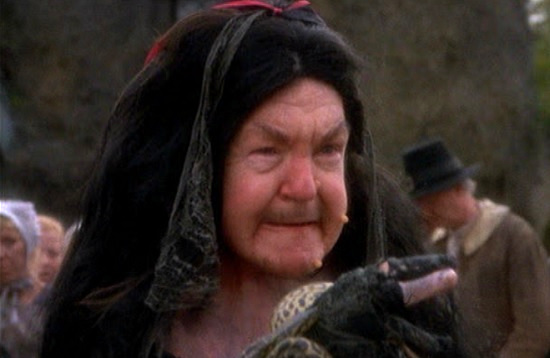 THE WITCHES (1990)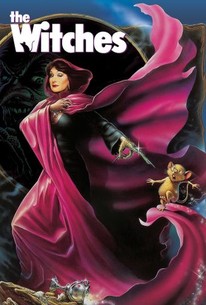 I never realized until it was time to write this blog that The Witches comes from Nicholas Roeg, director of the 1973 shocker Don't Look Now with Donald Sutherand.
What I've also never realized is why, despite this classic having Anjelica Huston as one for the most hideous witches in a family movie ever, I simply can never remember much about it and don't rank it as high as I should in films of this type. So, I absolutely forced myself to pay attention all the way through this time instead of allowing my interest to be derailed at whatever point it is that it always gets derailed.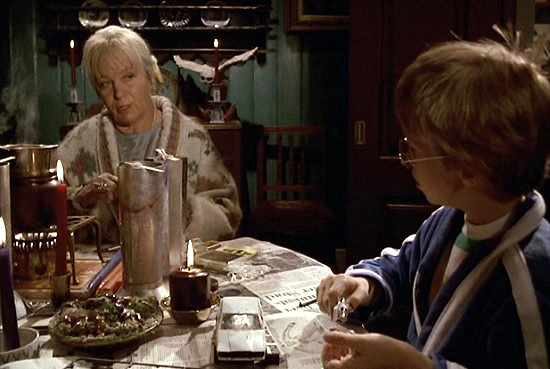 Things begin in a cozy little house, where a grandmother tells her grandson the history of actual witches, their taste for children, and how to recognize one when he encounters one. Soon after comes what I'd say is the most chilling scene in the whole fricking movie.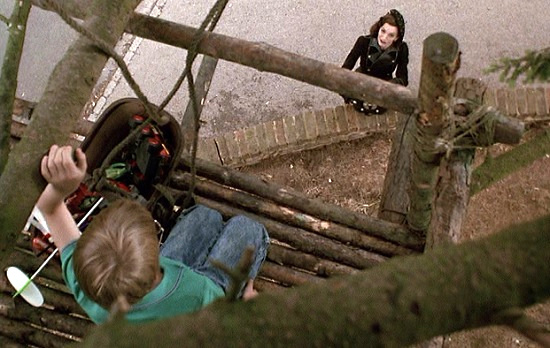 The boy is outside playing in a tree when a creepy, witchy woman with a snake tries to entice him down, even going as far as to offer him chocolate. Eek! He's too smart for her witchy ways, she hurries away, and we never see her again! And no, she's not Martha Plimpton.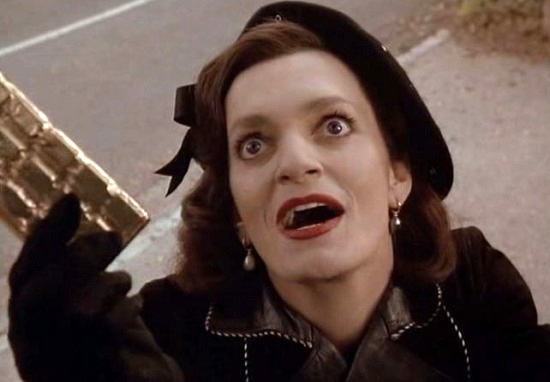 The boy and his grandmother end up staying at a hotel where the curious boy spies on a convention—of witches!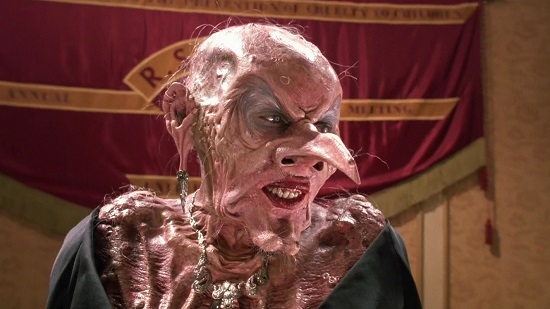 Their leader, Anjelica Huston, reveals her true horrific self, the witches demonstrate their power to turn little children into mice, and…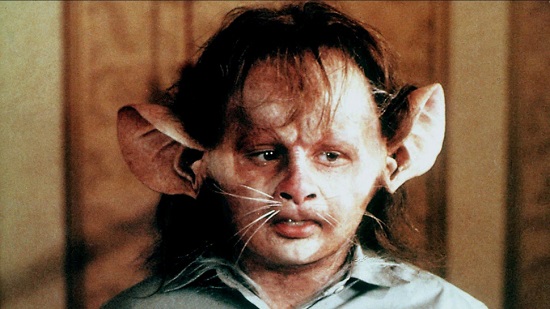 …they spot the little boy. EEK!
DERAIL! DERAIL! This is right where the film just gets messy and chaotic. First, there are just way too many witches!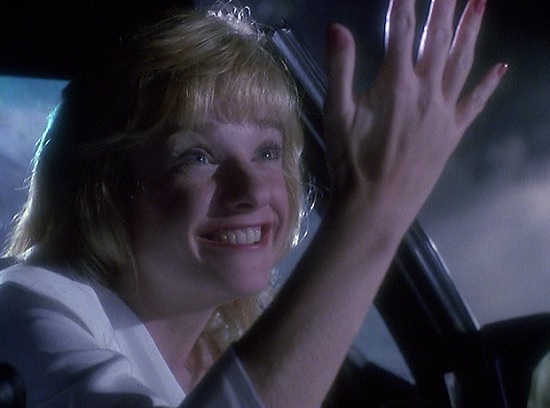 Aside from Anjelica and her assistant witch, played by Ab Fab's Bubble, all the other witches are just a sea of forgettable faces. Consider this compared to the Hocus Pocus trio, which gives the movie hocus focus! Three witches are simply a more distinct and memorable threat than an entire conference room full of them.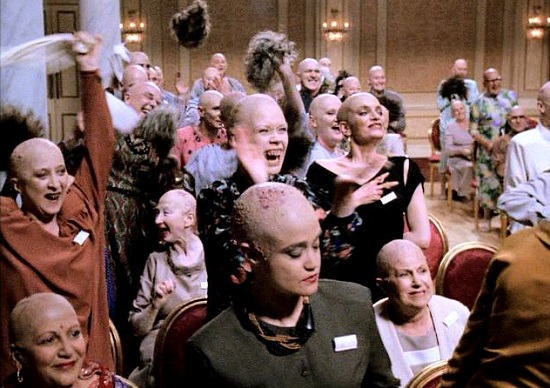 The other thing that never gripped me—and the part I always block out—is that the witches turn the main boy into a talking mouse who has a talking mouse buddy.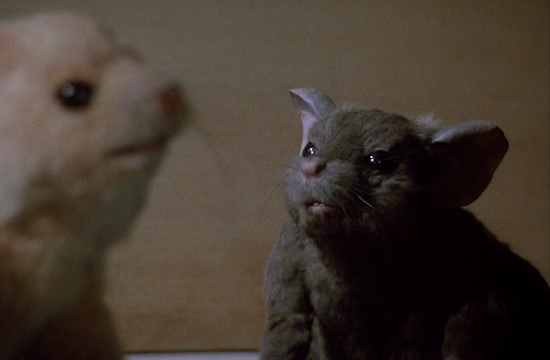 They have to help the grandmother take down the witches. The major battle takes place in the hotel's dining hall, and for me, all the menacing, witchy darkness is obliterated. This shit starts to feel like Ratatouille or some charming family friendly crap. Blah.
Although I must say, there's a part in which the mice go up the chef's pants that is pretty damn funny, thanks in part to the reaction of Mr. Bean, who plays the hotel manager.