After watching Accidental Exorcist, which Daniel Falicki directs and stars in, I was intrigued enough to search out more of his work, and found three other titles of his available for streaming.
Based on the four films I viewed, I'll say much of Falicki's work is a bit too experimental for my pedestrian horror tastes, focusing on message and meaning rather than good old chills and thrills, but I am glad to see a director making movies his own special kind of horror regardless of mainstream trends. There's often a noticeable theme of ordinary characters being thrust into unthinkable situations that defy reality while exploring spirituality and concepts of heaven and hell, and every movie begins with a profound quote from one famous figure or another.
AWAKEN THE DEVIL (2014)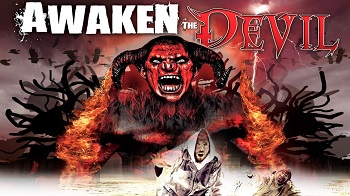 Like a throwback to the 1980s, this entire film uses an animation filter like something out of a-ha's "Take On Me" video, so you know immediately that this is no ordinary horror flick. Not to mention, one of the main characters has a little boombox, and the song "Walk Into The Sun" by 1980s alternative band The March Violets plays during the opening credits.
But don't expect any retro horror fun here. This is experimental to the max. Two brothers, one in a wheelchair and the other his asshole sidekick, are panhandlers on the streets. They are the only two characters in the film and the asshole brother babbles on and on because the brother in the wheelchair can't speak, so this film started to get on my nerves pretty fast.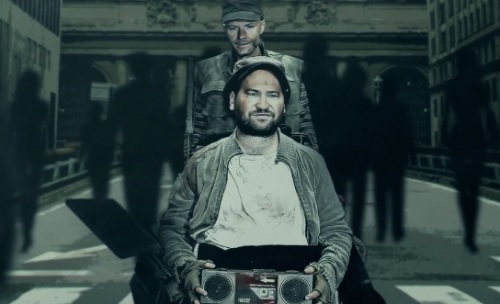 Anyway, the brothers break into an abandoned building and find themselves transported into a sort of alternate reality from which they can't escape.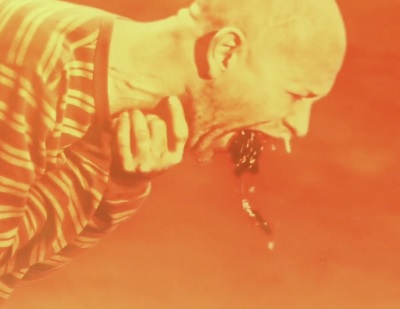 There's a flying demon, a dead body under newspapers, a pentagram on the floor, a succubus that has its way with the asshole brother…..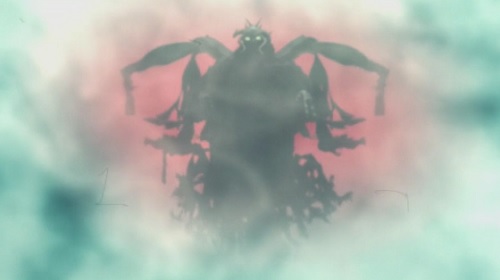 It's just a series of hallucinatory situations, with the otherworldly creatures presented as cartoon animation, until a final spiritual message is delivered at the end. I had to hold an inverted crucifix up to the TV to ward away the heavenly light.
3:33 A.M. THE WITHING HOUR (2015)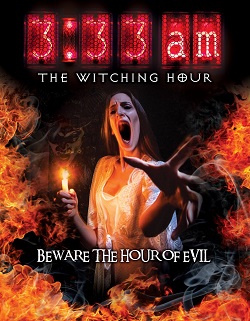 Of the Daniel Falicki horror flicks I've seen, 3:33 A.M.: The Witching Hour is the most fun. It's kind of like Dario Argento films Do You Like Hitchcock and Inferno got together and made a horror comedy.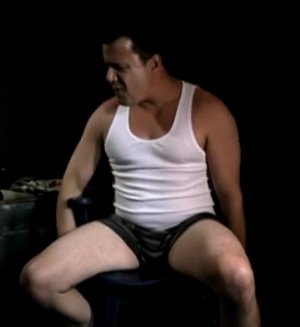 The adorable main man is a guy just out of prison who moves into a halfway house loaded with neurotic neighbors, including the likes of a strict landlady, a nun, two beer-loving bears, a drag queen, and a crazy lady with a doll.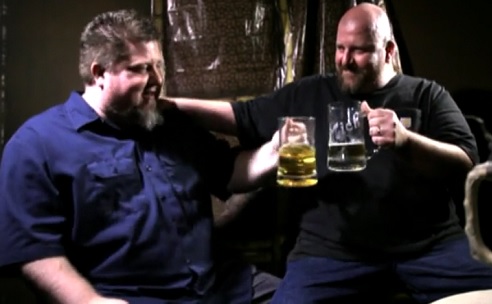 But something even weirder is going on. Every night, the main man wakes at the 3:33 to flashes of perfect 80s horror lighting coming through his window, outside of which he can also see a gnarly tree and a window across the way.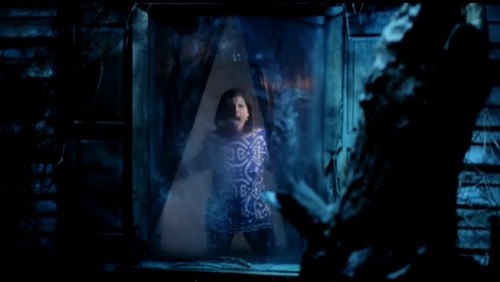 When someone turns up dead at the neighboring building, the main man hatches a plan to expose the truth behind the strange happenings next door.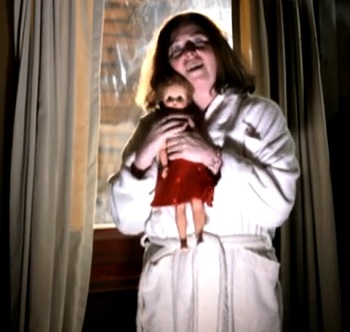 Initially, the action moves at a fast clip thanks to the combination of funny moments, quirky characters, and genuinely eerie situations that occur. There's a fun, campy vibe as the main man starts to have gatherings with all the tenants in the middle of the night, hoping they will witness what he's seeing.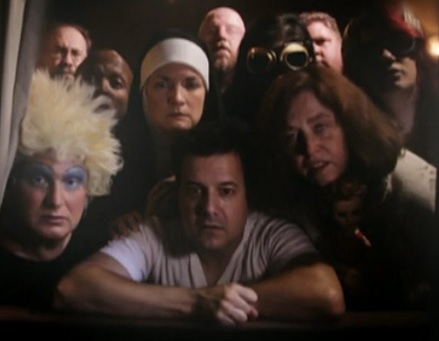 But halfway through, things turn a bit too complex and confusing with a darker tone taking over. Other characters are thrown into the mix as Falicki's trademark spiritual philosophies are explored in dialogue-heavy scenes. Most disappointing of all—the film runs 2 hours and 20 minutes!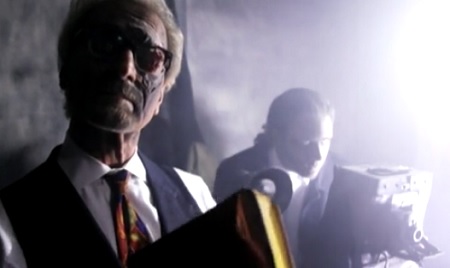 The fun returns for the finale with a classic 80s horror feel as the group at last migrates over to the other building to face what is really going on there. Shave 50-60 minutes off this one and it would be a tight little throwback film.
AND HELL AWAITS (2016)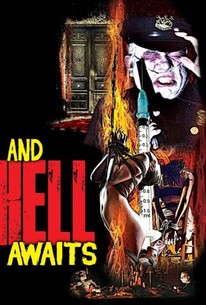 Running only 70 minutes long, And Hell Awaits is a surreal occult film that has very little in the way of plot, dialogue, or characters…sort of like Awaken the Devil.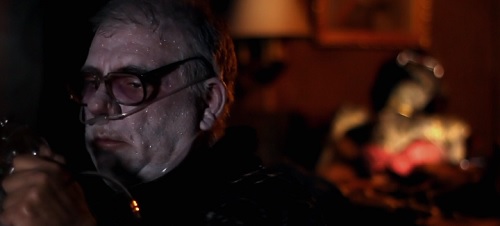 It's definitely an "icky" claustrophobic movie that stays confined to the apartment of a sick, dying man who looks like some sort of slimy corpse…and happens to dine with one as well. Connected to various life support systems, the man practices black magic that causes very hallucinatory situations throughout the film.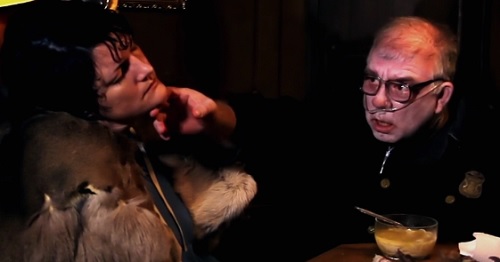 He kidnaps the woman who lives across the hall, drags her into his gruesome lair, and renders her paralyzed with an injection. The lack of events (or conversation), slow pacing, and trippy tone of the film make it hard to tell at times if what's happening is fantasy or reality. However, the general concept is quite disturbing thanks to visual details of the imprisonment and the fantastic job the woman playing the role does communicating her terror with just her eyes.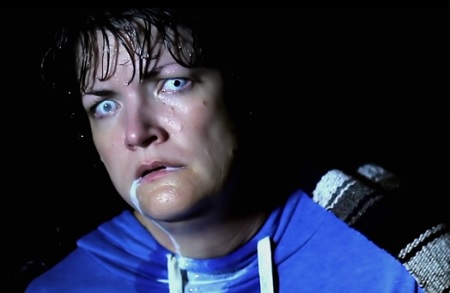 The man does eventually begin talking using a voice box, which is where all the exposition is finally presented as he reveals his intentions before enacting his final magic act. It's quite bizarre.
ACCIDENTAL EXORCIST (2016)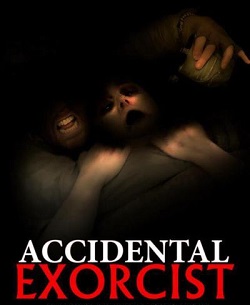 Finally, it's my favorite. Accidental Exorcist is a moody horror film about a burnout—played by director Falicki—who happens to have a natural ability to cast demons out of possessed individuals. The film manages to be darkly humorous, creepy, and depressing all at once.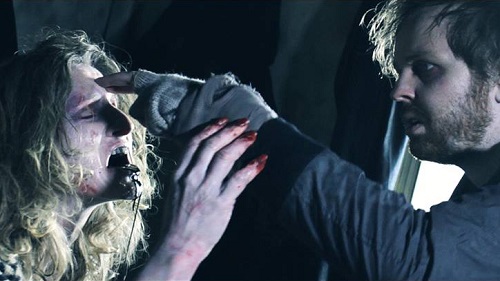 While it's rather repetitive – exorcist makes one house call after another to chase away demons – each segment is highly entertaining, from the eerie as hell atmosphere (everyone lives in gloomy, rundown conditions) to the exorcist's dry wit as he shares anecdotes about his life with the possessed before ridding them of their demons.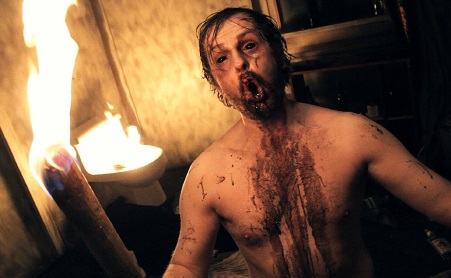 While this is Falicki's most "practical" horror film, it's important to note that the horror frames a character study about a jaded, exhausted individual on a soul-searching journey. You'll either find it fascinating or boring. Me being ADHD me, I would think I would find it boring, but Falicki's great performance paired with some top-notch horror elements kept me watching.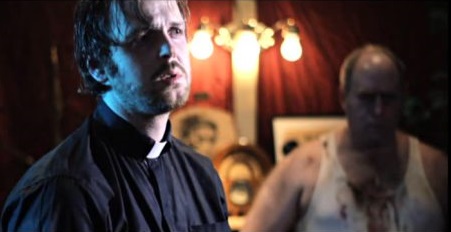 Each exorcism segment is unique, with highlights including a frightening search for a possessed victim down in a basement, a gross sit-down dinner with a possessed glutton, and a possessed individual wearing a mask. EEK. The exorcist even has to pose as a priest for one client, and the possessed individual does some gliding around the room like Angela in Night of the Demons. That's pretty much all it takes to make me horror happy.