To me, a horror novella is like a good horror movie, by which I mean, the kind that runs only 70 minutes or so. It just gets right to the good stuff! Two perfect examples are the novellas by gay horror authors Mark Allan Gunnells and Joshua Skye. And with these two novellas, they take on zombies and werewolves, respectively, as seen through the eyes of gay characters.
Mark Allan Gunnells – Asylum
It doesn't get much more straightforward than Mark's 67-page novella Asylum. With no introductory explanation for the outbreak, a small group of gays are suddenly holed up in a club called Asylum with man-hungry zombies banging on the door.
There's gut munching, suspense, a little bit of sex—it's all just like a good horror movie. And of course there's a cast of characters you'd expect to see in a gay club: the drag queen who owns the club; a DJ who begins to think the zombie outbreak is God punishing the gays; a burly ex-military bartender; a sweet couple; a virgin; a slut; a fag and his hag; a stripper.
We get very brief introductions into the personality of each character, but the novella's main focus is the fast pace…and the self-destructive behaviors and interactions of those inside the club. It's essentially a gay take on the Night of the Living Dead premise. The story is over in a flash. I could easily see this being included in a larger collection or even expanded into a longer novella.
Joshua Skye – Bareback: A Werewolf's Tale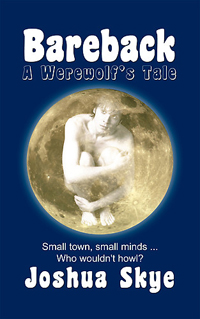 Joshua Skye's Bareback: A Werewolf's Tale is a bit longer at 114 pages, but it's just as much a page-turner It's the story of Alex, who lives in a small conservative town in Pennsylvania that is just no place for a proud gay man. So it's a surprise when he meets and quickly falls for Morgan, a British man who is new in town.
But as soon as Alex sleeps with Morgan, he regrets it. Morgan persuaded him to do it bareback and now Alex is getting sick…. Meanwhile, townsfolk are turning up slaughtered, apparently the victims of some sort of wild animal. Soon, Alex can't deny the fantastical and dangerous turn his life has taken.
Joshua Skye loves his horror and fans of the genre will appreciate the references to many horror favorites. Bareback: A Werewolf's Tale actually reminds me of a combination of Gary Brandner's The Howling and Stephen King's Cycle of the Werewolf. While it's a social exploration of the conflicts between gay men and conservatives, the novella is still a fast-paced, suspenseful horror tale topped by some great explicit sex scenes and a beautifully written werewolf transformation from the rarely described perspective of the man turning.