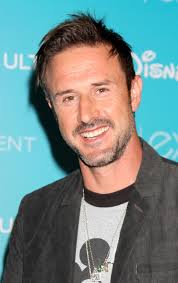 David Arquette will forever be tied to horror as the lovable Dewey in the Scream franchise, but he did branch out and do some other horror films, even writing and directing one! But truthfully, he's barely in Ravenous or The Tripper, but it was just a great excuse to put them both in one post.
RAVENOUS (1999)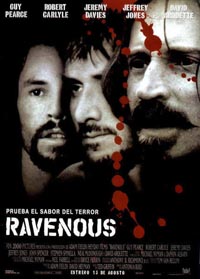 In between Scream 2 and 3, David had a pretty insignificant role in this film. I just watched it and all I can remember is David washing a horse or something like that. See, Ravenous is a period piece. It takes place during the Mexican-American War…I think. I fricking hate history, even more so when it pervades my horror. Whatever. There's a war at a time when there are no toilet bowls with plumbing. The first thing you see when the movie opens is an American flag. I hate patriotism pervading my horror.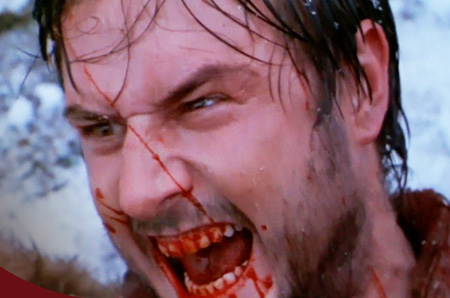 Anyway, this flick is about cannibalism during war. The focus is on this one soldier played by Guy Pearce from Memento and this psycho cannibal soldier guy played by that evil dick who left his wife for zombie food in 28 Weeks Later.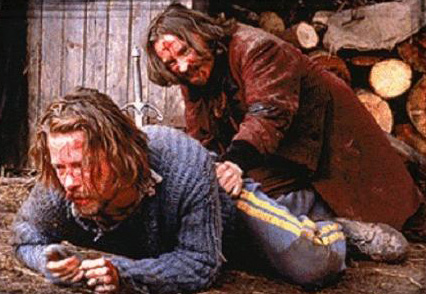 Infused with some unexpected moments of humor, this is a dark tale of a man who likes to eat soldiers (don't we all?) and the man who is desperate to prove to others that he's a cannibal creature called a Wendigo. Ravenous is seriously just like Hannibal Lecter during war in the olden days. There's some action and plenty of gore, but it's mostly a psychological horror flick in which the good guy begins to question his own desire for flesh. Oh. And David Arquette appears in it for a couple of minutes. Does he even become cannibal food? I can't remember.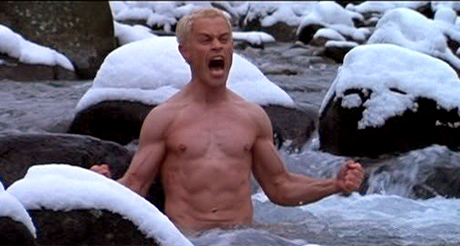 While I don't love the movie, the final battle between the two leads is hot, there's a bear trap that could easily score you a delicious hairy daddy soldier of your own, and the cannibal has the most awesome final lines.
THE TRIPPER (2006)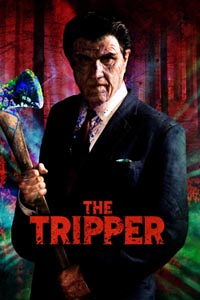 Holy political horror film, David Arquette! I hate when politics pervade my horror. The Tripper is a slasher about an axe-wielding dude in a Ronald Regan costume during a love and peace concert in the middle of the woods. There are nudists, potheads, tree huggers, rednecks (David plays one of them)….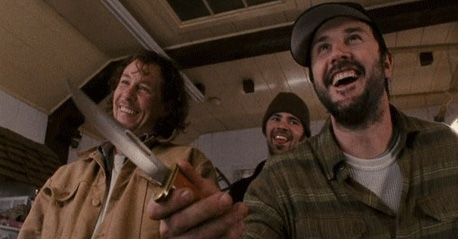 It really is a liberal vs. hick flick with sarcastic political digs being tossed around on both sides. I get enough of that negative shit on Facebook….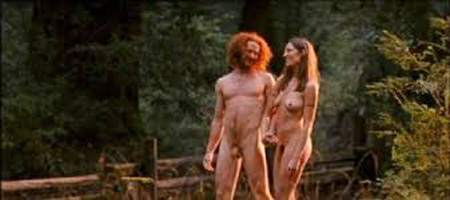 Anyway, the cast rules: The speaking dude from Jay & Silent Bob, looking good with shorter, dark hair; the little kid from Witness, all grown up; scream queen Jaime King; Balthazar Getty as her abusive boyfriend; Paul Reubens of Pee-Wee Herman fame; luscious Thomas Jane as a sheriff with a porn stache (he's very funny and the best part of the whole movie). Even Courtney Cox appears for a hot second as a blond.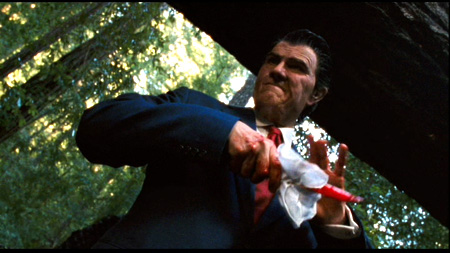 The kills are awesome, there's plenty of slaughter, classic killer POV, a crazy old man who tries to warn the dumb city folk of the dangers, boobs and bush (they are yippies, after all), a ginge happily showing off his wanger, Jay (of Jay & Silent Bob) asking Thomas Jane to spank him, Fishbone performing "Party at Ground Zero," Pee-Wee Herman hiding in a port-a-potty (literally IN the potty), more American flags, and, did I mention, Jay asks Thomas Jane to spank him?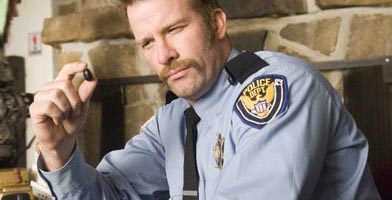 There you have it. If you want to see David Arquette in horror other than the Scream franchise, bring your American flag pin to prove your patriotism.