Clowns have been terrifying us for decades and I can't get enough of clown horror. So a slasher franchise titled Fear of Clowns was on my must-see list…and then on my must-own list when I got a gander of the clown.
FEAR OF CLOWNS (2004)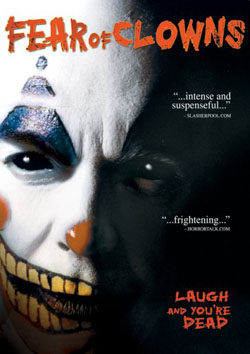 An artist who paints pictures of clowns to cope with her fear of them is suddenly being stalked by a psycho clown with an axe. With that premise, Fear of Clowns has great potential, from suspenseful setups thanks to classic slasher camerawork to the charismatic main detective who provides some comic relief. There's even some boobage to add to the authentic feel. However, gore hounds will be disappointed that we get mostly cutaway kills and split second stuff to mask the lack of special effects. Also, the film could have been tightened up by shaving off at least twenty of its hour and forty-five minute running time. And yet, Fear of Clowns definitely kept my attention….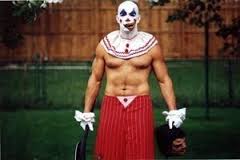 Yep. That's our psycho, Shivers, the shirtless killer clown. He's a furry chested stud! I know his physical stature is supposed to make his presence imposing and frightening, but he's just so fricking HOT. I love Shivers. I have a crush on Shivers. I want to have Shivers' babies, despite his freaky crooked grin…a big toothy one that came ten years before Twisty on American Horror Story.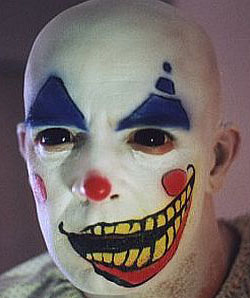 Best of all, if you watch the outtakes on the DVD, Shivers breaks into a sexy dance at one point while laughing like a happy clown. In fact, the outtakes show how much fun the entire cast had making the movie. It's an important reminder of what I love about indie horror—the passion that goes into making it. A passion that often leads to a much better follow-up film. Like Fear of Clowns 2!
FEAR OF CLOWNS 2 (2007)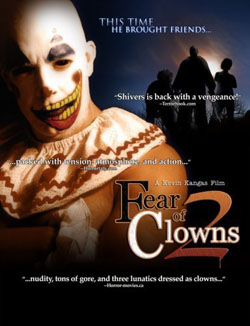 Not only has director Kevin Kangas improved hugely in Fear of Clowns 2, but his returning cast seems much more comfortable with being in front of the camera and playing these characters. Seeing this growth is what I love about indie horror.
Main girl Jacqueline Reres is back. Where as in the first film she was just another forgettable chick doing a horror film, this time around she feels like a real genuine scream queen. I adore her in this sequel; it's the kind of performance that makes a slasher lover like me want her to be the main girl in more horror films.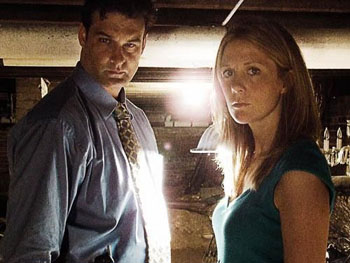 Our main detective returns as well. Actor Frank Lama is so comfortably casual in his role and equally as charismatic as in the first film (he is just adorable), but his humorous side has been replaced with a more serious tone because his character is dealing with some major issues on top of trying to protect Jacqueline from Shivers.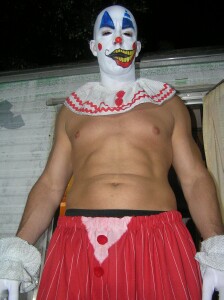 Oh yeah. Shivers is back, and actor Mark Lassise returns once again to fill his shoes but not his shirt. The hot bod is still on display and his face looks even more cold and evil than in the first film.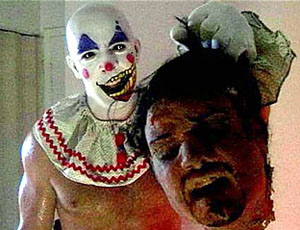 He has escaped from a mental institution with some friends—who also don clown drag for some murderous fun.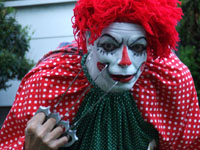 One clown has cannibalistic tendencies and we get some diversity with a big burly black clown!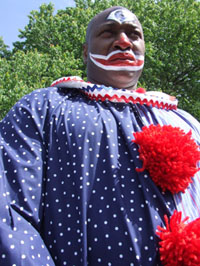 Fear of Clowns 2 delivers a fresh scenario, with the detective whisking the main girl away to an isolated farmhouse location to keep her safe from Shivers…and bringing a trio of his gun-loving white trash buddies along to help protect her. There are more victims, more gore thanks to amped up special effects (a barn kill is especially awesome), more boobs, much more atmosphere, and a strong music score. Plus, the nighttime farm setting has that old school rustic look and feel of the original Friday the 13th.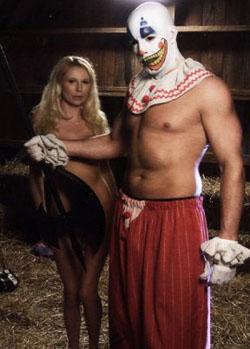 Looks like clown porn.
Like the first film, this one runs nearly an hour and forty-five minutes and could have benefited from some edits. In fact, it was pretty much unnecessary to even bring more clowns into the mix. The film would have worked fine had Shivers been the only threat. Because when it comes down to it, Fear of Clowns 2 works perfectly as a straightforward killer-stalks-girl slasher, right down to the excellent chase scenes and final showdown.