Forget a good old-fashioned horror holiday killer, like Krampus or an evil Santa Claus. ATM and Knifepoint invite violent killers to the Christmas festivities….
ATM (2012)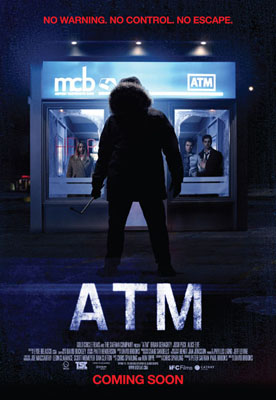 It's P2 meets 247 F with an Urban Legend killer when a creep in a snow parka terrorizes three friends trapped in an ATM building after a Christmas party. This Christmastime horror movie comes complete with an office holiday party, occasional flashes of twinkling lights, and opening credits featuring the song "Oh, It's Christmas" by alternative band The Rosebuds.
But that holiday cheer comes to a screeching halt once the terror begins….
On the ride home from the work party, cutie Brian Geraghty (Open House, An American Crime, When a Stranger Calls remake) the girl he likes (Alice Eve of The Raven) and a work buddy stop at an ATM building in the middle of nowhere for some cash. Within minutes, they're trapped in there without their cellphones (like that would actually happen) while a freak in a snow parka looms outside, showing he means business by hacking up the first guy who strolls by walking his dog…in the middle of nowhere.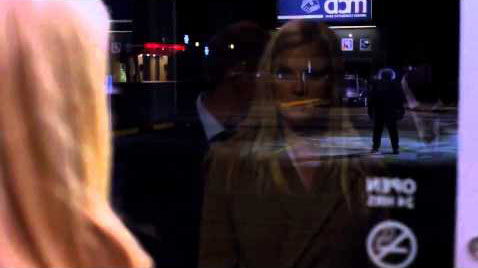 How will this threesome get out of there? Will they make bad attempts to get to the car? Will the lights go out in the building? Will some dumb cop come by and not understand their warning as they gesture and scream frantically for him to beware the crazed killer? Will they argue over whose fault it is they ended up in this predicament? Will they mistake some poor sucker for the killer? Will one of them become a victim? Will the lead guy and girl have a long, bonding talk and begin a romance while under extreme duress? Will the killer find a way to flush them out of the building? These are the urgent questions you'll have, because you've never seen anything like this before.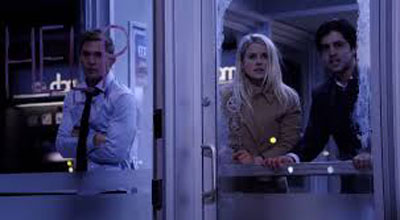 By the way, I have no fucking idea what the extensive non-verbal exposition in the "wrap-up" epilogue was trying to tell us about the killer. If anyone can explain it, give me a shout.
KNIFEPOINT (2011)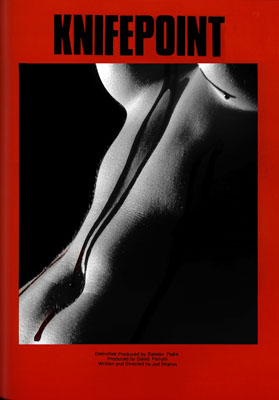 This grisly movie starts off very deceiving. It has an awesomely 80s intro, with dark shadows, eerie Christmas lights, and someone getting killed in a bed. Then there's a shift to a grindhouse feel, with loads of Christmas spirit, rock music, and nudity, so I was ready for a fun time. I got nothing that I bargained for and would warn that this film is only for lovers of vicious and cruel home invasion horror.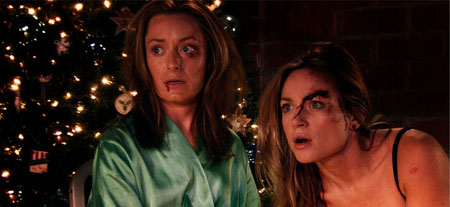 We meet two sisters—one of whom is in a wheelchair. As they settle into their apartment for the holiday, there appears to be some tension, complete with the wheelchair sister having violent resentment daydreams against the sister who can walk. Eek.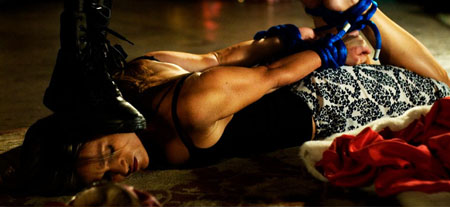 Right after that, the home invasion insanity starts. This isn't a suspenseful The Strangers home invasion film. This is brutal, unrelenting The Last House on the Left stuff, and it gets even worse as the film progresses. This vile group of invaders shows no sign of humanity.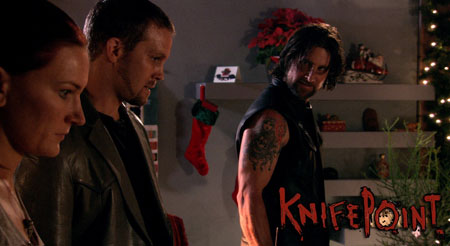 There's a strap-on knife that comes into play more than once…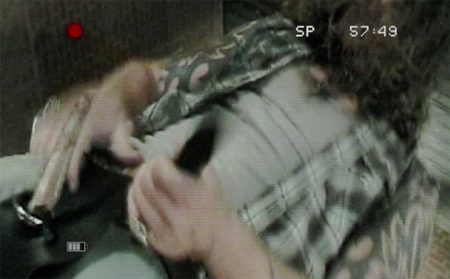 anal sodomy…with a gun, penis stabbings, long rape scenes, oral action on a dildo (from a guy, and it's voluntary…but he blows it like he's brushing his teeth, so I'm guessing the actor never sucked a dick)….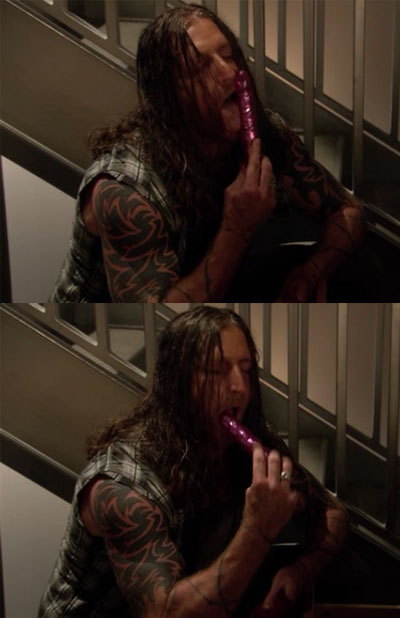 knife cutting and gun shooting gore, and, well, plenty of Christmas atmosphere, including a tree, gingerbread cookies, and a carol played on harmonica by one of the baddies.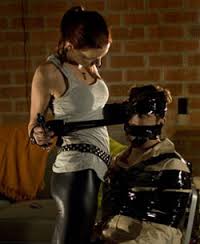 There is absolutely no moment of optimism in this downer of a film. The girls keep making vengeful moves when it's clear they stand no chance of getting away, which just leads to them being further brutalized. And every time you think they've taken down one of the baddies, new baddies show up! WTF? To even the playing field, more victims continue to arrive at the apartment as well to be mercilessly tortured. And all this gruesome violence is enhanced by pretty top notch gore effects and dang good performances. Two of the baddies in particular are fantastic, including a sleazy, long-haired biker type and the leader of the pack, who brings to mind Christian Bale in American Psycho.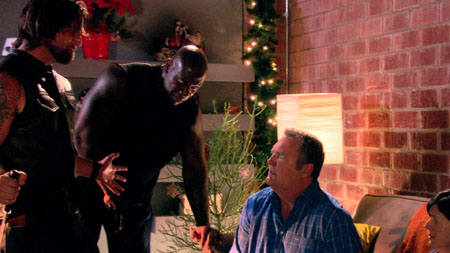 This is definitely not my kind of Christmas horror flick (yeah, I actually draw the line with my Christmas evil), but if you like your Christmas extra black, you might want to check it out. And see my complete list of holiday horror films here.