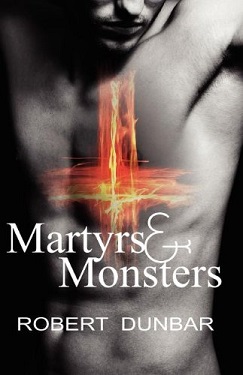 Gay horror author Robert Dunbar's most well-known work is probably the novel The Pines, which I can't wait to read. But Martyrs & Monsters, his collection of dark tales, is a good warm up to his style of writing…and the creatures he creates.
These aren't so much macabre tales as they are glimpses at the human condition with supernatural threats as the backdrop in some cases, and man as monster in other cases. And the horror lies in what Dunbar doesn't describe; he leaves it in the shadows of your imagination most times.
These are often trippy, abstract, fantastical tales. Also, while Dunbar writes horror with gay themes and gay characters in Martyrs and Monsters, the focus isn't solely gay subject matter.
And finally, if you pay attention, you'll pick up on stories that are related to one another. But they aren't always sequenced right next to each other, so don't leave long gaps between reading the entire collection!
Here's a tease of what you can expect from each story.
"Getting Wet" – Drugs, murder, and one man's hope for another man's love…that comes too late.
"Like a Story" – Foster children face their fear of vampires.
"High Rise" – Two brothers move into an apartment with a succubus.
"Saturday Night Fights" – Two members of a band confront a giant creepy-crawly.
"Gray Soil" – A mother tries desperately to keep her children safe from creatures of the night.
"Mal de Mer" – A woman confronts her fate…and a creature from the sea.
"Red Soil" – A tale of what becomes of the family from the story "Gray Soil."
"The Folly" – A backwoods family sets a trap to capture a legendary creature of the swamps.
"Are We Dead Yet?" – After a prison sentence is served, two men on the down-low are reunited, resulting in a bloodbath.
"Explanations" – The relationship between an obese man and his wife is overshadowed by the love of sci-fi and horror that he shares with his male companion.
"Killing Billie's Boys" – What's the price for selling your body to both genders?
"Away" – Alien body snatchers infest an apartment building.
"Full" – A man journeys through a monster maze to get to the man he loves…if it's actually a man….
"The Moon (Upside Down)" – A trip to Fire Island leads to a Tarot reading when a man's friends don't particularly approve of his new boyfriend.
"Only Disconnect" – A man sees his fate flash before his eyes when he comes face-to-face with a vicious beast.