Good old-fashioned zombies are just not enough these days. Now they have to think and feel, be given PC names like "infected," and even turn into animals! Conveniently, I have a brief rundown of three films that do at least one of each!
WOKE UP DEAD (2009)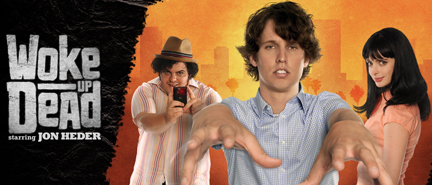 Apparently Woke Up Dead is actually a web series that was strung together and released as a movie…a movie that doesn't conclude because the series never came back for more episodes!
None other than Napoleon Dynamite turns into a zombie! After dying, he is awoken while being examined by the coroner (The B from the TV show Don't Trust the B— in Apartment 23). His best friend, played by funny man Josh Gad, wants to film his zombie experience for a web show called Woke Up Dead.
Josh is definitely the funniest part of this light-hearted romp, which is virtually void of any actual zombie antics. The only, "gut munching" moments come in Napoleon Dynamite's daydreams when he imagines eating brains. Even those scenes are fairly sterile since they are shown in black and white.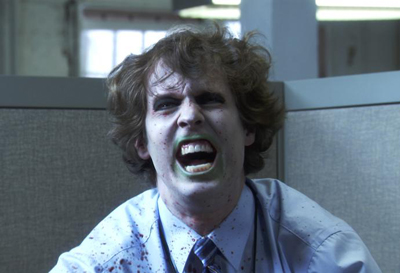 It's cute and enjoyable because it has a great cast, which also includes Wayne Knight and Jean Smart, but I could definitely see it working better in short installments—and if it had some sort of conclusion! In fact, Jean Smart is introduced in the last few minutes as Napoleon's mom…and apparently knows all the hidden truths about his zombie transformation! But I guess we'll never know what they are….
CARRIERS (2009)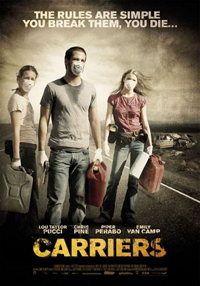 Totally shifting gears, Carriers is mega-serious and pretty much not even a zombie movie. In fact, there's only one actual "infected" that comes to life for real, along with one in a dream sequence, and two that are just dead bodies. That's IT.
Carriers is about a foursome traveling across country dealing with life after a deadly plague that has taken out most of society. The disease is so infectious that you can catch it if someone breathes on you!
The foursome includes sexy Chris "Captain Kirk" Pine, The hipster who unleashes the Evil Dead in the remake, Coyote Ugly chick, and the chick who refuses to watch the tape at the beginning of The Ring 2. Adding to the (lack of) fun is always ultra-hunky Chris Meloni.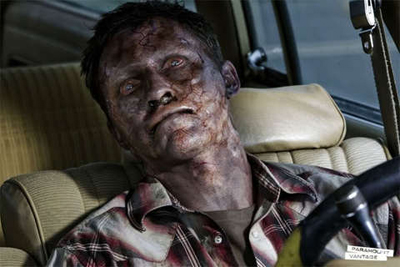 Emotional and character driven, Carriers is not a scary film. It's mostly about what a fucking dick Chris Pine's character is. He's fantastic in the film. If you're looking for a real downer, check it out.
ZOMBEAVERS (2014)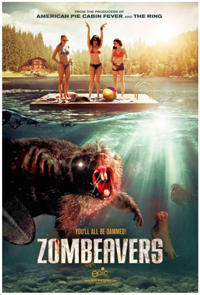 And…we have a winner! This much anticipated horror comedy doesn't suffer from the hype. It is pure fun that does everything right, delivering comedy yet still playing as a serious situation for the six kids being terrorized by zombeavers.
What sets this one apart from your usual SyFy creature mashup crap is that the zombeavers are conventional campy puppets instead of CGI—and they're humorously smart, from chewing phone wires to constructing roadblocks. There's gore. The college kids are not super models and any expectations of horror movie stereotypes are wickedly shot down as the film progresses. The funniest lines come from the few adults with whom they come in contact (a Lady Gaga lesbian joke is the best). And if you think this is going to be an over-the-top exploitative T&A fest, think again. There's very little nudity. And just when the "beaver" jokes are getting tired, one of the characters actually puts a stop to them once and for all. Brilliant.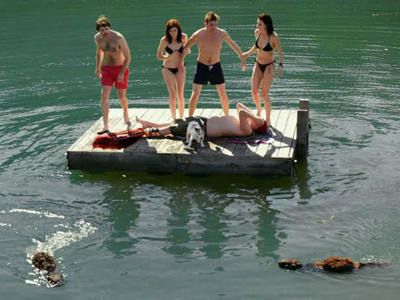 To top it all off, if you're wondering what happens to humans when the zombeavers bite them…it's everything you could possibly hope for. The only totally not cool scene in the film (but the filmmakers totally knew it) involves a dog. Fuck that. They should have made the big "so wrong" moment happen to a kid.