A while back, I blogged about author Rob Rosen's sexy-funny gay werewolf and gay vampire novels, Queerwolf and Vamp (read that blog here). Those two novels go together as companion stories, and Rosen has done it again with his novels Queens of the Apocalypse and Creature Comfort. While not related to the first two novels, this pair works as another mini-series. This time, it's drag queens vs. zombies!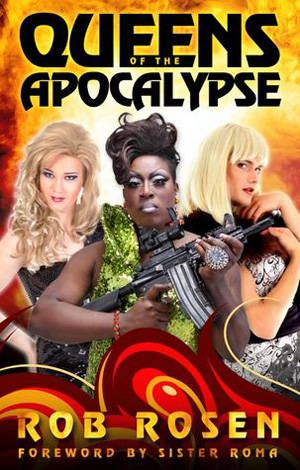 In Queens of the Apocalypse, three drag queens must take on hordes of zombies and members of the U.S. army as they go on a road trip in hopes of discovering a safe haven. Along the way they find love, figure out a way to bring a drag friend back from the undead zone, and even have a run-in with the one and only Cher!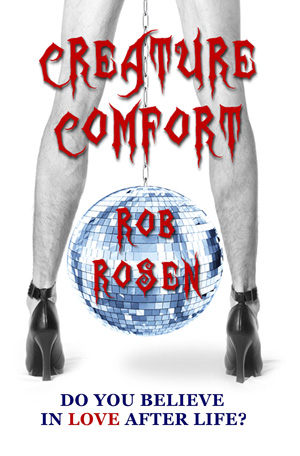 Creature Comfort picks up the story…about 300 years later! The undead drag queen from Queens of the Apocalypse is still dead and kicking. And she has to save her man from an evil zombie drag villain. Luckily, she's learned how to control mindless zombies, so she's bringing along an undead army!
Rob was kind enough to chat with me about his books and horror in general.
Boys, Bears & Scares: Hi, Rob. Thanks for taking time to discuss your work. Currently, you've published four horror comedy novels. What first turned you on to horror?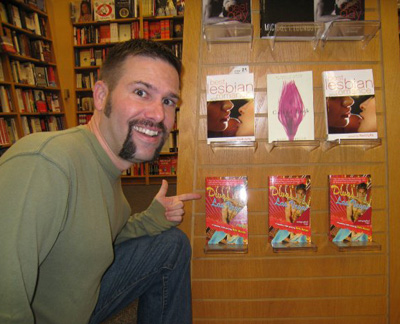 Rob Rosen: I find it much easier to be campy and outrageous in the horror genre than the standard contemporary fiction one. There are, after all, less restrictions.
BB&S: You have written plenty of other fiction genres as well. Which is your favorite to write and why?
Rob Rosen: All ten of my novels and most of my three hundred published short stories all fall under the heading of romantic comedy. I switch up the sub-genres as the mood takes me. Still, campy horror holds a special place in my heart.

BB&S: When you wrote Queens of the Apocalypse, did you already have a sequel in mind—and did you ever consider trying to tie these novels back to Queerwolf and Vamp?
Rob Rosen: It takes a good year for a book to go from my addled brain to your sticky fingers. By then, I'm fully invested in my characters and hate to see them killed off, so to speak. That said, sequels don't sell as well as the original, so all of my sequels are also stand-alone novels. In other words, you don't need to read the first to enjoy the second. Though, by all means, buy both! Still, I never write a book and think about writing a sequel beforehand. Ironically, that's just how it worked out a couple of times.
BB&S: What made you decide to have drag queens as the heroes of your zombie novels?
Rob Rosen: I'm from the Deep South. Drag queens are staples of the gay scene in the South. Most of my novels feature drag queens, but these two books were the first time for me where the drag queens were the main characters. FYI, drag queens can do and say anything. That makes for fun writing!
BB&S: Creature Comfort takes a serious leap into a future long after Queens of the Apocalypse, so you couldn't bring along any of your living characters. How did you come up with the idea to flash ahead, and will you ever go back to fill in the gaps? Did you miss your living characters when it came time to write Creature Comfort?
Rob Rosen: Putting Creature Comfort 300 years into the future made it easier to make the novel a stand alone one. Plus, Queens of the Apocalypse is told from the side of the human survivors. Creature Comfort is seen through the eyes of the undead. It's two sides of the same coin. As for filling in the gaps, nope, I think I ended Creature Comfort in a good place. And as for missing the living characters in the sequel, well, you still see flashes of them.
BB&S: Considering it's implied at the end of Creature Comfort, do you really intend to write a sequel? And if so, do you already have a plot? Will there be any flashback novels picking up the story of the original gang from Queens of the Apocalypse?
Rob Rosen: Nope. I've already moved on from those characters, much as I love them all.
BB&S: Any plans to write a scary gay horror novel or do you prefer sticking to campy horror comedy?
Rob Rosen: I don't do scary and horror without the kitsch. Comedy is my thing.
BB&S: With vampires, werewolves, and zombies under your belt, what if any horror subgenres have you not tackled yet that you'd like to?
Rob Rosen: Not horror, but the novel I'm working on now, my 11th, called Fierce, is about a gay superhero who was raised by wolves and who has super powers. So, while not horror, Fierce still falls within the speculative fiction realm.
BB&S: Okay, now for a horror quickie session. What are your favorite horror subgenres?
Rob Rosen: Love me my werewolves and vampires!
BB&S: What scares you most in horror movies or books?
Rob Rosen: The suspense.

BB&S: Answer is probably obvious based on your books, but horror mixed with comedy. Yes or no?
Rob Rosen: Please, Mary. YES!
BB&S: Sex and nudity in horror. Yes or no?
Rob Rosen: Sex and nudity 24/7. That would also be a resounding YES! Duh.
BB&S: Who are some of your favorite scream queens?
Rob Rosen: Jamie Lee Curtis and Linda Blair. Kicking it old school.
BB&S: Favorite iconic horror baddie?
Rob Rosen: Ruth Gordon in Rosemary's Baby. They broke the mold with Ruth.
BB&S: What are some of your favorite horror TV shows?
Rob Rosen: Well, I did always wonder what Herman Munster was hiding in his pants. Those are some awfully big shoes he wears, after all.
BB&S: What songs or artists might be on your Halloween party playlist?
Rob Rosen: "He did The Mash… The Monster Mash!"
BB&S: Finally, what are you currently working on?
Rob Rosen: My 10th novel, Midlife Crisis, is due out in August 2016. Number 11, Fierce, will be out sometime next year. I'm also the editor of the famous Best Gay Erotica series. Look for a new title in December.
BB&S: Thanks for taking the time to chat, Rob!
Rob Rosen: No, thank you! My pleasure!
Check out all Rob's books on his website.