By the end of the 80s, you never knew what you were going to get when you popped a rented film into the VCR. For example, these three films.
REVENGE OF THE LIVING DEAD GIRLS (1987)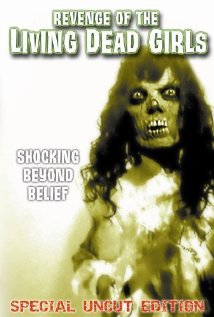 This bizarre French film has a controversial reputation, but at this point in time, I've seen a lot worse. However, Revenge of the Living Dead Girls still scores in the really bad plot department, and back in its day, it was a lot more disgusting than the films with which it shared space in the video store horror movie section.
Three girls have died from drinking poisoned milk. The evil milk factory owner wants to keep the cause of their death a secret, so he has one man drive to the cemetery every night to dump vats of toxic waste (a staple in milk factories, I hear).
Unfortunately, the toxic waste is being dumped right at the burial plots of the three girls. And every night, they crawl from the graves with their hideously rotten faces (I guess you age in dog years underground in a week), flowing white dresses, fog machines, and blue lights, and go looking for someone else to kill.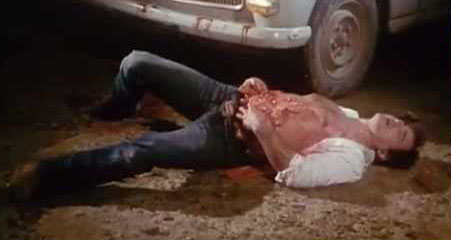 So what does this one have to offer? A guy gets his dick bitten off. The living dead girls ring a doorbell before coming in to kill a chick. They go for a swim in a pool. They steal a guy's car and the whore he left in it. They take her home, have some zom-lez sex with her, and then stick a sword into her bushy crotch. Another woman apparently has an unaided cesarean in the shower and gives birth to I don't know what. The living dead girls give a guy a confessional in church….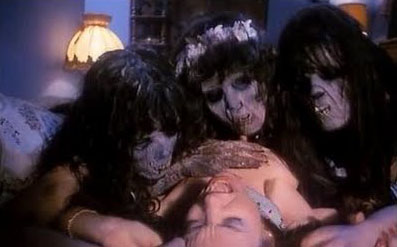 There are two endings to this movie, both included on the DVD, but only one of them actually explains why the living dead girls do such living living girl things. Sadly, all releases of this film on DVD are censored and/or DVD-R burns.
SPELLBINDER (1988)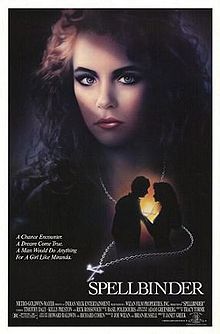 What is it with guys from Wings? Years before Steven Weber saved Jenifer from an abusive man in Masters of Horror, his buddy Tim Daly rescued Kelly Preston from the same situation; he takes her home and is soon being harassed and pursued by a satanic cult! At least Kelly's way prettier than Jenifer.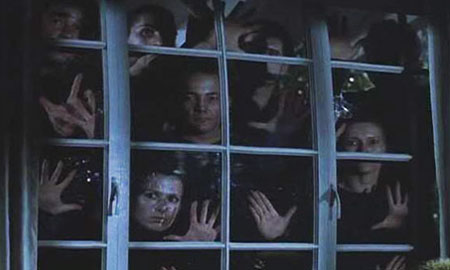 Spellbinder has more in common with 1970s horror—made-for-TV horror in fact—than it does with 80s horror. It's a slow film, but it does have that creepy factor when you realize anyone in Tim's life could be part of the underground conspiracy to steal Mrs. Travolta from him. See, Kelly has escaped a crazy witchcraft cult, headed by Mrs. Roper! Audra Lindley is the absolute highlight of this film, playing a dark, psychotic role for a change.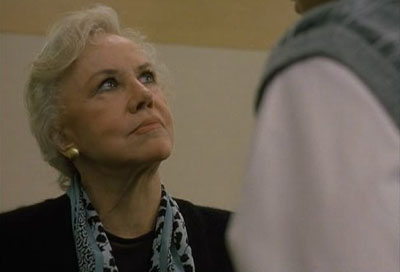 Other than Audra's performance, Spellbinder is pretty bland, with one freaky scene during the final act featuring the cult gathering outside Tim's windows. There's also a twist ending, but the real surprise would be if seasoned horror fans don't guess it. There's nothing in the way of the usual 80s gore, but we eventually get some black robed cult figures…not that they help make this one any better. It really would have been more effective as a half-hour episode of Tales from the Crypt.
SPELLCASTER (1988)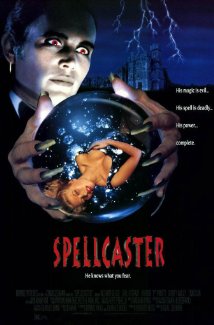 This one was released in 1992, but don't be fooled. The 90s aren't worthy of this one, which was filmed in 88. Hell, it even begins with an awful 80s music video. Perfect.
After that, we meet contestants who won a chance to hang in an Italian castle with a big pop star and participate in a treasure hunt to win a whole lot of money. The host of this event is played by Richard Blade. If you don't know who Richard is, he was one of the pioneering DJs of new wave music in the early 80s on L.A. radio station KROQ. Spellcaster actually features several familiar faces from the 80s, including 80s TV and b-movie boy Michael Zorek (The Facts of Life, Family Ties, Private School, Hot Moves). If you grew up in the 80s, you'll know him when you see him.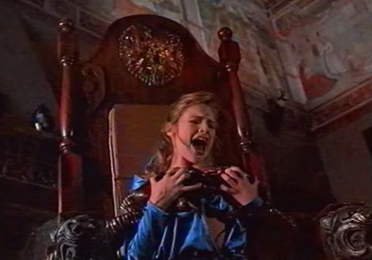 While the sense of 80s fun and cheese is here—especially goofy creatures—way too much of the film drags. When the slow pacing is interrupted, it's with good stuff, like a man-eating chair (woman-eating, actually), a basement full of zombies, a pig monster, a killer knight, and a demon that appears out of a painting. But rather than delivering constant thrills and exploiting its numerous monsters, the film seems more preoccupied with getting to the last ten minutes so it can reveal its very special guest star: Adam Ant. Zoinks!