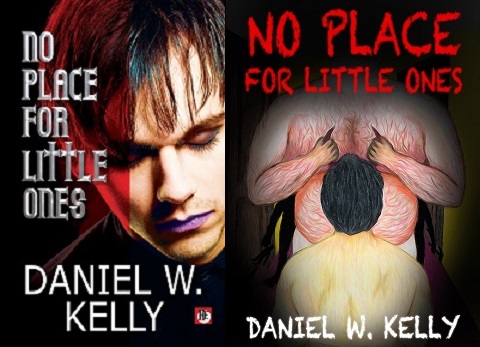 Which image above is more your taste—the ominous darkness of the young man on the left, or the obscene implications of the artwork on the right? Depending on your answer, you can use this guide to either skip the dirty parts—or skip right to the dirty parts—of my new gay horror novel No Place for Little Ones. And hey, even if you are pervert-impaired, the brief summaries of what you'll be skipping might just get the better of your curiosity….
So here is an outline, by page numbers, of all the sexual situations in the novel:
13 -14. First sex scene! To calm Deck down after he has a nightmare, Maru offers himself up.
25 – 27. Maru finds Deck in a compromising position under the stairs of their new apartment and completely takes advantage until they are interrupted by a new character named Jude.
28, paragraphs 3 to 5. Jude leaves Deck and Maru alone so they can finish what they started on page 25.
30 through the end of the section on 38. Deck's buddy Otto attempts to take on his gargantuan partner, Milkman Stan.
81. Deck and Maru go at it again after being awoken by strange noises in the walls of their apartment.
98 – 99. Jude uses his ability to move things with his mind to bring Nurse Steve to climax.
109 – 112. Jude goes even further with Nurse Steve using only his mind.
127 through the end of scene on 130. A major spanking contest at Nurse Steve's uniform fetish party.
134 – 135. Landlord Tony brings a pizza boy back to his apartment during the party and makes him eat some hot Italian.
144 – 145. Jude takes full advantage of Nurse Steve while he's drunk and asleep.
150 through the end of scene on 155. Jude has sex with Nurse Steve when he's not drunk or asleep.
158 – 163. Jude and Nurse Steve take the fun outside into the snow.
184 – 187. You'd be surprised what can happen when four friends share home-baked cookies in a hot tub.
203 – 206. Have you ever scene those trailers for "sex machines" on the internet?
211 through the end of scene on 213. Otto once again takes on Milkman Stan's monster.
279 – 280. Deck and Maru double their fun with a double header….
Not too bad, right? Expect the guide for the third book in my Comfort Cove series to be much more extensive. Yeah…there are going to be big chunks of the book that you'll be skipping if you are pervert-impaired.