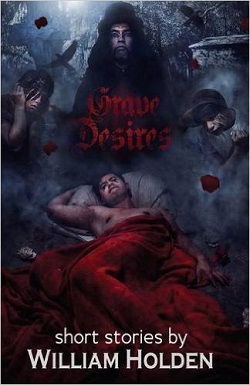 Author William Holden, who took the time to discuss his new short story collection Grave Desires with me, brings us a collection of gay horror fiction that is often explicitly erotic, while also crossing into territory so grisly you'll be grimacing as you force yourself to turn the page and read on. The variety of tales covers everything from body horror to bug horror, and there's even a recurring plot about an alternate reality in which men can experience eternal pleasure…for a price. Here's a breakdown of the stories, followed by my chat with William Holden!
"Sliver" – Body horror takes a gruesome turn as it has a drastic effect on a gay couple's relationship. This is how you start a horror collection!
"The Midnight Barker" – What really goes on behind the scenes of the Big Top? You might not want to know as this story looks at the nightmare of sex and hunger that forces men to "join the circus."
"Jigsaw" – A UPS deliveryman visits the wrong house…and ends up a torture porn star.
"Riverrun" – Vacationing fuck buddies invite another man to join them for a threesome, but the sexual encounter grows ominous when the newest arrival convinces the buddies to go to a creepy amusement park.
"The Pull" – A broken heart for…um…a broken hard-on. This one is not for the squeamish.
"The Last Train" – A whole different kind of "Midnight Meat Train," this tale relates back to two previous stories. A beautiful young man on a train learns what it's like to sell his soul for pleasure.
"Consumed" – It's like watching a classic, macabre Christopher Lee/Peter Cushing tale of the undead, with a twist. One of my favorite stories in the collection.
"The Dark One" – The antagonist that appears in the previous connected stories returns once more, this time targeting a man who made the mistake of entering a small, religious town.
"The Lustrum" – Trapped between heaven and hell, a man shifts from experiencing incredible sexual pleasure to reliving the tragedy of a shooting involving his boyfriend and another man.
"Skin Deep" – In the tradition of the bug story from Creepshow, one man battles a whole lot of creepy crawlies, and that's always a squirm-worthy scenario.
"Jack" – There's an awesome short Halloween horror film called "Jack Attack," in which a pumpkin gets its revenge for having been carved by a boy and his babysitter. This short story is kind of like an expanded version of that idea, with the victims being a gay couple and their son.
Boys, Bears & Scares: Hey, William. Grave Desires isn't your first collection of horror stories. Do you specifically sit down to write a horror collection, or do you just write short horror stories as the ideas come to you then simply assemble them as a collection when you have enough of them?
William Holden: That's a great question, and one I've never really thought about until now. I like to have an overall theme to my collections, even if the themes are not readily apparent. In Words to Die By, each story focused on the darker side of humanity and a specific word such as paranoia, isolation, obsession, lust, or greed. Grave Desires for the most part is more about the otherworldly so to speak, demons, monsters, and unexplained creatures.
To answer your question, I think it's a bit of both and sometimes it can happen organically. I usually have two or three short stories just sitting around, and all of a sudden it hits me, hey I see a theme here, and then I set out to write other stories for a collection.
BB&S: Do you prefer writing short horror stories or horror novels and why?
William Holden: That's a tough question to answer. Short stories and novels are worlds apart in every aspect. I'm not sure I could choose one over the other, even if I had to. They both offer me, as a writer, very different things.
I love the short story form of writing, I think it's the immediacy of the action, having very little time to draw the reader in and grab their attention. This is especially true for my flash fiction, which is usually 1,000 words or less.
The novel, on the other hand, allows me to spend more time with my characters and to really get to know them. I spent nearly eight years with Thomas Newton for my historical novels, and for my upcoming novel Crimson Souls, I've been writing and working with the main character for over five years.
I love to be challenged by my writing and my characters, and both forms do that for me.
BB&S: Sprinkled throughout Grave Desires is a character named Nathaniel. Is he part of a bigger story yet to be written, and has he appeared in any of your previous work?
William Holden: Ah, Nate, my favorite character. I'm glad you mention him. With the exception of the story "The Dark One," the other stories involving Nathaniel were previously published in various anthologies. Nate is part of a much bigger story. My forthcoming novel Crimson Souls tells who Nate is, and how he came to be The Midnight Barker. The novel is set at Harvard University between the present and 1920, during the purge of homosexual students.
BB&S: Some of the stories are quite graphic—as in violent and gory. Do you find it tough to write those parts or do you relish them?
William Holden: It's funny. People who know me know that I am not a violent person. I'm very easy going and don't like to get myself worked up over things. So there's a part of me that finds writing the violence and gore almost freeing, if that makes since. It's so not who I am and that can make it fun because people don't expect it out of me.
I was doing a reading in Provincetown for Grave Desires and was talking to a woman before the reading, and we were just laughing and having a great time. After the reading she came up to me and said that she was blown away by my writing, that I seemed like such a normal person and my writing is completely opposite of how she perceived me. For me, that was the best compliment of all.
BB&S: Some of the stories are quite graphic—as in sexual and filthy dirty! Heh heh. Do you find it tough to write those parts or do you relish them?
William Holden: Writing about men having sex has always been the easiest part of writing for me. And yes I do relish those scenes. At the end of those scenes, my heart is racing, my face is flushed, it's like I was there with my characters, and there's nothing better than that.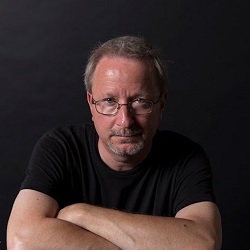 BB&S: Why do you think sexy and scary come together so often, and do you yourself actually like the combination?
William Holden: Sex and fear go hand in hand for me. They both ignite all of our senses. It's the rush of adrenaline, the excitement of what's to come, or who, and yes I personally love the combination.
It wasn't until a few years ago while attending a convention that I heard a more compelling reason as to why sex and fear go so well together—both of them come from the same part of the brain.
BB&S: What compels you to write horror featuring gay characters when you could easily write stories about straight characters and attract a larger readership?
William Holden: This is probably going to sound corny, but gay characters are not abundant in the horror world, and it's a shame. I think there's still a lot of homophobia in the horror world, and I believe (foolishly perhaps) that if enough people write gay characters into their horror novels and short stories, the fear/prejudice could be conquered.
I've had publishers tell me that they loved the story, and my writing, but they can't publish the story as it as it might upset their readers to read of a gay character (even without the sex) and told me if I made my character straight, they'd give me a contract. I politely turned them down.
BB&S: What horror subgenres have you not yet tackled that you'd like to?
William Holden: Now that's an interesting question. Looking back at my stories, I've written a lot of various subgenres, and one of my favorite things to do is to blur two or even three subgenres into one piece of fiction, but the one subgenre I've not tackled yet is horror and science fiction.
BB&S: Okay, now for the horror quickie segment. Who are your favorite horror authors?
William Holden: In no particular order: Lee Thomas, Clive Barker, John Everson, and Stephen King. For old school horror, of course H.P. Lovecraft, and M.R. James.
BB&S: What scares you most in horror movies or books?
William Holden: The unexpected.
BB&S: Horror mixed with comedy. Yes or no?
William Holden: No.
BB&S: Final girl or final guy?
William Holden: Either as long as it's well done.
BB&S: Who are some of your favorite scream queens?
William Holden: No list would be complete without Jamie Lee Curtis.
BB&S: Favorite iconic horror baddie?
William Holden: Clive Barker's, Pinhead. Again it goes back to the sex and horror combination. Pinhead is erotic and damn sexy. No other baddie has come close in turning me on. My fantasy would be to have sex with Pinhead.
BB&S: What are some of your favorite horror TV shows?
William Holden: American Horror Story, The Returned (The French version), Night Gallery, and The Night Stalker.
BB&S: What songs or artists might be on your Halloween party playlist?
William Holden: Bauhaus, Army of Lovers, Prince, "The Creeps" by Fedde le Grand, some old Aretha Franklin. I could go on for a long time but I'll stop there.
BB&S: Finally, do you have any other horror projects in the works?
William Holden: I have two novels plotted at various stages, but the one I'm working on now, is titled, The Demon Librarian, and we'll leave it there for now. <smiling>
Thanks for allowing me a chance to talk with you.
BB&S: Thanks, William! And thanks for adding your voice to the world of gay horror fiction!
You can see a full list of William Holden's fiction titles on Amazon.