Did you ever imagine what it would have been like if plot or casting hadn't fucked up the continuity in some of your favorite horror franchises or TV shows? Ever feel one actor would have been better fit for a role that went to someone else? Or did you formulate what you think would have been a more logical plot device for a series or franchise that jumped the shark? Here are some of mine: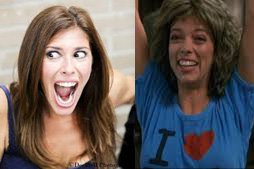 Your brother may have been born in the USA, but I was born with a dick, bitch.
How different would Sleepaway Camp 2 & 3 have been if Felissa Rose had reprised her role instead of Bruce Springsteen's sister? And how easy would it have been to insert Return to Sleepaway Camp into the franchise timeline by suggesting it was a prequel to parts 2 & 3? After all, at the end, Angela gets away to kill another day….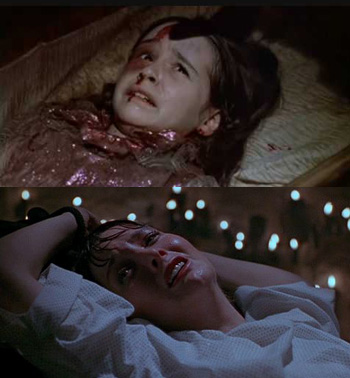 It's not the same chick, Michael!
Like everyone else, I would have much preferred Danielle Harris reprising her role as Jamie Lloyd in The Curse of Michael Myers. Her death scene is a minor part of the film—that opens the film, which was mirrored in Halloween Resurrection when Jamie Lee gets it. Hell, considering Danielle played a teenager in Rob Zombie's remake, I vote they pull a George Lucas and reshoot the opening of Curse with Danielle!Also, as cute as Paul Rudd is, it would have been nice if they could have found the original Tommy Doyle to reprise his role. I think. Paul is really cute….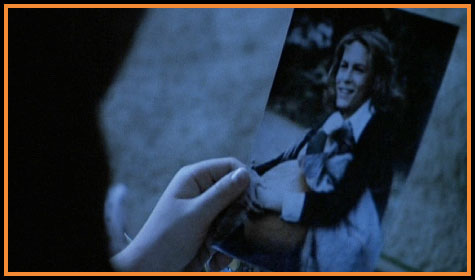 Wait. I know Michael was stalking your mom, but did he take this pic that day?
Damn them for not just including some reference in H2O to Laurie Strode having given up a child to protect her from Michael. Bitch basically went into the protection program as it was. It wouldn't be unbelievable to think she had done to her daughter exactly what her own parents had done to her.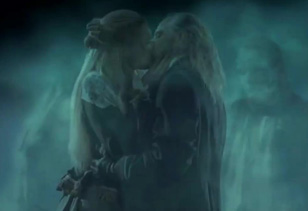 There's something…in the fog! It's…a…wedding?
In the original The Fog, it always bothered me that the victims weren't specifically blood relatives of the original guilty party. I guess the makers of the remake felt the same way, because they fixed that part…while breaking everything else.
Where's a Red Ryder BB Gun when I need it?
While Blythe Danner was great in Paul, considering her character was a woman living alone in an isolated farmhouse who'd had a loved one abducted, and considering the movie was all about homages to other alien films, it would have been amazing if beloved A Christmas Story mother Melinda Dillon of Close Encounters of the Third Kind had played the role.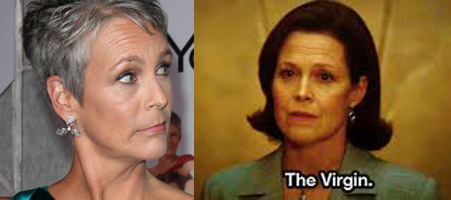 Since I'm on the topic of Paul, Alien icon Sigourney Weaver was perfect for the role she played in the film. However, I think it should have been Jamie Lee Curtis who played Sigourney's role in The Cabin in the Woods, considering her iconic role in Halloween was pretty much the basis for the rules outlined at the end of the movie.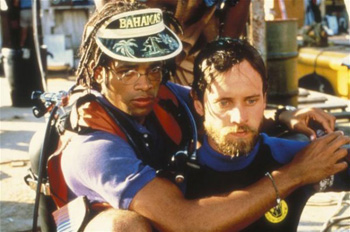 We should have had a sex scene together.
Jaws: The Revenge. It shouldn't have been made. But since it was, couldn't they have mentioned that Michael changed his field of work after the incident at the water park instead of ignoring the events of part 3 completely?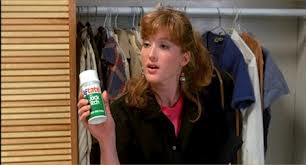 Jock spray. I know he's been in here!
It would have been hot and great for continuity if Kim Myers, who played Lisa in Elm Street 2, had reprised her role and was one of the patients in Elm Street 3 (coping with her closeted boyfriend being screwed nightly by Freddy).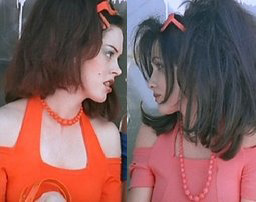 Like looking in a charmed mirror!
I'll never understand why they felt a need to do a big "I'm your long lost half sister" storyline to bring in Rose McGowan. In Shannen Doherty's final season on the series, Prue was being hunted by baddies. The girls were witches. Why didn't they make a storyline in which Prue used magic to change her appearance and identity so the baddies wouldn't find her? Then Rose could have just been the same character with a new look. I mean, they fricking had all three witches change their appearance to hide their identities in a later season!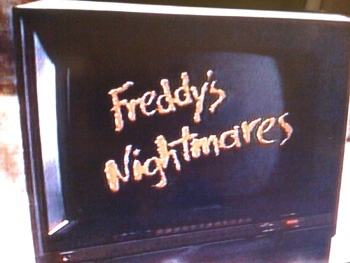 Every episode of Freddy's Nightmares should have been about Freddy. Oh. And the fricking series should come out on DVD already!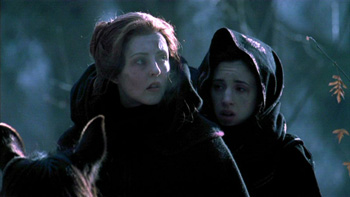 Where are we? What century is this?
Katharine Isabelle and Emily Perkins rule, but the "prequel" Ginger Snaps Back should have only snapped as far back as when the girls were young, not to when they were two totally different sisters riding fricking horses and shit in another place and time. The original movie practically outlined a plot in which their mother found out their father was a werewolf when they were children, knew that someday they would be werewolves as well, and had to run away with them and start a new life with a new man to protect them from their father devouring his own offspring or some shit like that.
That's about all I can think of for now. I'll add more as I think of them. If you have any of your own, post in the comments section! I'd love to hear some other ideas.