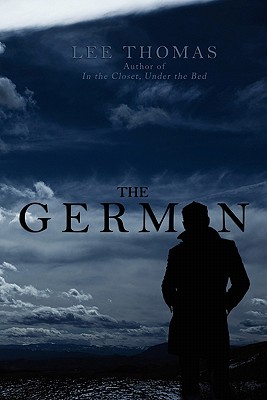 Looking to read some gay horror from Bram Stoker and Lambda Literary Award-winning author Lee Thomas but not sure which title best fit the "gay horror" genre, I decided to ask him directly which of his books he'd recommend. So I messaged him, my palms sweating and my heart pounding. Not because he's a big award-winning author, but because he is so sexy handsome.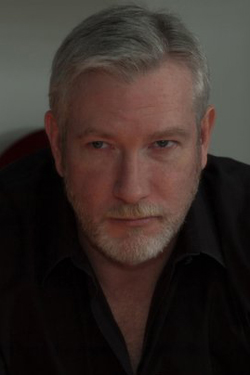 Turns out Lee is also very nice. I told him I was thinking of reading his new collection Like Light for Flies, but he suggested I begin with the novel The German. So imagining him as the master of me (that was easy to do), I followed orders.
But I had my doubts about The German being the right choice for me because I am not a fan of war stories (that's putting it mildly). And this is a novel about World War II. But not exactly. It's a story about a small town during World War II that is in shock and terror over a series of brutal murders of young men. The locals begin to suspect that such horrible acts could only be committed by any one of the Germans who lives in town. However, a group of young men begins to narrow down the suspect list to one particular German man who secretly has male visitors to his home at night. And the boys intend to do something about it.
It's obvious why Lee Thomas has won awards. He manages to combine numerous genres and themes—literary fiction, historical fiction, horror, mystery, coming of age, gay—into an elegantly written narrative that is also a major page-turner. The German is not a straightforward "gay horror novel"; it has a much broader appeal considering the gay issue is just a facet of what this town must face during a time of war. Yet it is totally worthy of the gay horror genre as well.
One of the main characters is a gay German man who is sure of himself but unsure of how any of his neighbors will react to his existence. At the same time, there's a young man who is bullied by local bad boys, fascinated by the presence of the German living across from him, and struggling with the fact that his father is off fighting the war. As the pair's worlds collide, suspension and tension build toward moments of terror, horrific violence, and shocking twists and turns as the novel nears its conclusion.
The German could easily satisfy a variety of readers, but from the perspective of one with my tastes, it's like a cross between Apt Pupil and The Body (aka: Stand By Me), both from Stephen King's Different Seasons. The difference is, Lee Thomas's The German has a much more reasonable page count, dramatically cutting down on the amount of quick page-turning necessary to get to the end. And now that I've finished The German, I will definitely be adding more Lee Thomas to my library (and obeying everything he tells me to do).