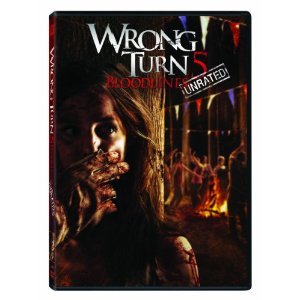 At this point, I have no idea how Wrong Turn 5: Bloodlines fits into the "storyline" of the franchise. Part 4 was a sequel, so does Wrong Turn 5 take place after 4 but before 1? Who cares? Just watch it to see deformed inbreeds kill pretty young city things in inventive ways with plenty of CGI blood.
Not much cannibalism this time. The inbreeds are definitely most interested in just killing people in inventive ways to entertain audiences. Plenty of boobs and blood. So enjoy.
However, there's a real missed opportunity here. It's supposed to be a Halloween music festival, yet the holiday is barely visible. A very special Halloween episode of Wrong Turn would have been awesome! Not to mention, the filled city completely empties out at night. Where did all the people go???
The other missed opportunity is the fact that the film had hints of being comedy-camp horror, especially in the opening scene, but the makers didn't follow through with it. It's a pretty routine backwoods killer movie that takes place in a town instead of the woods. Actually, it mostly takes place in a police station.
The best part is when one guy gets his clearly rubber legs beaten senseless by clearly rubber mallets, which literally bounce off his clearly rubber legs with each blow. The most confusing part is that one of the inbreeds is a normal, talking guy. Is he their dad and this is what's leading us to part 1? No idea. Don't worry about it. Just wait for it to come on the SyFy Network and kill two hours of your life unless you DVR it and fast forward through the commercials. Then celebrate the half hour you've gotten back.