For reasons I'll never understand, I felt I simply had to have the "Black Devil Doll" movies in my horror collection. Someday when they're out of print, you'll all envy me. Just wait and see.
The original Black Devil Doll from Hell was made in 1984 and was assuredly shocking for its time. Black Devil Doll was from 2007 and is unforgiving in its perversion. This blog is also unforgiving in recounting the perversion, so read no further if you are easily repulsed or even if it's difficult to repulse you.
BLACK DEVIL DOLL FROM HELL (1984)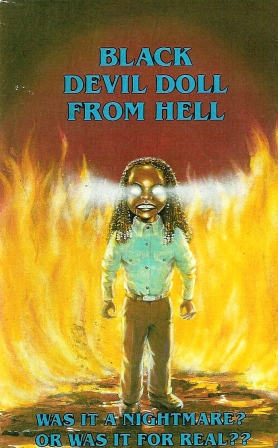 All you need is a video camera, a naked black woman, and a black doll. That's what director Chester Novell Turner realized in 1984.
A nice church-going lady goes to a local shop and buys this creepy black doll. The shop owner warns her that the doll has a way of coming back to the shop every time it gets bought.
When the lady—a good virgin—takes a shower and leaves the doll sitting on her toilet, it comes to life. The lady begins to play with herself and imagines having sex with the doll. Before long, the doll ties her up, holds her at knife point, calls her a bitch, blows smoke in her face so she can get a smell of his nasty breath, then, well, let's just say that leech girl from Puppet Master has nothing on Black Devil Doll from Hell's tongue.
Prepare to watch uncomfortable scenes of a real human simulating sex with a doll. Black Devil Doll from Hell talks about busting her cherry and she screams to be fucked and then gets fucked for a good long time. Eventually, she falls asleep. When she wakes up, the doll is gone, but she's still horny. So she sleeps with a couple of human men and destroys their confidence by telling them they suck at sex. The worst part is a scene of her and some dude hanging out in a club to a blipping synthesizer track that seems like it's never going to end.
Sexually frustrated with all the crappy human sex, the lady returns to the shop where she got the doll to find it has indeed returned. She brings it home again and demands that it have sex with her. Big mistake.
BLACK DEVIL DOLL (2007)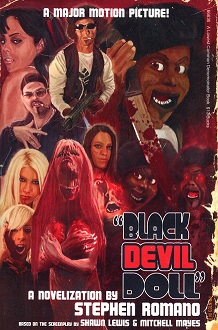 I don't know if Black Devil Doll is an homage or a remake, but this one is a total doll sex porno. It is rated X, including the awesome explicit Blaxploitation no piracy cartoon at the beginning of the DVD, This should tell you what you're in for.
The movie begins with some chick in a Teddy using a Ouija board. Electricity shoots from the board and into her ventriloquist dummy, which comes to life…as Black Devil Doll! This black doll is the spirit of a dude who was just electrocuted in prison. And he is horny for white va-jay-jay.
This is offensive blaxploitation perfection. Nothing is left to the imagination. Black Devil Doll gets blown, has a romantic relationship with his girl, and then beats her around and tells her he needs more white va-jay-jay. After a hip hop video of white hoochie mama's washing a car with their body parts, his girl invites them to her house and the sex and slaughter begin.
The chicks feel up each other's boobs while Black Devil Doll jerks off. Black Devil Doll screws a chick with bouncing boobs in the yard. It's at this point that his bloodlust resurfaces so he stabs her to death. But he decides he's doing things backwards, so….
He electrocutes a chick in the tub then screws her mouth. He beats a bitch with a bat then screws her. A dude appears on the scene so Black Devil Doll kills him, shows off his big black puppet dick, and then butt fucks the dead dude.
A chick in the shower slips and lands with her ass in the air, so Black Devil Doll tosses her salad. She farts in his face but he keeps eating. She awakes and he chases her around the house. She locks herself in the bedroom. He bends over and shoots poop that eats away the door like acid. The chick thinks he's sexy so he does her in every position imaginable. She tosses his salad. Finally, he kills her.
Yes. These are all real people performing in this movie alongside the doll.
Black Devil Doll's original chick returns home and sees what he's done to her friends. She whips out her tits, whips out her gun, and shoots him dead in front of a Patrick Dempsey poster. She immediately realizes she's pregnant and drops the baby out on her kitchen floor. But that's not the end. Things just keep going after the credits.
I would highly suggest you prove your love of exploitation flicks and watch both of these films.