Writer Scotty Mullen is stoked to do zombie horror.
A while back I blogged about the zombedy The Coed and the Zombie Stoner here. It's loaded with sex, zombies, drag…and a guy's flirtations with butt-bangin'. Well now Scotty Mullen, the writer of that film, has released the first ebook in his gay zombedy fiction series GZG: The Zombie Gym. Scotty was wooed by my blog about his movie, so he agreed to talk to me about his writing.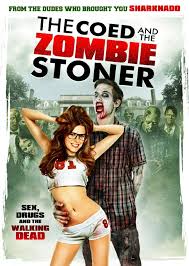 Boys, Bears & Scares: Hey, Scotty. So let's talk about The Coed and the Zombie Stoner before we get to your fiction. How did you come to be the writer for this movie? Did you pitch your script or were you hired to write the screenplay?
Scotty: Zombie Stoner was my first write-for-hire gig. I wrote a spec script called Double D Island (a topless take on The Hunger Games) and took it to The Great American Pitchfest, which is kind of like speed-dating, but with producers. The Asylum liked my sense of humor and asked me to come up with a sex-comedy movie involving a college zombie. Writing and making the movie was a fast and hysterically furious process, and I'm so proud of the finished film. New fans discover the movie every day – there's no greater joy than hearing complete strangers quote lines from the movie!
BB&S: Coed puts movies like American Pie to shame with its explicit content. Were you going for a teen sex comedy that just happens to have zombies, or a horror comedy with lots of trashy sexual situations?
Scotty: Since Zombie Stoner was a sex-comedy first and a horror-comedy second, I definitely wrote situations that got the characters naked (or near-naked) as much as possible. But I also wanted it to make sense. In the movie, the first big zombie attack comes when the sorority girls are engaged in an underwear run – which is an actual legitimate charity act many colleges organize. I wanted the sex and nudity to be fun and thrilling – I think we hit the mark on that.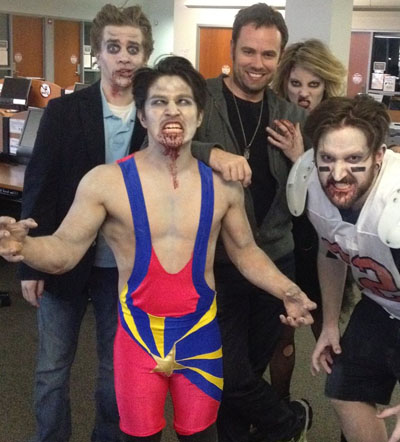 There's Scotty in the middle with his hand all over a hot zombie.
BB&S: As a writer of perverted horror myself, I'm always thrilled when I stumble upon other writers who combine the sexy with the scary. Do you worry about losing some of your horror audience by loading it with sexual content? I've found it definitely turns off a segment of horror fans.
Scotty: I strive to have the sex always be part of the story. It should move the plot along or reveal something about the character. For instance, in GZG, when Bryan discovers his friends having an orgy and then he is cruelly shut out of participating, that's a big moment for him. It's the time when he realizes that he will do anything to get a better body – anything to be invited into that room – no matter what. If the sex I write turns off some readers, then I hope they find something else that turns them on.
BB&S: And what about the gay content? There are several "gay" situations in Coed, including a finger-fucking, a drag transformation, and a sort of "bug-chasing" moment played for zombedy effect. Was there any pushback to having these elements in the script? Although, I did see a familiar gay horror/sex name in the production credits: Dylan Vox!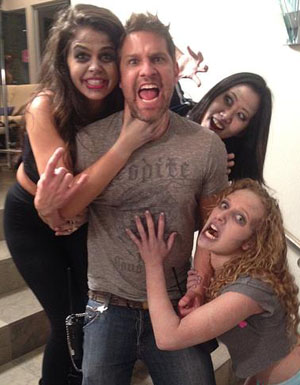 The straight boys can have Megan Fox. We've got Dylan Vox!
Scotty: I didn't get push-back on any of the "gay" jokes in Zombie Stoner. There was a real "anything goes" mentality about everything, because the college world I created was so hyper-sexual and accepting. And Dylan Vox is the secret weapon of Hollywood. That man can do anything. Aside from being such a talented and dedicated actor, he is a phenomenal producer. It's no coincidence that he was born on Christmas Day. I wouldn't be surprised if the man could turn water into wine and breakdance over water. I was so lucky to have him be one of the guiding forces on Zombie Stoner.
BB&S: Were you involved in the making of the movie at all? Were you on set? Did you have any involvement in casting? I showed the film to some friends and just like me, they fricking loved the bitch…and thought the butt-banged brother especially cute.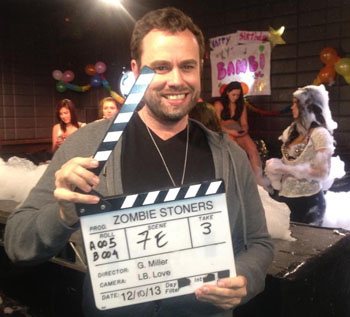 Watch out! Scotty's got the clap!
Scotty: Glenn Miller, the director, graciously invited me on set every day. I rewrote certain scenes to fit new locations and budget changes. And yes, everyone loves Bambi the bitch. Jamie Noel just took that part and shot it up into the stratosphere. All of the cast did so well. What impressed me the most was how fearless everyone was – they just took the crazy comedy (and nudity) and went with it.
BB&S: So your movie and your new fiction series GZG: Gay Zombie Gym are both zombedies. And then there's that photo of you as a zombie with paddle in hand…which kind of turns me on. Are you a fan of zombie comedies or are you just totally cashing in on the fad? What are some of your favorite zombedies?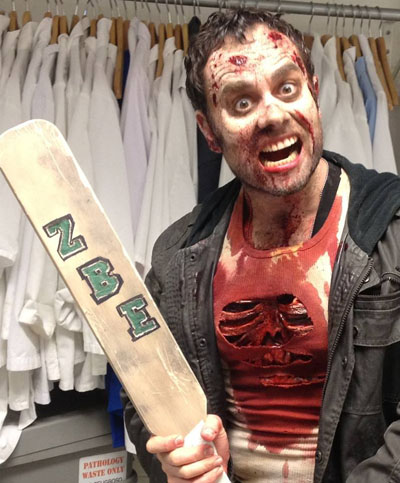 Scotty faces a zombie frat boy conundrum. Spank it or eat it?
Scotty: The zombie-theme I've been writing lately is a total fluke – and I'm so glad I stumbled across it with my writing assignment for Zombie Stoner. It's a fun world to play in. I love the book World War Z and am over the moon that Z Nation is doing so well for The Asylum (which produced Zombie Stoner).
BB&S: While you only teased the gay stuff in the movie The Coed and the Zombie Stoner, your book GZG: Gay Zombie Gym is an all-out gay zombie story. What made you decide to do it as a book instead of movie? And would you consider making it into a movie?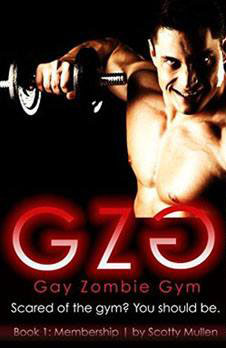 Scotty: GZG was actually a screenplay I wrote many years ago. When friends urged me to make my novel debut, I decided to dust off GZG and reinvent it as a book. It's a great medium because it lets me tell the story without the constraints of a budget or worrying that it's not mainstream enough.
BB&S: What made you decide to make GZG a series and how many "books" will there be? Things were just getting gruesome at the end of Book 1. A total tease!
Scotty: I'm so glad I have you wanting more! GZG is a trilogy.
BB&S: Were you a brilliant geek in school? Both Coed and GZG are about sex and zombies, yet you manage to slip some pretty smart science and history facts in there. Unless you just made all that shit up. I wouldn't know.
Scotty: Wikipedia is my best friend! Two of my favorite authors – Ira Levin and Stephen King – managed to incorporate historical elements into their fiction, so I took a cue from them. Hopefully it makes these unbelievable situations – muscle gym zombies who trace their roots back to Ancient Greece – a little easier to take in when I tell people how the zip-line was invented.
BB&S: Your imdb resume shows some acting credits as well. If you were going to do a movie of GZG, which character would you play and why?
Scotty: During my acting days, I was always getting cast to play security guards at hospitals. Very strange! I'm not sure who I would play, but I would just love for Vivica A. Fox to portray the ghetto-fabulous archeologist Judy Love who eventually takes on these gym-crazed zombies. She's like Ellen Ripley in stilettos and a fabulous weave.
BB&S: When can we expect Book 2 of GZG?
Scotty: GZG: Training, the second book, will be out before Valentine's Day, and the final book – GZG: Muscle Rage – will be in everyone's hot little hands before Easter. I like using holidays as milestones.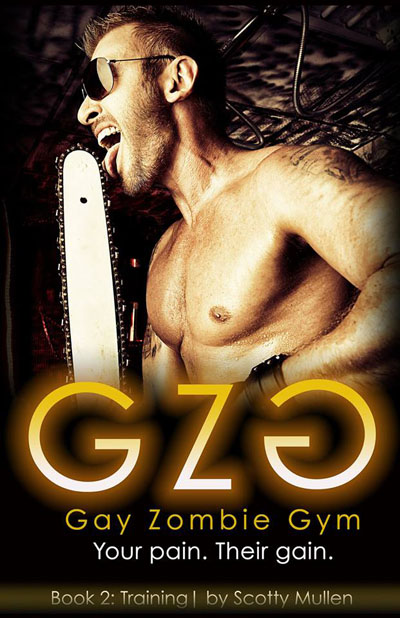 My book covers are so jealous of this book cover….
BB&S: You've done the zombie thing, so what other horror subgenres would you like to take on?
Scotty: I think it's time for another good "devil" story – like Rosemary's Baby or The Omen. I also like animals-gone-bad scenarios, such as Cujo and The Birds.
BB&S: Any other books or screenplays in the works and do you have any dreams of stepping into the director role? What's next for you?
Scotty: I wrote another film for The Asylum that will be produced soon, and then I just put the finishing touches on a holiday screenplay that's actually PG! Zombie Stoner was my "frat boy" movie – now I'm ready to take on some bigger and more mainstream projects. And I would love to direct a film one day.
BB&S: And finally, what advice would you give writers seeking to make their first break?
Scotty: Just write. And believe it will happen. You can facebook and twitter and do all the social media you want, but it's all about the content you create. It's about making that pot of coffee, sitting down at your desk, turning off the phone, and just writing for two hours straight at a time. That makes all the difference. Also, be genuine to who you really are. You will find your audience.
BB&S: Thanks for talking sex and zombies with me, Scotty!
You can purchase GZG: Book 1 here.