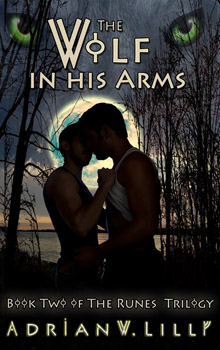 Book Two of The Runes Trilogy is here, and this time, The Wolf at His Door is The Wolf in His Arms! In this follow-up, young werewolf Alec, his boyfriend Jared, and his sister Lucy are still coping with the horror that took place in the first book of Adrian Lilly's page-turning werewolf trilogy. (Read my blog about the first book here).
The pace is even faster and the plot much more complex and grandiose this time. The trio realizes they need to gather together a pack of wolves in order to face off against the threat to their existence. As they set off in search of help, they must also contend with paranormal, psychic, and supernatural elements that both help and hinder their mission.
To enrich the plot, new characters appear, including more gay characters. At the same time, there's still that intense horror movie feel because we get vividly described scenes of innocents falling victim to werewolf attacks. In fact, as a devious force moves closer and closer to the main characters, the werewolf insanity goes public!
The Wolf in His Arms is like Adrian Lilly's The Empire Strikes Back. The action comes fast and furious, the characters are virtually divided and conquered, and the situation is dire—and totally unresolved—by the end of the novel. So now it's just a matter of waiting for Lilly to finish the trilogy.
Meanwhile, you can get The Wolf at His Door and The Wolf in His Arms in ebook format on Amazon.