I use the term slasher in the most general sense because in each case, there's a killer and a body count. But really, Phantom of the Grindhouse and The Greasy Strangler are purely trash cinema.
PHANTOM OF THE GRINDHOUSE (2013)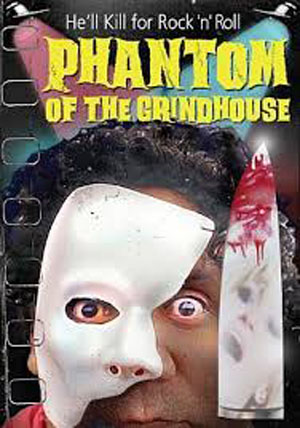 Running only 60 minutes long, Phantom of the Grindhouse has its strongest moments at the beginning – 8 minutes of mock horror film trailers. Director Chris Seaver demonstrates that he could really make some effective throwback grindhouse horror flicks that are both creepy and campy if he set his mind to it. Maybe he has, because he's done a lot of films, I just haven't seen any of them.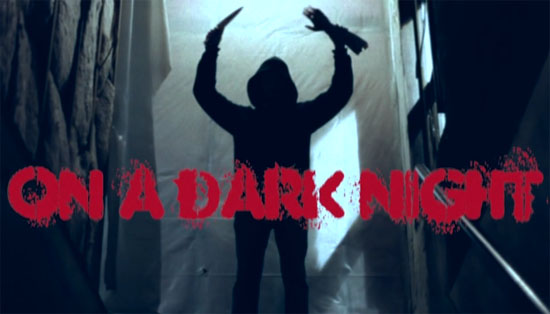 The remaining 45 minutes become a low budget, amateur production with a lot of spirit but not even a hint of grindhouse filter over the camera lens. It looks straight up shot-on-video.
To save the local movie theater – owned by a post-op transgender woman – movie geeks decide to have a 24-hour horror movie marathon. But the phantom of the theater, a pervert who has an obsession with Prince and Michael Jackson, begins killing them off one by one. Unfortunately, not during the movie marathon. Sadly, we never get that far in the plot.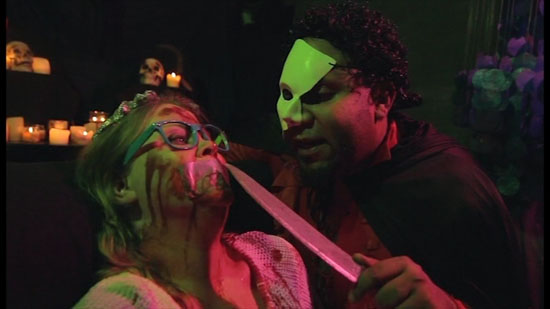 The cast is fully into it, so the film has its charms, but it is pretty much just a bunch of nonsense that will give you a chuckle now and then simply because it's so silly. There's adolescent body function and sex humor (but it's pretty tame), the kills are as no budget as it gets, there are plenty of references to horror movies (including classic posters on walls), there's a mock Donald Pleasence "Dr. Loomis" character, there's a musical number in a bowling alley, and 80s kids will appreciate the MJ and Prince references. The Phantom and the final girl even duet on "When Doves Cry," and the final girl has some sweet pipes.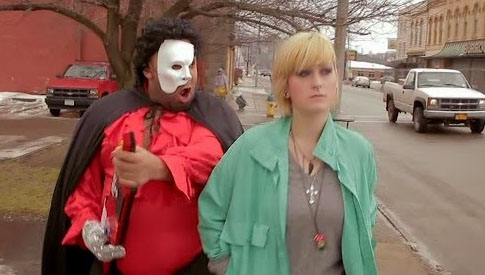 Having said all that, I'm in no way suggesting you should ever put an hour aside to watch the film. I already took this one for the team.
THE GREASY STRANGLER (2016)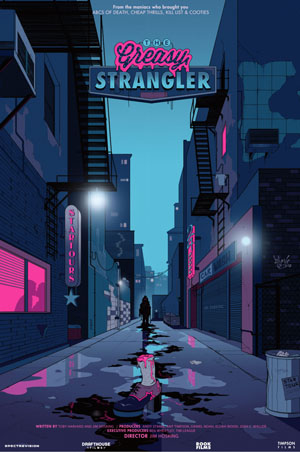 I KNEW I was going to hate this overhyped piece of exploitation schlock trash cinema. I barely allowed it to remain on my radar, let alone put it on my concrete list of "horror movies to see" (I seriously have one). Then…it hit Prime. I reluctantly added it to my watchlist, where it sat festering until my list dwindled to nothing.
There's one thing I like about this film. A disgustingly sleazy father and son team runs an unofficial disco tour, so the father is constantly referencing classic disco acts.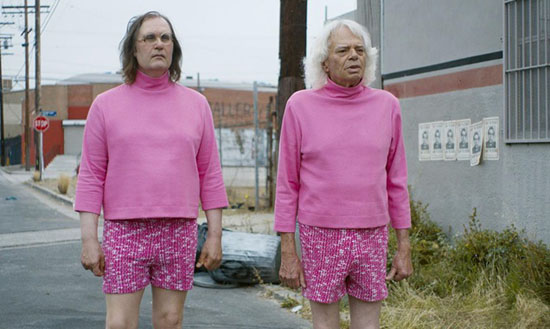 What I hate about this film is everything else. I don't even really want to discuss it much. If you are a diehard fan of the early John Waters films, I imagine you'll love it. I was subjected to one of John's pre-Hairspray movies once at a gay gathering and found it as "not my thing" as I'd suspected his films would be. The Greasy Strangler fits the "not my thing" mold perfectly.
The old man and son are usually in their skeevy skivvies. The dad's undies are usually crotchless, so he has this big nasty uncut dick swinging from a scraggy crotch afro. The son is dating a skanky girl who loves sex so much she starts fucking the dad as well.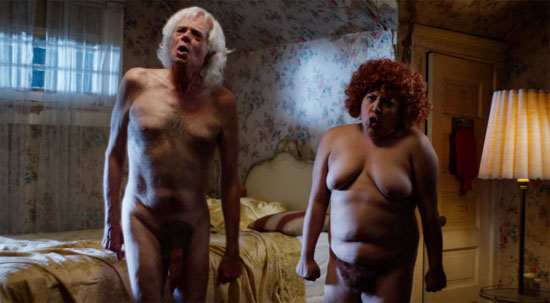 There are constant farting and shit references (even during the sex scenes), including the naked dad simply kicking his legs over his head and ripping one. The dad needs everything he eats to be drowned in buckets of grease. The dad IS the greasy strangler.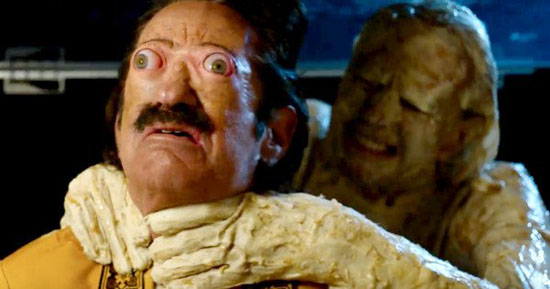 Over and over and over again, he strangles his victims while naked and dripping in grease (he looks like a melting candle), goes through a car wash to clean it all off, then goes home to make his son's life miserable. That's it. That's the movie. Any hints of humor are lost in a sea of repulsive situations.
Like I said, John Waters fans have at it. I personally prefer to spend 90-minute chunks of time enjoying horror movies.