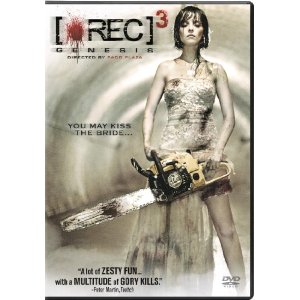 A while ago, I took on the [REC]/Quarantine sequels, and now, [REC] 3: Genesis has made it to DVD. After [REC] 2 recycled the first movie by dragging more people into the same apartment building, [REC] 3 takes its cue from Quarantine 2 and not only moves to a new…um…venue, but also ditches the found footage concept in a most unique way that automatically makes this film a ten for me.
It does further expand on the ridiculous possessed demon zombies or whatever the hell they are supposed to be in the [REC] world, taking it to even more absurd extremes. But, it WORKS because the whole movie is over-the-top. Don't expect the horror/tension/suspense of the original film. This one is an all-out campy horror action film.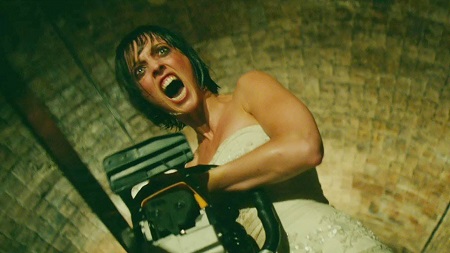 There's a wedding. There's some dude filming it. You roll your eyes thinking the hired videographer is really going to film all this crazy shit when possessed demon zombies are ripping apart all the bridesmaids? But then the camera is knocked from his hand. And we get…a regular movie! EUREKA!
This film has it all: a guest at the wedding who was bitten by a dog at the vet (wink wink); a dude dressed as "SpongeJohn" to entertain the kiddies…and to avoid copyright infringement; a bad ass bride with a chainsaw; dudes running around in chainmail so the demon zombies can't bite them; a priest who quotes scripture to paralyze the demon zombies where they stand.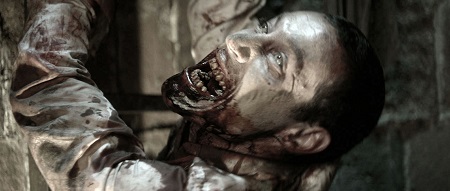 Forget that this is a sequel to one of the most worshipped horror films of the past decade. Just sit back and enjoy the goretastic ride.