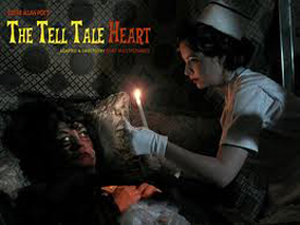 So psyched to have had the opportunity to screen one of the stories from the indie horror anthology Tales of Poe. "The Tell-Tale Heart" is directed by Bart Mastronardi, the man also responsible for the full-length horror film Vindication, which I blogged about here.
After watching "The Tell-Tale Heart," I can't wait to see the entire Tales of Poe film.
What a way to modernize a classic. Bart manages to make the story as macabre and twisted as it must have been to readers back in Poe's day, using modern conventions and a delicious scream queen cast. Yes, this time, our protagonist is a woman.
The "wraparound story" involves Debbie Rochon being brought into a mental institution. The nurse is played by none other than Desiree "Aunt Martha" Gould, and she's as perfectly bizarre as she was in Sleepaway Camp three decades ago. Meanwhile, new patient Debbie is harassed by an inmate played by Lesleh Donaldson (from fricking Funeral Home, Happy Birthday to Me, Deadly, Eyes, and Curtains!).
So Debbie begins to humor Lesleh, telling her the story of the time she worked as a private nurse for a former silent film star, played by Alan Rowe Kelly, who looks freaky deeky with a fucked up eye. And that eye pretty much pushes Debbie over the edge.
The film has a classic gothic horror style to it, complete with eerie shadows, thunder, and lightning. And when Debbie loses her shit and gives Alan Rowe a beatdown, it's damn gruesome. Things only get better as we come to the psychotic climax of this timeless tale, with a very cute cop showing up to check on a scream a neighbor heard coming from the estate….
As if the climax of the story isn't sick good, the conclusion of the wraparound is fucked (in an awesome way). Seriously, this is how you bring the brilliance of Poe into the modern age.
And as icing on the cake, the gorgeous Jerry Murdock appears super briefly as an intern. Like, blink and you'll miss him. Although, I don't even think a blink is immune to that stunning face.
The complete anthology takes on two more Poe pieces: "The Cask of the Amontillado" (Alan Rowe Kelly directs) and "Dreams" (Bart Mastronardi directs). When I see them I'll give you all the gory details!