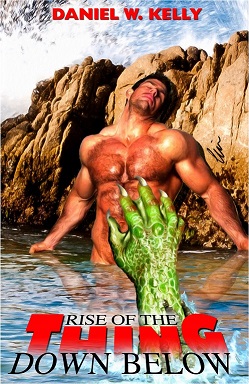 Once again, I have a new novel out. Rise of the Thing Down Below is the third book in my Comfort Cove gay horror series. And as always, I've created this handy guide to skipping all the dirty parts if you have an aversion to sexual situations. And of course, this guide will help you get right to the dirty parts if that's your thing. So here's the simple outline, by page number:
9. A dockworker gets a BJ.
13 – 17. A sexy dream sequence leads to waking sex. Pick up reading at the halfway mark on page 17.
24 – 26. A hot young thing has a threesome with ginge bear brothers.
49. The trio is back for another round.
55. Explicit foreplay.
59. Sex on the first half of the page.
61 – 66. A whole lot of sex.
115 – 116. The first sex scene in 50 pages. It was time!
128 – 131. A little man beats off a gargantuan man.
175 – 191. An entire segment of public carnival games with happy endings as the prize.
193 – 196. Some painful BD/SM between dockworkers.
204 – 214. A sex show on stage in front of an audience.
249 – 256. A man becomes a human dildo. And no, it's not a dream sequence….
274 – 276. A little sex on the beach to end the novel.
And there you have it. These are the segments of my novel Rise of the Thing Down Below to skip if you don't like mixing sex and horror. And don't forget the guides for the first two books in the series: