It's not all just horror for me. I have OCD (obsessive collecting disorder), as you can see by photos of my music collection, below. But, first, there's my show FUTURE FLASHBACKS.
where retro gets revived, reworked, and reimagined
On Internet radio station Flashback Alternatives, I'm DJ ScareBearDan, resurrecting the 1980s like something out of a midnight movie. As in, things are not…quite…the same anymore.
My playlist includes new music by iconic artists, current remixes of alternative favorites, fresh takes on classic new wave songs, and modern tracks that perfectly capture that 80s sound. Just makes you want to slip into your 80s fashions and get physical to a Jane Fonda workout tape.
Go to Flashback Alternatives to check out my show Future Flashbacks every Friday at 9 PM, and if there are any artists or songs that you think would be a perfect fit for my playlist, email me and let me know! You can listen to any of my past shows on Mixcloud, and check out the playlists here.
MY MUSIC OBSESSION IN GENERAL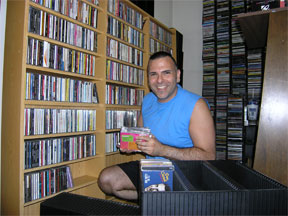 Let me first share some of the songs I recorded in the early 1990s when I collaborated with an amazing electronic keyboard player named Savvas Ysatis. An Erasure-esque duo called Mind in Motion, we wrote dozens of songs and made rough demos of them, but we went into the studio with a producer to officially record a few. The first song here is called "Stages." This is our synthpop "ballad." Lyrics and all vocals are by yours truly, and Savvas wrote the music and handles all the phenomenal instrumentation:
1. MindinMotionStages.mp3
The second track is our "commercial" dance song. Total pop cheese. Look out for the homage to Erasure:
2. MindinMotionIAmWhatIAm.mp3
Now, back to my OCD. I stopped keeping track of how many CDs and vinyl LPs I have years ago. Last tally in the year 2000 had me at about 10,000 pieces. Almost the entire lower level of our house is dedicated to my music, and the bar has been converted into my DJ booth.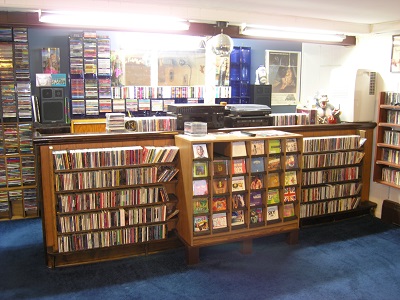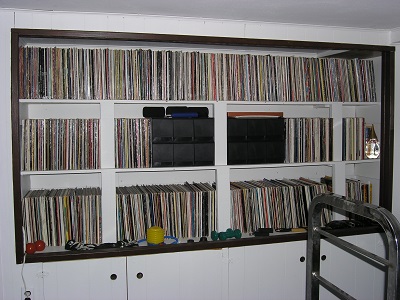 Check out the Freddy Kreuger standee (and one of my dogs) in this pic.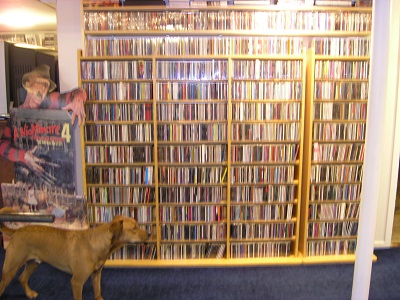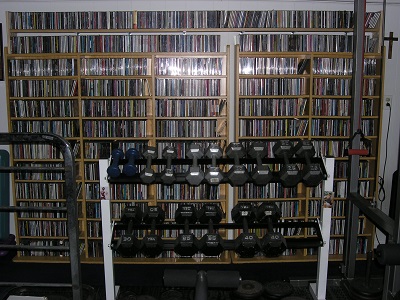 I love and collect all forms of pop music since the beginning of the rock n' roll era (including every single top 10 pop hit since 1955), but the most represented decade in my collection is the one in which I grew up. So, for a complete PDF of over 10,000 of my favorite 80s songs on my iPod, click here.
And while I'm totally against an all "digital file"/streaming future for music, I've found one way to make modern technology work for me. I'm a lover of extended versions, club mixes, and dance mixes, so it always drives me crazy when an awesome remix of a song OMITS a part of the original version, be it the intro, a verse or bridge, vocal ad libs, or almost all the vocals. Using simple editing software, I've been able to take some of those tracks and re-edit 2 or more versions of a single song together to create the extended mix I've always wanted. Here are some of the mixes I've recreated. Some worked out better than others…
ABC –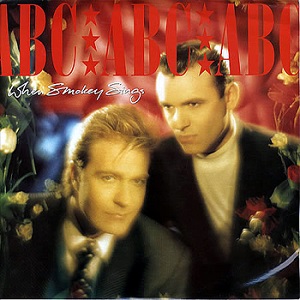 The awesome Detroit mix of "When Smokey Sings" leaves out the impersonations of classic singers from the album mix, so I've edited the two together and brought the homage part back using the album version.
3. SmokeySings.mp3
The Bangles –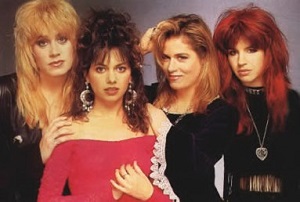 The Purple Haze mix of "Hazy Shade of Winter" is so awesome but doesn't feature their a cappella intro. I've attached it.
4. HazyShade.mp3
Berlin –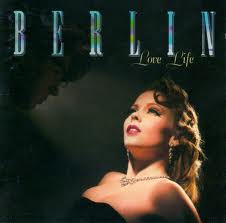 "Now It's My Turn" is one of my favorite Berlin songs. There was never a 12" mix, but there was a 7″ remix that pretty much just added sexy background vocal accents to the chorus. At the same time, Terri Nunn's spoken part during the break was removed! I've added it to the 7" remix in my special extended version—and repeated the guitar solo because it's new wave classic.
5. NowItsMyTurn.mp3
Billy Idol –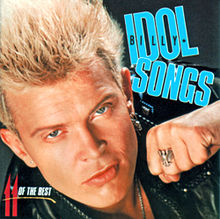 Too many lacking 12" versions of Billy's songs.
"White Wedding," more a long version than an extended remix, includes various lyrics and instrumental arrangements not on the album version, but then leaves one verse out! So I've inserted it back in.
6. WhiteWedding.mp3
The Below the Belt mix of "Flesh for Fantasy" rocks the guitar lick from the original, but then leaves out most of the vocals. I've made a super long extended version that inserts the remix into the center of the album version.
7. FleshFantasy.mp3
"Cradle of Love" never got a genuine extended version, just a vocal dub. It's a cool mix, but not as rocking as the album version, so I've segued the 2 together to make a long version of the song.
8. CradleLove.mp3
Book of Love –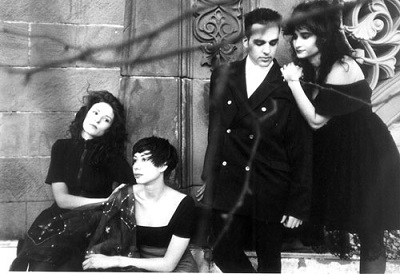 There's a long version of "Tubular Bells" and a 12" mix of "Pretty Boys, Pretty Girls," but they are not a continuous mix as on the album. So I did it myself.
9. PrettyBoys.mp3
Culture Club –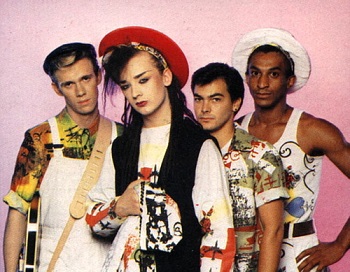 "Miss Me Blind" was released in a medley mix with "It's a Miracle," and it's a sloppy mess. In recent years an extended version of "Miss Me Blind" alone has surfaced on various compilations. It's a great mix, but it leaves off the a cappella intro and outro from the album version. I've done my best to work them back on.
10. MissMeBlind.mp3
"The War Song" had 2 extended mixes on the U.S. vinyl 12" single, but BOTH versions left out a different part from the original album version. I've spliced all 3 together to make one complete extended mix.
11. WarSong.mp3
Donna Summer –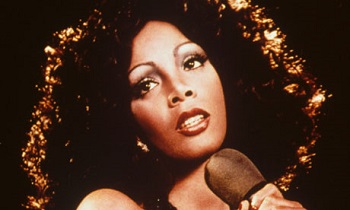 I always thought the 12" mix of "Hot Stuff" was all you could possibly have of this song until I purchased a disco compilation that had an extended version of the 7" edit with vocal ad libs at the end that aren't even on the 12" mix. I've put them back on.
12. HotStuff.mp3
There are 3 versions of "On The Radio": the radio edit with the echo ending; the long version from the On the Radio Greatest Hits album; and the super long version on the Foxes soundtrack. All three have something the others don't. Unfortunately, it was impossible to retain all the ad libs of the long version on the fade out if I wanted the echo ending from the 7" version, which is my favorite ending, so I still wasn't able to make one complete definitive version.
13. OnTheRadio.mp3
Duran Duran –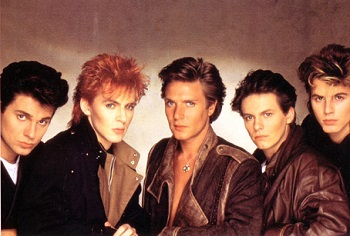 "The Reflex" extended dance mix is totally awesome, but leaves out verses from the 7" remix. I've brought them back in and made a full vocal dance mix.
14. Reflex.mp3
"Is There Something I Should Know" has an awesome monster mix; this monster seems to have eaten a majority of the vocals from the original version. So I created a full vocal monster mix.
15. IsTheSomething.mp3
EG Daily –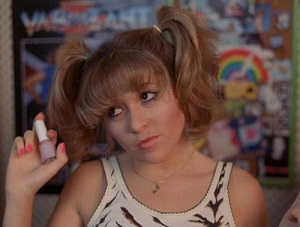 On the album version of "Say It, Say It," EG does a cool alternate vocal the second time she sings the "don't try to disguise what's in your eyes" part. On the 12" mix, the same vocal take is used twice instead. I've re-edited it to include the alternate vocal the second time.
16. SayItSayIt.mp3
George Michael and Aretha Franklin –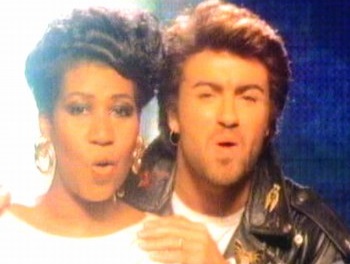 The 12" remix of "I Knew You Were Waiting" is too remixed in my opinion, and leaves off the original version intro as well. But I always like to have a 12" mix, so I've combined the original version with the 12" mix to make what I think is a slightly better extended remix.
17. IKnewYouWere Waiting.mp3
Howard Jones –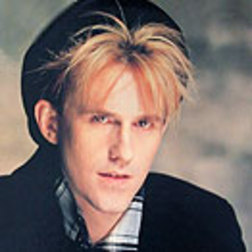 "Things Can Only Get Better" and "You Know I Love You" both leave off the album intros on the 12" mixes. I put them both back on. "You Know I Love You" also leaves out one verse on the 12" mix. That is also back on my edit.
18. ThingsCanOnlyGetBetter.mp3
19. YouKnowILoveYou.mp3
Human League –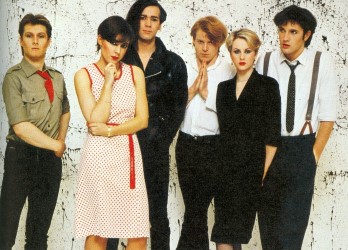 The crazy "improvisation" of "(Keep Feeling) Fascination" is not a full vocal mix, so I merged it with the extended version of the song for an ultimate remix. And the same thing goes for the Love and Dancing album remix of "Don't You Want Me," which I've injected with the full length vocal version.
21. HumanLeagueDontYouWantMe.mp3
INXS –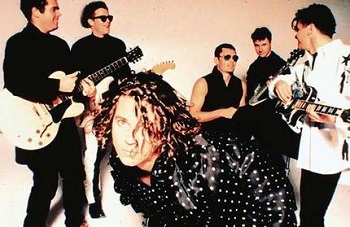 The video for "Need You Tonight" includes "Mediate," so I've always considered it a part of the song. However, it's left off Mendelssohn's 12" mix of "Need You Tonight." I've attached it. That was easy.
22. NeedYouTonight.mp3
Jody Watley –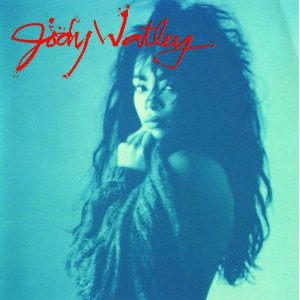 The 12" mix of "Looking for a New Love" leaves off the album intro. Not on my edit!
23. LookingForANewLove.mp3
Kajagoogoo –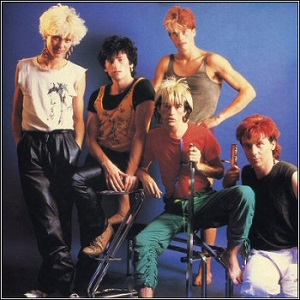 The intro of "Too Shy" is such an iconic part of the song, yet it's not on the midnight mix. I did my best to use it, but had to leave off some of the midnight mix intro in order to make a halfway fluid connection.
24. TooShy.mp3
Laura Branigan –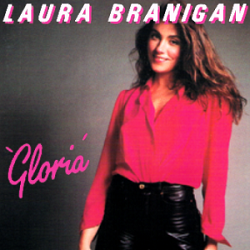 The extended version of "Gloria" is missing the build-up intro. Not on my version!
25. LauraBraniganGloria.mp3
Michael Jackson and Paul McCartney –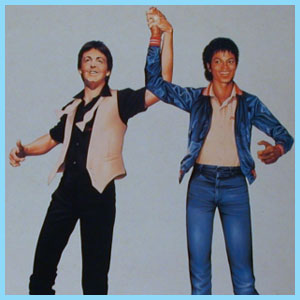 The 12" mix of "Say, Say, Say" is awesome, but the instrumental dub version on the flip side has some hot beats left off the vocal mix. I've spliced the 2 together for an alternate dance mix.
26. SaySaySay.mp3
Michael Sembello –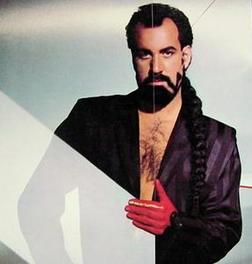 "Maniac" got an amazing 12" remix from Jellybean, but there's a percussive intro on the instrumental b-side that isn't included on the vocal mix, and I can't understand why. It's very reminiscent of the video intro with Jennifer Beals welding. So I've attached it to the vocal remix.
27. Maniac.mp3
Pat Benatar –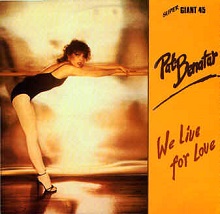 One of my favorite songs by Pat Benatar, "We Live for Love" originally had a more "new wave" feel on the vinyl LP of In the Heat of the Night. It was soon replaced by the guitar heavy version everyone knows. Both mixes are awesome, so I combined them into a continuous mix.
28. WeLiveForLove.mp3
Phil Oakey & Giorgio Moroder –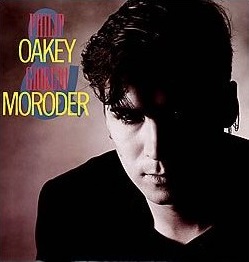 The first four tracks of Moroder and Oakey's collaboration is an amazing continuous mix. "Good-bye Bad Times" was released as a single and was treated to an extended version. I've inserted that mix into the sequence in place of the album length.
Prince –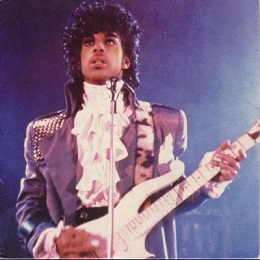 There are two distinctly different 12" mixes of "Pop Life," so I made one mega-long version that retains all the unique elements of each version. However, it leads to excessive repetition of the chorus in order to keep in all the vocal ad libs. I'm not crazy about one edit near the end after a tempo slow down segment.
Sheena Easton –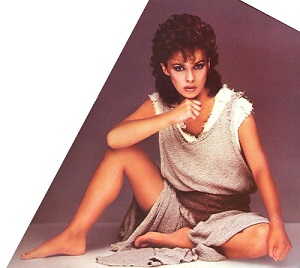 Love the 12" mix of "Telefone," and there's also a great dub on the b-side that has parts not on the vocal mix. I've inserted them.
31. Telefone.mp3
Taylor Dayne –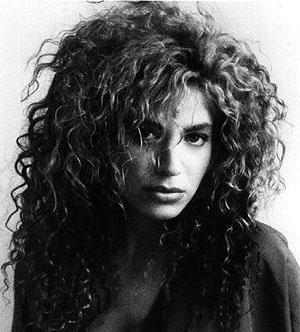 "Tell It To My Heart" is a way better dance mix than the hit radio version, but leaves off the "never make it stop, take it to the top" part. I was shocked when I bought a compilation that had a vocal dub of the song that included that part plus a whole lot of vocal ad libs found nowhere else. I've created a version with all Taylor's vocals.
32. TellItToMyHeart.mp3
Toni Braxton –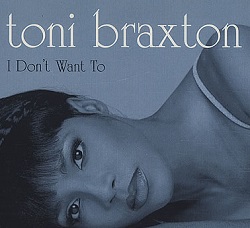 The Eddie Baez remix of "I Don't Want To" only features the first two verses and choruses. It leaves out the bridge and the remaining choruses, which include all of Toni's ad libs. I've done my best to put all the vocal into the mix, even if there is a bit of a key clash between the vocal and music.
33. ToniDon'tWantTo.mp3
Taylor Swift –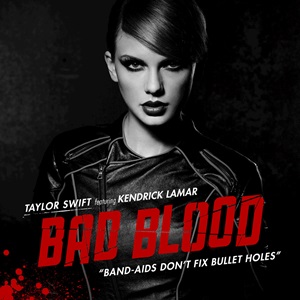 Before it was released as a single, "Bad Blood" featured vocal verses by Taylor. They were removed and replaced with a rap by Kendrick Lamar on the single mix, plus, background vocals by Lamar were added to the chorus. I've created a mashup mix that features all the vocal verses and all of Lamar's rap.
Wham –
There are two different long remix versions of "I'm Your Man," one on the U.S. album and the other a 12″ single called the extended stimulation. There's a weird dialogue exchange in the stimulation that replaces some of the original vocal, so I've created a mix that retains both.
35. ImYourMan.mp3
Zendaya –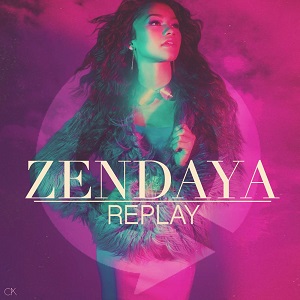 The Jump Smokers remix is techno awesome, but leaves out a bridge completely. So I've snagged it from the Jason Nevins mix and edited it into the Jump Smokers mix to make a complete version of the song.