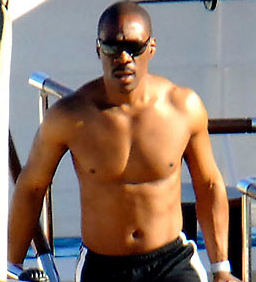 Even Eddie Murphy has flirted with the paranormal, demons, vampires, and ghosts. And it all started way back in the 80s!
THE GOLDEN CHILD (1986)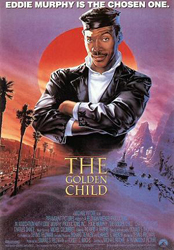 It's Eddie's Big Trouble in Little China, only it's in Tibet. In The Golden Child, Eddie is the chosen one who must save a little boy who will save the world! This little boy has pretty much every psychic power imaginable—he can even use his mind to turn a Pepsi can into a little man that dances—yet he can't escape a cage!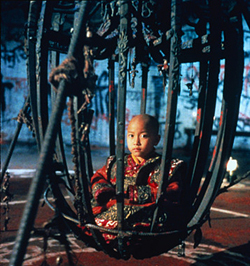 Eddie is really at the top of his form here. His Eddie laugh abounds and he's as funny as in all his big box office hits of the time. Plus, he makes timely jokes about Morris Day and Star Search. You probably have no idea what I'm talking about unless you grew up in the 80s. And speaking of references non-GenXers won't know, the movie opens with a solo track by Ann Wilson, plus a Ratt video is heavily featured for an entire scene!
The Golden Child is the most fun when it takes place in an urban area at the beginning of the film. Once Eddie heads over to Tibet, it starts to drag. But eventually, he finds the boy and, after much teasing of hellfire and a demonic voice earlier in the film, we see the threat to humanity as Eddie and the boy are relentlessly chased by a winged demon! Awesome.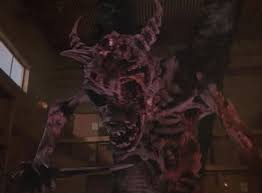 VAMPIRE IN BROOKLYN (1995)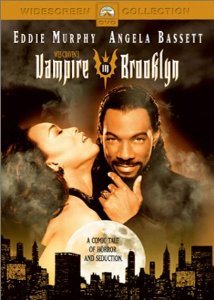 Pretty much all horror in the 90s sucked before Kevin Williamson saved the genre with Scream in 96. But when I watch 90s horror these days, I try to look at it more objectively for what it is and not what I wanted it to be back then. And most of it still sucks.
I couldn't get into Wes Craven's horror comedy Vampire in Brooklyn back then, but now…I think it rules! Angela Bassett is a great scream queen and some of her horror sequences are creepy good.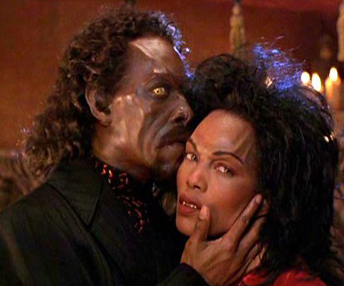 Her cop partner, Allen Payne from Tyler Perry's House of Payne, is so fricking hot in this movie (but not shirtless and draped over another guy as in this gratuitous pic).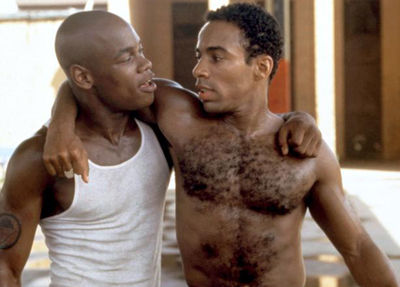 Dwayne from A Different World totally steals the show with comic relief as the vampire's decaying ghoul. As a music whore, I particularly love when he tries to convince Angela that Eddie is a hot piece with the line, "This ain't Nick Ashford, this is Max-a-Million!" (Eddie's character's name is actually Maximillian).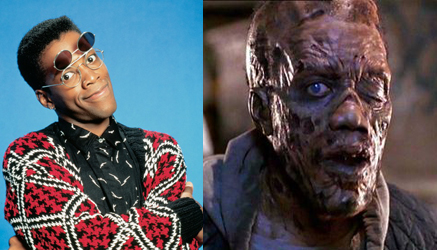 No, I'm not the "Thanks for the ride lady" guy. What, do you think we all look alike?
The only real problem I had with Vampire in Brooklyn is…I could not take Eddie seriously. First of all, that hairstyle looks ridiculous. Michael Jackson was like the only artist formerly known as black who was wearing his hair like that by 1995. And Eddie's face is just too naturally funny and connected to comedy for him to appear ominous.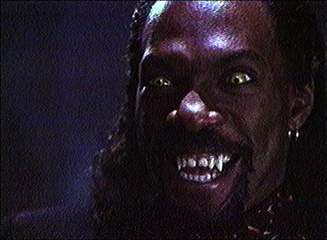 The only time he convincingly seems to be able to pull off scary is when he actually gets really evil with fangs and yellow eyes. And although he has a few humorous lines in the film, he is predominantly a straight character, which is hard to fathom from Eddie Murphy in a horror comedy.
Other highlights include some hot 90s tracks such as "Whatta Man" by Salt-N-Pepa and En Vogue, and "Pray" by MC Hammer, a track Eddie's vampire character hates for obvious reasons. Rod from the first Elm Street appears briefly and looks hot as hell with a 90s Caesar cut. And again, Dwayne is the comedy king, with his antics amping up as the final battle begins. Vampire in Brooklyn has seriously just become one of my favorite horror comedies.
THE HAUNTED MANSION (2003)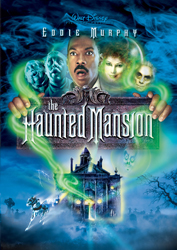 Eddie may be the star of Disney's The Haunted Mansion, but he's really just part of an equally important large cast. He plays a real estate agent who brings his wife and two kids to see a spooky house he wants to sell.
The handsome owner of the place quickly seems to be locking gazes with Eddie's wife. The road floods and the family must stay for the night. In perfect haunted house movie style, there's a cemetery, thunder and lighting, doors that creak open on their own, weird servants, candelabras, secret passages, and an overload of ghosts!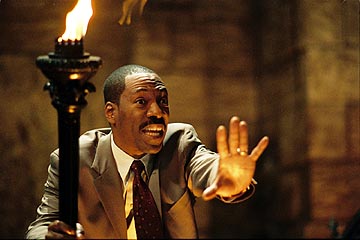 Eddie is perfect playing a dad in a family movie without doing any over-the-top Eddie comedy. Jennifer Tilly plays the head inside a crystal ball.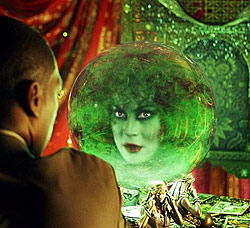 And the plot is the usual—wife looks like a woman in a painting, the ghosts are all confused by the similarity, the family decides they have to help release the ghosts from a curse.
While The Haunted Mansion is pretty much all family fun like the ride after which it is based, there is one super scary scene. Eddie and the kids go to find a special key in the cemetery…and corpses start rising from the dead! There's even a moment with the living dead under water! It freaked me out, so it has to be a nightmarish sequence for kids to watch. Personally, it was my favorite part of the whole film. Hm…perhaps I'll make my nephews watch this lighthearted Disney flick next time they come over. Bwah hah hah!