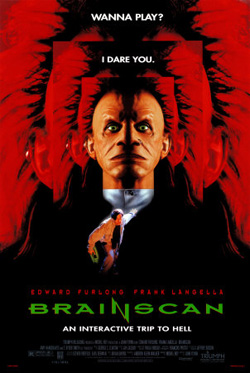 The 1994 flick Brainscan is one of those forgotten 90s horror films that's actually better than most of the crap that came out in the early part of that decade.
Young Edward Furlong, who'd already begun his horror career with Pet Sematary II (example of early 90s crap), plays a mopey, horror-loving 90s teen (the movie is so 90s) who has a pretty advanced computer system for the 90s. He gets this virtual reality video game called Brainscan—in which the player is the killer in a virtual slasher! Problem is, when Edward stops playing the game, he soon realizes the murder really happened! Cool!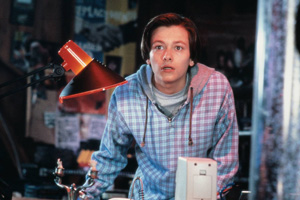 You would think that the solution to the problem would simply be to not play the game anymore. Unfortunately, along with the game comes this freaky dude Trickster, who emerges from the TV and visits Edward in his room—informing him that he has to continue playing the game to hide evidence that points right to him as the killer!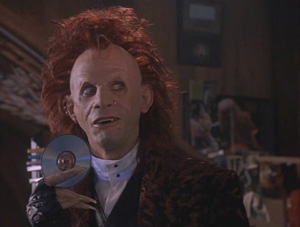 Trickster brings to mind a much nastier, more goth version of Drop Dead Fred. He's devilishly funny at times, but he's also an evil S.O.B. He really could have been a major horror icon if there had been more Brainscan films. But the truth is, Trickster doesn't even do any of the killing! Every time Edward goes back in the game to cover his tracks from the last murder, it's game over for someone else!
There's impressive and unexpected gore effects and brutal kills, yet the movie retains a teen movie innocence that no longer seems to exist in horror films; kids in today's movies always seem like a bunch of pricks you want to die.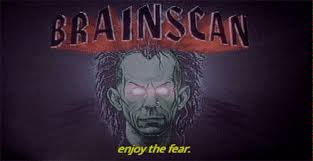 The movie has a sort of Elm Street 2 premise, with virtual reality replacing dreams as a means to everyone else's end and Edward eventually going after the girl next door. The film also kind of reminds me of the 1986 heavy metal horror flick Trick Or Treat.
While the twist is fun, it's followed by a final tag you can totally guess. It's not the most memorable zinger and is a bit of a letdown. It would have been less of a letdown if they'd made a sequel.
And finally, the hardcore soundtrack includes Primus, Butthole Surfers, and White Zombie. But the ultimate song on the soundtrack is the creepy theme music that plays throughout the movie!