VHS vamps and demons! I look at three cheesy films from 1988, 1989, and 1990. They would have made a semi-fulfilling triple feature rental back then, and they'd make a good bargain bin 3-on-1 DVD release today. All three suffer from pretty much the same problem—not enough horror and too much dragging in the middle. But the 80s vibe rules.
DRACULA'S WIDOW (1988)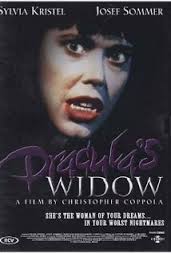 Sylvia Kristel, who played the lead character in the Emmanuelle erotica movies for like three decades, is a tough looking vampire in a butch business suit with big 80s shoulder pads (watch out Grace Jones's Vamp!). She finds a new home in a wax museum and makes the curator her bitch. Lenny Von Dohlen of Electric Dreams is perfect in the part. He's like a mashup of Bruce Campbell in Evil Dead, Jeffrey Combs in Re-animator, and Rupert Everett in Cemetery Man.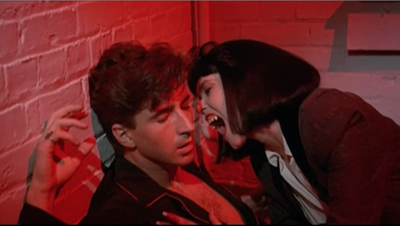 Dracula's Widow has a great classic vampire movie atmosphere, thanks in part to the horrors in the wax museum, along with eerie red lighting that's so indicative of the 80s. It's definitely my favorite of this threesome of films. As for the plot, the vampire longs to return to Romania to be with her husband. When she's informed that Drac is dead, she goes on a blood-sucking spree and eventually takes on a descendant of Van Helsing.
While the pacing is a little slow, the horror moments are 80s perfection. My personal favorite scene is when she crashes a satanic ritual party that appears to consist of a cult of hot shirtless gay pretty boys sacrificing a naked woman.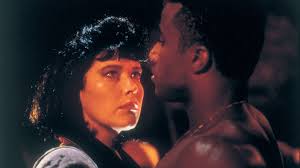 This is when we get to see the vamp in all her gross glory—she's straight up demon! Love it.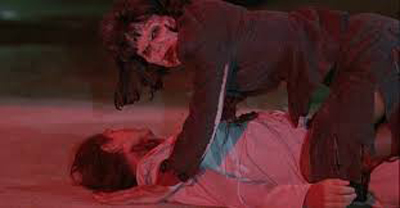 She even turns momentarily into a hideous bat near the end of the film.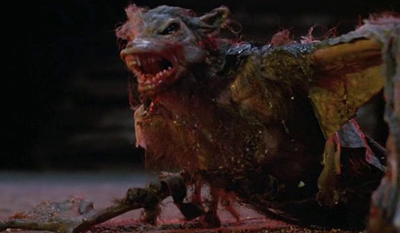 The movie definitely needed a bit more focus on these monster forms. As is, it falls short of being an 80s horror great.
SATAN'S PRINCESS (1989)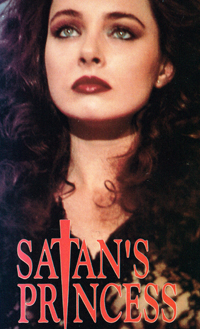 Satan's Princess is like a cheap urban Angel Heart (there's even a chicken head reference). A former detective is asked to find a man's missing daughter. As he begins to investigate, he focuses on a pretty but mysterious model agent because he believes she knows the whereabouts of the young woman.
A majority of the film plays out as a detective story. The detective even has personal issues, including an ex-wife, a "retarded" son (the movie's word, not mine) and a girlfriend who feels underappreciated. Meanwhile, there are a series of murders, some of which we see being committed by a dude with long hair, as well as some lesbian sex and hetero sex.
Finally, the horror hits the fan as the detective closes in on the model agent and her evil powers. So she possesses the retarded son and has him do her dirty work! Meanwhile, she visits a bathhouse and slashes a hot naked guy with her demon fingernails. And when it's time for the final confrontation with the detective, she turns into what looks a demon version of Predator.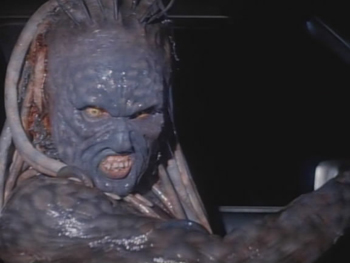 PALE BLOOD (1990)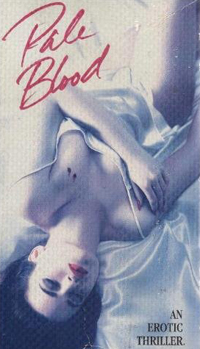 Holy crap. Bernardo from West Side Story plays a vampire. He's actually looking into a string of murders that are mimicking the work of a vampire; the female victims have two piercings in their skin and have been drained of blood. Bernardo asks a female investigative reporter to do the detective work for him. He needs to stop the killer because it's giving the vampire community a bad name!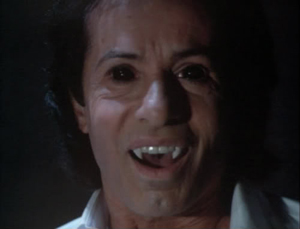 Then we have Wings Hauser as the killer! As usual, he's brilliantly psychotic. The film itself feels like a long, stylish 80s music video, drenched in reds and blues and consisting of numerous club scenes featuring some of the best tracks by alternative band Agent Orange, including the amazing "Fire in the Rain."
Agent Orange actually appears on stage playing in the movie. And this cutie in the tank top is always around looking pretty.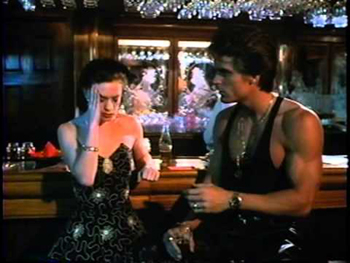 The music and 80s look and horror vibe make the movie for me, because the film tries to be way too sexy and serious to be any fun. It's saved in the end when the tables are turned. Hauser catches on that he's being pursued by an actual vampire and sets a trap to take care of him. There's nothing like having Wings Hauser hatch an evil plot to take down a vampire from West Side Story.