When you're bored with the predictable horror films Hollywood is turning out, I'd suggest you turn to the horror of director Adrián García Bogliano, who deservedly had a segment in The ABCs of Death. I recently blogged about his film Here Comes the Devil. Now I take on two more Bogliano films—the wacky Spanish language film Cold Sweat and the English language film Late Phases.
COLD SWEAT (2010)
Much like Here Comes the Devil, Bogliano's film Cold Sweat throws viewers into a trippy horror situation.
A cute dude, his ex-girlfriend, and his current girlfriend end up trapped in the same house thanks to the dangers of Internet hookups.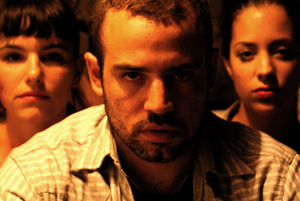 Turns out two crazy old fucks torture people in this house then cover them in explosive liquid that is so combustive you become a prisoner simply because one wrong move and you'll blow the fuck up.
Naturally, the cutie pie decides he has to be the hero, so the challenge becomes to get out without going boom while sneaking around the house to avoid the evil old men. Oh. There are also some crazy naked monster women to beware.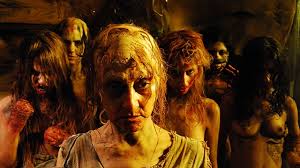 WTF? And I mean that in a good way. Cold Sweat delivers an unpredictable horror experience loaded with gore and suspense.
LATE PHASES (2014)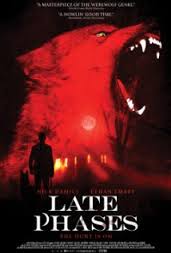 The werewolf film Late Phases appears to be Bogliano's move into the mainstream American horror market. It's a must see for fans of The Howling, Silver Bullet, and An American Werewolf In London.
Horror man Nick Damici (We Are What We Are, Mulberry Street, Stake Land) plays a blind vet who moves into a quiet community and soon realizes there's a fricking werewolf attacking people and pets every full moon.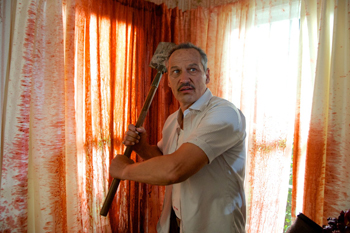 This is one star-studded community: Lance Guest (The Last Starfighter, Jaws The Revenge), Tina Louise (Gilligan's Island), Rutanya Alda (Amityville II, Girls Nite Out, Christmas Evil), Caitlin O'Heaney (Savage Weekend, Wolfen, He Knows You're Alone), Tom Noonan (Manhunter, The Monster Squad, The Roost, The House of the Devil), Karen Lynn Gorney (Saturday Night Fever), and Erin Cummings (Dark House, Dante's Cove).
But star power aside, Late Phases is an atmospheric slow burner carried by Nick's fantastic performance (as usual). Plus, there's none of that CGI werewolf crap. In fact, the film doesn't hesitate in showing the full Monty werewolf in an amazing first attack scene.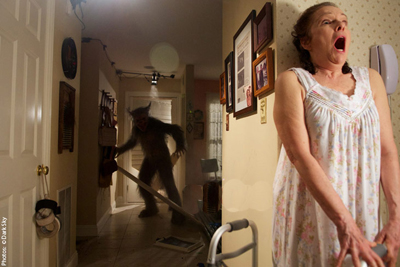 But it's the only one we get until the end of the movie—one single suspense/attack sequence in the center of the film would have been welcome. However, during the climax all werewolf hell breaks loose, including a wild transformation and a full werewolf pack attack! Amazing.