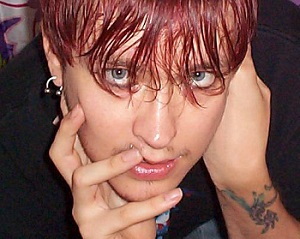 In author Joshua Skye's new novella Cradle, Radley, a grieving gay man, comes to a small town to live in the house left to him by his deceased partner. But The Habersham House has a dark history; young children have been mysteriously disappearing from the area near the house for years. Radley knows little of the situation, but he's about to find out. Because he will soon cross paths with Scotty, a little boy determined to investigate the house—and the monster that lurks in the woods near it—after another boy goes missing.
Joshua took some time to discuss his writing and his love of horror with me.
BB&S: Hi, Joshua. I've read your horror titles Once Upon a Christmas Evil (blog here), Bareback: A Werewolf's Tale (blog here), and your new one, Cradle. All three lean towards being novellas rather than novels. When writing horror, do you have a preference—short story, novella, or novel?
JOSHUA SKYE: Though I've written longer novels, I definitely think my strength is in novellas and short stories. I think my style lends to details, but I'm not much for subplots and extraneous information. I like my stories tight, to the point, fast and furious.
BB&S: Does all your horror writing feature gay characters? If not, which ones do?
JS: My main protagonists tend to all be LGBT, it would be a shorter list to name the stories that don't. All my novels and novellas do. Horror definitely needs guys like us who make our main characters unapologetically LGBT without them being stereotypes or punch-lines.
BB&S: Do you feel that writing gay main characters in horror adds something different than focusing on, say, a final girl?
JS: Absolutely. I like transcending the genre tropes everyone expects. I mean, its fun to play with them, mix 'em up a bit, but there's a morbid kind of delight in not adhering to those standards. I've always wanted to write an old fashioned slasher, but with no female characters at all. That one simple little alteration would turn the sub-genre on its head. Would be a lot of fun.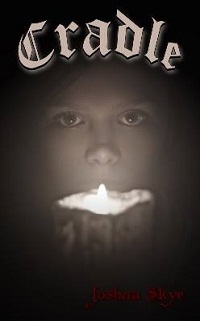 BB&S: What, if any, subgenre of horror fiction have you not tackled yet that you'd like to?
JS: The slasher, of course, but I'd also love to write a vampire novel and a possession novel. I will only do them when I have an idea radically different than anything out there.
BB&S: Is it possible to describe how the plot of Cradle came to you, or is it just one of those magical things?
JS: Cradle, like Angels of Autumn before it, takes place in a universe not so far removed from reality. I wanted the characters and places to be authentic even if the plot is hyper realistic. My work always has a kind of surrealistic tone to it, like fairy tales. The fairy tale is heightened, so to speak, exaggerations made, but I wanted the story grounded in a cement of realistic emotional turmoil that would make the horror all the more horrifying. The plot for Cradle came to me all at once, I knew exactly where I was going with it. I filled it in, mined images from dreams, I love to dream, and wrote what I feel is a heartbreaking horror story, unapologetic in every way.
BB&S: What first turned you on to horror?
JS: My mother's fascination with the genre meant I was never shielded from it. I remember seeing George Romero's Dawn of the Dead at the drive-in and seeing the premiere of Stephen King's Salem's Lot on television. They're both terrifying movies, and they certainly left a lasting impression. I preferred the afternoon horror movies on Saturdays instead of the morning cartoons. I lived for late night programs like Elvira and Chiller Theater. I was hooked, and there was no looking back. I became a bona fide horror junkie very early on.
BB&S: Who are your favorite horror authors?
JS: First and foremost, Stephen King. I was caught by my third grade teacher with the Children of the Corn tie-in paperback of Night Shift in the third grade and got into trouble for it. I also love Whitley Strieber, Anne Rice, and Gary Brandner. I'm a sucker for those 70s and 80s pulp horror paperbacks with the demented cover art. I have boxes and boxes of them.
BB&S: What are your favorite horror subgenres?
JS: Italian giallo is a particular favorite, those surrealist, dream-like, often bat shit crazy movies have definitely inspired me. I wish they'd make them today, but it's pretty much a lost art. Rob Zombie did a fine homage with The Lords of Salem. I also like werewolves and ghost stories. I'm also a sucker for schlock like Curse of the Blue Lights.
BB&S: What scares you most in horror movies or books?
JS: Aliens and the supernatural. After I read Whitley Strieber's Communion, I couldn't sleep at night for over a month. It scared the hell out of me, as have his subsequent books that detail more of his encounters and abductions. Ghost stories and tales of demonic activity frighten me, too. I have an unwavering belief in these things, so they hit close and really do some damage if they're done right. The novel The Exorcist freaked me out, particularly the scene where after becoming possessed she would crawl around in dark hallways and lick people's ankles. I made the mistake of telling my brother that. I'm sure you can imagine the pranks that ensued.
BB&S: Horror mixed with comedy. Yes or no?
JS: Yes, if done right. I'm not a fan of dick and fart jokes, they take no talent or imagination whatsoever. So movies like Scary Movie are epic fails as far as I'm concerned. A ten-year-old could write that nonsense. It's particularly bad when it's a parody and the filmmakers have an obvious distain for the genre or the particular film they're satirizing. On the flipside, take Shaun of the Dead as a successful horror comedy and a parody that is an honest homage in which the filmmakers had a love and respect for the genre and filmmaker they were parodying. There's an old film called Pandemonium, a parody of the genre and specific movies that was a little more on the absurdist side, but it still worked for me. It's a lot of fun. Prom Night 2 and 3, Sleepaway Camp 2 and 3, and Deadtime Stories (1986) are guilty pleasures of mine.
BB&S: Sex and nudity in horror. Yes or no?
JS: Absolutely! The horror genre is not politically correct, and as the master Wes Craven said, nor should it be. It's an inherently transgressive genre in which anything the mainstream finds objectionable is welcome. As I mentioned before, I'm not a fan of cheap, childish exploitation, but anything else…bring it on!
BB&S: Final girl or final guy?
JS: Final guy. We've been inundated with the final girl scenario countless times, so much so it's a trope so worn out that any astute horror fan can typically pick out exactly who that final girl will be within minutes of the opening credits. Yes, it's that predictable! I'd love to see a mainstream slasher where the movie's requisite man-whore is the triumphant protagonist.
BB&S: Who are some of your favorite scream queens?
JS: Linnea Quigley is my very favorite Scream Queen. I've seen all her movies. I follow her online. I love watching interviews with her. She's very intelligent and doesn't take herself or her movies seriously. She's great. I'd love to meet her. Bobbie Bresee is another fave. I remember old interviews with her from the 80s within which she speaks very highly of her fans and how appreciative she is of them. I remember there was an issue with a movie she was in being advertized as the unrated version, but the movie on the VHS was excessively cut for an R-rating. At her own expense she made it right with her fans who'd shelled out 60 bucks for the tape. You just don't get a lot of celebrities of any caliber like that. Linda Blair, Jamie Lee Curtis, Linda Day George, Sybil Danning, and of course the one and only Adrienne Barbeau.
BB&S: Some of your favorite kings of horror?
JS: That's a little harder, isn't it? I can't think of many actors that have been in a lot of horror movies, but there are some standouts in my mind even if they've only done one or two. Joshua Jackson, Jason Behr, Thom Mathews, Scott Valentine, Robert Brian Wilson, and Mark Patton. I had a thing for several of the guys in Fear No Evil by Frank LaLoggia in no small part because of their willingness to get naked with each other in the movie. For a young gay kid who was also a horror fanatic, to see all that man-flesh on display was quite the revelation. I certainly wore out the pause button on the VCR. I'm surprised the tape survived. Of course, I own the DVD today.
BB&S: Favorite iconic horror baddie?
JS: Freddy. That is one dark and twisted mother right there! Pinhead is another favorite. Nix and Butterfield in Lord of Illusions, Candyman, Lemora in Lemora: A Child's Tale of the Supernatural, Angela in Sleepaway Camp (particularly played by Pamela Springsteen), and Mary Lou Maloney in Prom Night 2 and 3. And I can't forget Pennywise. No one should ever forget Pennywise!
BB&S: What are some of your favorite horror TV shows?
JS: Tales from the Darkside is perhaps my all-time favorite horror television show. I remember getting my little black and white TV and hiding it under the covers with me to watch it when everyone else was asleep. Friday the 13th: The Series, Monsters, Tales from the Crypt, Masters of Horror, Fear Itself, and American Horror Story.
BB&S: What songs or artists might be on your Halloween party playlist?
JS: I have a CD called Ghosts, music inspired by UK ghost legends. I've had it in my player for months now. I sleep to it. I also have a CD by an Appalachian folklorist upon which she tells ghost stories and mountain myths. I've recently started collecting horror film soundtracks on vinyl. Tangerine Dream (Firestarter, The Keep) are one of my faves, Goblin too. I used to have a cassette tape of Freddy singing along with typical Halloween songs. Elvira's Two Big Pumpkins! I'm a sucker for anything Elvira.
BB&S: Finally, do you have any other horror projects in the works?
JS: Yes, the final chapter in the Angels/Cradle mythology in which I am the main character, some screenplays, and collections of short stories. I have a very ambitious project of two intersection zombie novels. It's proven to be very difficult. I always have something I'm working on.
Thanks for having me, Daniel. Much appreciated!
BB&S: Thanks, Joshua!